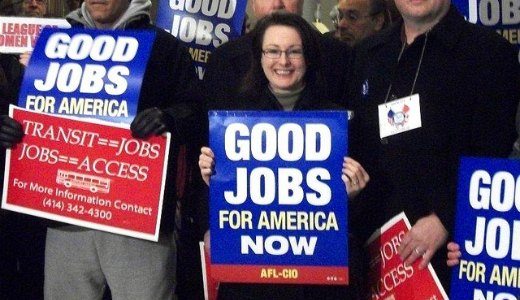 Energized by President Obama's bold call for passage of the American Jobs Act, civil rights and labor groups are calling for a national march in Washington, D.C., on October 15 to support it. The following day Obama will deliver remarks at the Martin Luther King Jr. memorial.
Both events were rescheduled after Hurricane Irene forced postponement of the previous August dates.
Speaking at a press conference announcing the event, Rev. Al Sharpton said, "We will bring forth the masses who have not been heard in the midst of the jobs debate. As the president fights for a jobs act, as supercommittees meet, they need to hear marching feet. This is to send a message to Congress."
The National Action Network along with the NAACP and several labor unions including the National Education Association and the Communications Workers of America are key organizers of the event.
The march will begin at the Lincoln Memorial.
At a recent meeting of the Congressional Black Caucus, President Obama called on supporters to put on their marching shoes to press for passage of jobs legislation and increased revenue to pay for it.
Republicans in Congress are staunchly opposing the new legislation and demands that the rich pay their fair share in taxes.
Economists, however, have recently said that the Obama proposal could help boost the economy next year. Bloomberg News writes, "The legislation, submitted to Congress this month, would increase gross domestic product by 0.6 percent next year and add or keep 275,000 workers on payrolls, the median estimates in the survey of 34 economists showed. The program would also lower the jobless rate by 0.2 percentage point in 2012, economists said."
The plan would prevent "a contraction of the economy in the first quarter" of next year, said John Herrmann, a senior fixed-income strategist at State Street Global Markets LLC in Boston, who participated in the survey. "It leads to more retention of workers than net new hires."
While the official unemployment rate hovers at just over 9 percent, more realistic estimates put it at 16 percent of the workforce, with rates double that in African American and Latino communities.
The AFL-CIO has called for a week of action for jobs from October 11 to October 15.
Speaking in Minneapolis at the Next Up summit of young workers, Secretary of Labor Hilda Solis urged initiatives to help pass the American Jobs Act: "Labor Secretary Hilda Solis described how she learned the importance of collective bargaining from her father, a steward for the Teamsters and talked about her dedication to create good jobs and help pass President Obama's American Jobs Act. By the time Barack Obama got to office, Solis said, the nation had lost 4 million jobs. But instead, Republicans in Congress want to gut the budget and kill even more jobs."
Photo: Wisconsin AFL-CIO // CC 2.0