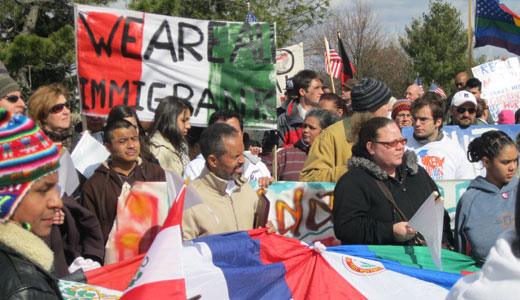 EAST HAVEN, Conn. – After years of organizing against racist profiling by the East Haven Police Department, including several large immigrant rights marches and intervention by the U.S. Department of Justice, a landmark legal victory has been won.
Civil rights plaintiffs in Chacón v. East Haven Police Department today announced a groundbreaking settlement with the town of East Haven. The town will pay plaintiffs $450,000 and has agreed to adopt a new wide-ranging policy, Policy 428.2, which limits the police department's involvement in enforcement of civil immigration laws. It makes East Haven the first jurisdiction in Connecticut to decline to enforce any immigration detainers.
"With this settlement, East Haven has now adopted some of the strictest constraints on immigration enforcement of any city or town in the nation," said law professor Michael Wishnie of the Worker & Immigrant Rights Advocacy Clinic at Yale Law School, co-counsel in the case.
The town's police department, he said, "has agreed to limit questioning of persons about immigration status, enforcement of immigration detainers, making arrests based solely on violations of civil immigration law, and communicating with Immigration and Customs Enforcement (ICE)."
When four members of the East Haven police force were arrested in 2012 as part of a federal probe into abuse of immigrant residents and shopkeepers, public outcry forced Police Chief Leonard Gallo to resign.
In pursuit of dignity, justice and respect the organization Community of Immigrants in East Haven was formed and organized a large, peaceful march to end the violence against Latinos that had resulted in the probe.
Settlement discussions began in the fall of 2013 after the criminal prosecutions of the four former East Haven police officers had concluded. Today's settlement agreement is the culmination of a civil rights lawsuit filed in 2010 in response to repeated abuses committed by East Haven police officers against Latino East Haven residents, including false arrest, assault, battery, discrimination, illegal search and seizure, and obstruction of justice, among other harms.
"We are very happy to be finished with this long struggle for the recognition of our rights, and look forward to moving on with our lives," said Marcía Chacón, an East Haven business owner and a plaintiff in the case. "My husband and I run a law-abiding small business and will continue to do so. We strongly believe that this settlement will be good for the town and other business owners like us."
"I am thankful that this aspect of our work to reform the culture of the East Haven Police Department was successfully concluded," said Fr. James Manship, another plaintiff in the suit.
"My sincere hope is that once the Department of Justice finishes their formal relationship with the East Haven Police Department that the whole community will have a department very different than the one we had when we began this process."
"The plaintiffs in this case are ordinary people with extraordinary courage, and it was their good fortune, and mine, to work with a group of extraordinary law students from Yale who assisted in the settlement," said David Rosen, lead counsel for plaintiffs. "The agreement that was reached today will be a model for cities and towns across America.
"This settlement is a testament to the courage and patience of the plaintiffs, who committed themselves to seeking justice not just for themselves, but for the community," said James Bhandary-Alexander, an attorney at New Haven Legal Assistance and co-counsel for plaintiffs.
Photo: People's World