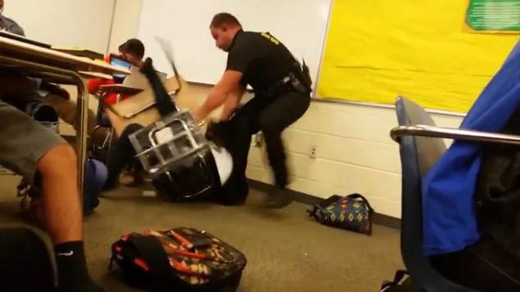 A disturbing video was circulating across social media as of Monday morning, Oct. 26. The video shows the assault of a young female student by a uniformed police officer in Richland County, South Carolina, School District Two.
The assault took place at Spring Valley High School where police were called to escort a student out of the classroom who was allegedly refusing to leave. The video, seemingly recorded by another student in the class, shows a white male officer standing over a black female student sitting at her desk.
The officer is seen grabbing the student, causing the desk and the student to fly backwards onto the floor. The officer then drags the student across the floor, demanding, "Hands behind your back…Give me your hands."
School officials have been noted as saying that an investigation is underway by the county sheriff's office. This hasn't stopped those on social media from developing their own campaign against the assault.
The hashtag #AssaultAtSpringValleyHigh has been trending on various social media platforms, in particular Twitter, for hours at a time, with many users calling for a end to police violence, in particular against people of color.
Many users are urging those concerned to call the Richland County Sheriff's Department and demand that the school officer involved in the assault, officer Ben Fields, be held accountable. Charles F. Coleman Jr, former prosecutor-turned-civil-rights-trial-attorney, tweeted, "There is absolutely no excuse for using that level of abusive force against someone who is not resisting… There is absolutely NOTHING that the student could have done to warrant Ben Fields using that level of force. NOTHING #AssaultatSpringValleyHigh." Another user noted, "I don't want to hear anyone say that she should have followed orders. She wasn't committing a crime. Fire the cop."
A statement released by a parent group called the Richland Two Black Parents Association said, "Parents are heartbroken as this is just another example of the intolerance that continues to be of issue in Richland School District Two particularly with families and children of color. As we have stated in the past, we stand ready to work in collaboration to address these horrible acts of violence and inequities among our children." According to the school website, Spring Valley High has about 2,000 students, with 52 percent of them black and 30 percent white.
Sheriff Leon Lott went on record as saying, "The student was told she was under arrest for disturbing school and given instructions which she again refused…The video then shows the student resisting and being arrested by the SRO." It was also confirmed by the sheriff's department that a second student was arrested during the incident. Aaron Johnson, another student at the school, spoke directly to Gawker, giving further dxetails about the second arrest. Johnson explained, "The girl was asked by the teacher, Mr. Long, to leave the classroom and go to the discipline office. She ignored him.
Then an administrator came in and asked her if he needed to get the resource officer. She ignored him and then the officer came in. He asked if she was gonna go or if he had to make her go. Then he grabbed her and pulled her out of her desk and she fell on the ground with the desk still on her. He then threw her across the room and then got on top of her. Another student tried to stand up for her, which also led to her arrest."
This assault comes just days after a RiseUpOctober protest in New York's Washington Square Park against police brutality. This recent incident also puts back into the spotlight the role of school resource officers (SROs) and the growing reliance on police force in schools.
As the ACLU reported in its study, School to Prison Pipeline, "Many under-resourced schools become pipeline gateways by placing increased reliance on police rather than teachers and administrators to maintain discipline. Growing numbers of districts employ school resource officers to patrol school hallways, often with little or no training in working with youth. As a result, children are far more likely to be subject to school-based arrests-the majority of which are for non-violent offenses, such as disruptive behavior-than they were a generation ago. The rise in school-based arrests, the quick¬est route from the classroom to the jailhouse, most directly exemplifies the criminalization of school children."
The Richland Sheriff's office has confirmed that Fields has been placed on paid administrative leave while the incident is being investigated. Watch the video and weigh in, is the growing police presence in public schools contributing to the School to Prison Pipeline?
Photo: An officer flips over a desk with a student still sitting in its chair. | Jimmy Paradise/Twitter