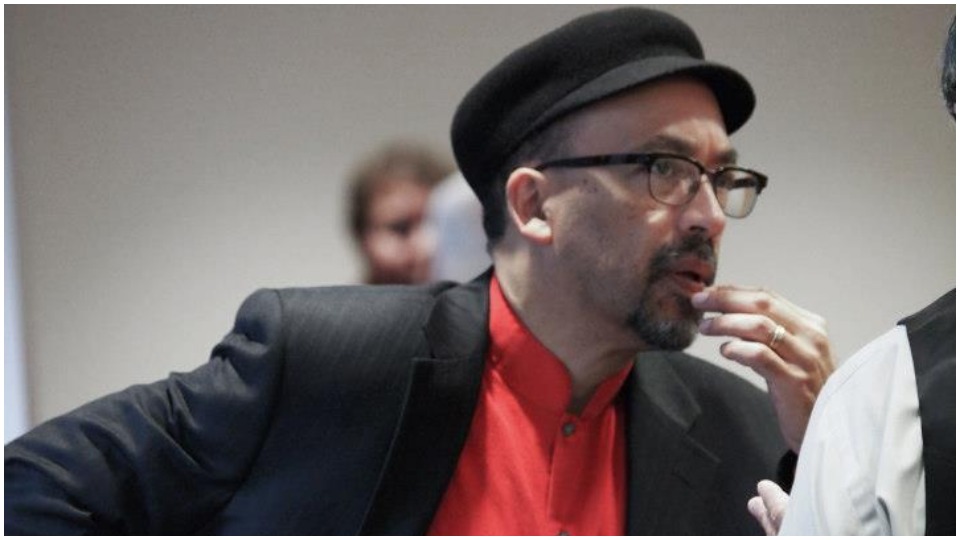 WASHINGTON—A group of 120 labor, social justice, international solidarity, and local campaign activists gathered at the Nicaraguan Embassy on Feb. 29 for the inaugural event of the newly founded Claudia Jones School for Political Education. Featuring long-time labor and Black liberation activist Bill Fletcher, Jr., the event was co-sponsored by Trabajadores Unidos de Washington D.C. and People's World.
Fletcher gave a presentation on African American radicals and their place in the U.S. labor movement. Fletcher is co-author of Solidarity Divided, a book proposing a new direction for American labor, a co-founder of the Center for Labor Renewal, and previously served as president of the TransAfrica Forum. He was also previously the educational director of the AFL-CIO and assistant to its president.
The event was opened with a welcome from Nicaraguan Ambassador Francisco Campbell, who spoke of the inspiring revolution of the Sandinistas and other important historical events in that country. His remarks were followed by a spoken word performance about the legendary Black Communist, Claudia Jones, namesake of the new political educational school.
Fletcher's talk, the highlight of the evening, provided an historical analysis of the role played by Black workers in the U.S. labor movement. "When we are thinking of Black History Month, we've got to think harder, and we've got to introduce class and gender," Fletcher told attendees. "We've got to diversify our understanding about the understated brilliance of Black people."
He said Black radicalism should be conceptualized as consisting of several "streams of water coming down from the hill that collect in a lake." In that "lake of Black radicalism," there are different currents of thought:
"Marxism, nationalism, various forms of feminism, etc. And when they are coming down that hill, they are very distinct. But when they reach each other and form that lake, you can't distinguish the stream the water originated from. Black radicalism is that lake and is made up of those different currents of thinking and actions that have existed in Black America since the moment we were brought here as indentured servants and slaves. And so that radicalism has been an attempt to fight for absolute emancipation and to fight for something Lenin called 'consistent democracy.'"
Connecting his comments to the labor movement, Fletcher said that trade unions have been haunted by two basic questions: "What does it mean to be formed in the context of a settler state, and what does it mean to deal with this issue of race?" The Congress of Industrial Organizations (CIO), in which the Communist Party USA played a major role along with other forces of the left in the 1930s and '40s, was a site where Black labor activism and Black radicalism became very important.
One manifestation of that growing importance was an organization called the National Negro Congress, a united front group that Fletcher says gets far less attention than it should. "They understood that the fight against the Depression and the fight to change the way the New Deal was operating was going to benefit from the rise of this new labor movement. They and a number of the left-led labor unions had significant Black labor leadership."
Fletcher's presentation was followed by cultural performances from Luci Murphy joined by the Black Workers Center Chorus and participants of the Black Youth Project 100.
Scenes from the event can be found on Twitter.
About the Claudia Jones School for Political Education

The Claudia Jones School for Political Education is an educational project that plans to encompass bilingual reading groups, film screenings, educational seminars/conversations, training for mass political work, and spaces for people of color, immigrant communities, etc. It is named after Black Communist Claudia Jones, who developed the concept of "triple oppression" which consisted of intersections of race, class, and gender. Her analysis was elaborated in a 1949 article, An End to the Neglect of the Problems of the Negro Woman. She was deported to Britain in 1955 during the McCarthy era by the U.S. government.

Jones' influence as a Pan-Africanist socialist has left a mark in the Black radical tradition. Another aspect of the legacy of her repression is the use of deportation against foreign radicals. While advocating radical ideologies by itself is protected First Amendment speech, federal agencies found ways to argue that Jones, and other Communists, were calling for the violent overthrow of the American government. They did so by creating an apparatus on questionable legal authority that allowed for the expulsion of undesirable elements. But in their zeal to alienate and eliminate Black radicals, the federal government made an important omission: It was right here in the United States that Jones forged her radicalism. Claudia Jones maintained a devotion to her radical beliefs until her life was cut short less than ten years after her deportation. Though her time in Britain was short, Jones left a legacy there as well as a member of the Communist Party of Great Britain and the founder of Notting Hill's Carnival. Today, she is buried in London, at Highgate cemetery to the left of to the left of Karl Marx.

For further information on the activities and events of the the Claudia Jones School, contact:

Jaime Cruz  jmr_cruz@yahoo.com

Arturo Griffiths  arturo.tuwdc@gmail.com