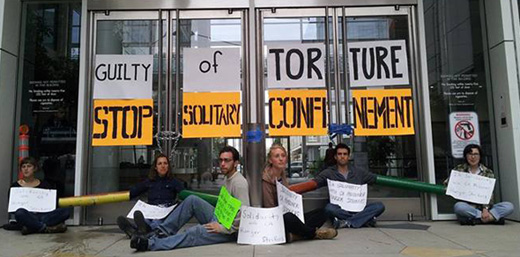 LOS ANGELES – In a groundbreaking report presented last year to the United Nations Human Rights Council, Juan Méndez, the UN special rapporteur on torture, found that solitary confinement can amount to cruel, inhuman, or degrading treatment or punishment – and even torture. According to the UN solitary confinement over 15 days amounts to torture.
As of Friday, Aug. 9, California prisoners are in their 32nd day of a hunger strike to stop solitary confinement and torture. They have united and organized the hunger strike across prison-manufactured racial and geographical lines. An end to long-term, often indefinite, solitary confinement is a key demand.
Clergy from an array of denominations gathered to pray for the strikers, their family members and all prisoners in solitary confinement. Two prisoners in particular were named as having spent more than 40 years in "Security Housing Units" (SHU) each.
(Article continues below video)
The changes the prisoners are demanding are standards in "SuperMax" super-maximum security prisons (such as the federal prison in Florence, Colo., and the Ohio State Penitentiary). The prisoners say shows that the California Department of Corrections and Rehabilitation's (CDCR) claim that such demands are a threat to safety and security are exaggerations.
The hunger strikers have five core demands.
They are: 1) eliminate group punishments; 2) abolish the debriefing policy and modify active/inactive gang status criteria; 3) comply with the recommendation of the U.S. Commission on Safety and Abuse in Prisons (2006) regarding an end to long-term solitary confinement; 4) provide adequate and nutritious food; and 5) expand and provide constructive programs and privileges for indefinite Security Housing Unit [SHU] inmates.
The Prisoner Hunger Strike Solidarity coalition held an emergency press conference Thursday prior to the day of prayer, to challenge what they called the vicious lies of the State of California and CDCR head Jeffrey Beard.
Keith James, of Stop Mass Incarceration Network, said: "It is the CDCR which has retaliated against the hunger strikers by moving them to further isolation, blowing cold air into cells at Pelican Bay, and in some cases denying hunger strikers liquids, other food items, even medicines. These are forms of violence. Beard does not mention the August 2012 'Agreement to End Hostilities' signed by prisoner representatives."
California State Assembly member Tom Ammiano told the press conference, "Taxpayers should not be funding indefinite isolation that is condemned in other countries as a human rights abuse."
Supporters are urged to call Governor Jerry Brown at 916-445-2841 and request that the five demands be met. They are also urged to call the Department of Correction's new public hotline number to voice their concerns and support of the hunger strikers: 916-324-3397.
Video by Rossana Cambron/PW
Photo: Protestors lock down the state office building in Oakland, Calif., in solidarity with California prisoner hunger strike, Aug. 5, 2013. Prisoner Hunger Strike Solidarity Facebook page.