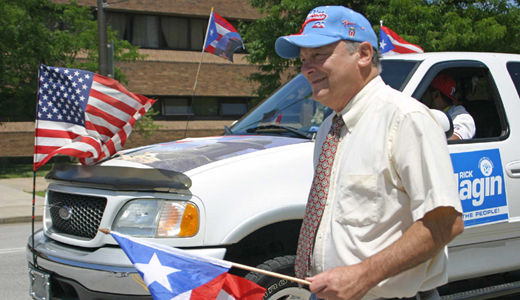 CLEVELAND – Volunteers are going house to house in this hard-hit city's West Side, getting out the vote for a candidate who they believe will "shake things up" and bring change to a neighborhood pockmarked with abandoned houses and torn up streets.
It is one of the most intriguing of several hot races around the country that will be decided on Tuesday.
Rick Nagin, a longtime resident of Cleveland's Ward 14, is in a runoff to represent the ward in the City Council. Nagin has deep roots in the ward. He and his wife Ann raised their two daughters there. His resume gives his experience as an AFL-CIO labor candidate school graduate, and the fact he is fluent in Spanish, priority over his PhD from Rockefeller University. Nagin is a member of the Communications Workers of America and a delegate to the Cleveland Central Labor Council. He is seen as the labor candidate, endorsed by the local AFL-CIO and labor's champion Rep. Dennis Kucinich, along with a number of local unions.
Nagin also writes for this newspaper, and makes no bones about the fact that he believes socialism is a better way to organize society than the dog-eat-dog, profit before people way of capitalism.
Nagin has had to fend off red-baiting from his opponent and various other sources. He scored an upset by coming in second in the September primary, putting him into the Nov. 4 runoff against Ward 15 councilman Brian Cummins, whose seat was eliminated by redistricting. Some of Nagin's unsuccessful primary opponents have joined Cummins in pushing the red scare line.
But such an approach may not get too far in Ward 14, where people often feel abandoned by a city that is in deep budget crisis. Many see Nagin as the kind of outsider who can "shake things up," as one Vietnam veteran put it.
A walk through the ward shows that "Nagin For The People" signs dominate. It's this support along with Nagin's political views and independence that has garnered national attention, including a special segment on CNN.
The ward is about 40 percent white, including many who have their roots in Appalachia, and 40 percent Puerto Rican, with a growing African American population. Every family there likely can trace their local history to a relative who came to Cleveland for the jobs in steel, auto and other industries.
These days, Cleveland has made national news for its foreclosure rates.
In this working-class community, many know Nagin as a champion of the working-class and the downtrodden. He has had a long relationship with the Puerto Rican community, serving for over seven years as assistant to the first Puerto Rican councilman. He has worked closely with several Hispanic social clubs, and was a volunteer Little League baseball coach.
Cummins on the other hand is seen as championing the small but influential professional grouping in the ward.
Cleveland is one of several cities holding mayoral and council elections this year, joined by Detroit, Atlanta, New York City, Houston, Pittsburgh and Boston. Votes on same-sex marriage are happening in Maine and Washington.
Two big governor races in New Jersey and Virginia are capturing the headlines, as they are being portrayed as a referendum on President Obama. The incumbent New Jersey Democrat, Jon Corzine, faces a tough race against Republican challenger Chris Christie and independent Chris Daggett. In Virginia, a state Obama won in 2008, the first time a Democrat won it since 1964, Republican Robert McDonnell has a sizeable lead in the pre-election polls over Democrat R. Creigh Deeds. Virginia's popular sitting governor, Tim Kaine, is not in the race.
New York's 23rd Congressional District, a traditional Republican area, has garnered much national attention with its special election. What started as a three-way race between Democrat William Owens, Republican Dierdre Scozzafava and Conservative Douglas Hoffman has become a two-way race and something of a political bloodbath between extreme right-wingers and more moderate Republicans. Scozzafava dropped out after a battery of far-right Republicans endorsed Hoffman. Scozzafava is conservative but socially liberal on some issues, a no-no for the Limbaugh/Beck/Palin brand of Republicans. Scozzafava has now endorsed Democrat Owens. Scozzafava's husband, Ronald McDougall, is the president of the Central Trades and Labor Council in the area, and is campaigning for Owen.
Polls have shown the two candidates nearly even in the district, which has about 45,000 more registered Republicans than Democrats.