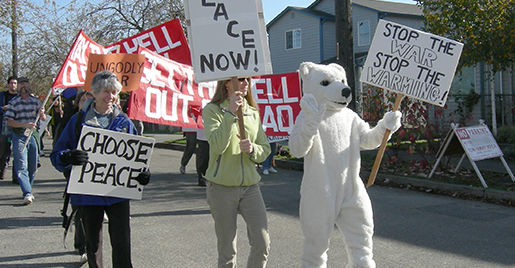 On Oct. 24, climate change events will take place all around the world, coordinated by 350.org, a web-based coalition fighting to win policies to reduce the amount of carbon dioxide in the atmosphere from the current level of about 380 parts per million.
These actions, almost 3,000, are taking place in over 150 countries, and vary from house parties up to human chains spelling out "350" on the shores of the Dead Sea, with participants from Israel and Jordon. The aim is to publicize the importance of reducing carbon dioxide emissions and to demonstrate the level of public support for serious action, in advance of the upcoming Copenhagen meeting in December.
The UN-sponsored Copenhagen meeting is to negotiate a treaty to follow the expiration of the Kyoto Accords in 2012. While many countries have taken action, and while bills have been introduced in the U.S. House and Senate, a much more urgent approach is needed.
Go to www.350.org/plan for information on why 350 is an important number, to find an event near you, or to organize an event yourself.
Photo by Joe Mabel Permission is granted to copy, distribute and/or modify this document under the terms of the GNU Free Documentation License, Version 1.2 or any later version published by the Free Software Foundation; with no Invariant Sections, no Front-Cover Texts, and no Back-Cover Texts. A copy of the license is included in the section entitled "GNU Free Documentation License"