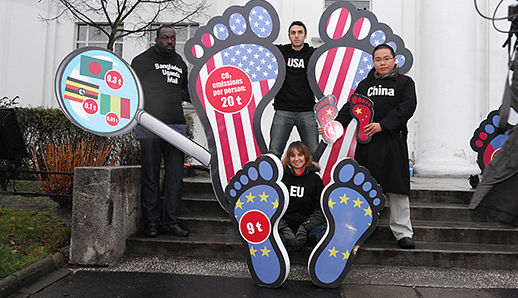 While Senate Republicans refused to join a key hearing on a climate change bill Nov. 3, German Chancellor Angela Merkel was emphasizing global warming as she addressed the U.S. Congress. Meanwhile, African nations were ending a boycott of UN climate talks in Barcelona after winning key demands.
In Washington, Republican members of the Senate Committee on Environment and Public Works refused to participate in a key hearing on the Clean Energy Jobs & American Power Act, introduced by committee chair Senator Barbara Boxer, D-Calif. and Sen. John Kerry, D-Mass. Only Sen. George Voinovich, R-Ohio, appeared briefly, urging the committee to delay work until a full Environmental Protection Agency analysis of the measure's economic impact is completed.
Boxer said EPA experts would answer questions later in the session, and noted that Senate Majority Leader Harry Reid, D-Nevada, has promised the full EPA document will be available before the whole Senate considers the bill.
Republican committee members say a quorum must include two of them; Democrats say their 12 to 7 majority would let them send the bill to the Senate floor.
Environmental organizations including the Natural Resources Defense Council have praised the bill's call for a 20 percent cut in carbon emissions by 2020 as well as its potential for jobs growth. The NRDC and over 50 other environmental, labor, youth and community organizations including the Apollo Alliance, Voto Latino and the NAACP, have joined in a letter urging Sen. Boxer to amend the bill to require stepped-up investments in energy efficiency. This, they say, will "create hundreds of thousands of new jobs retrofitting millions of buildings nationwide" and cut electricity costs to residential, commercial and industrial consumers alike.
In her address to Congress, Merkel stressed the urgency of a new climate change agreement and expressed hope for great progress at next month's international conference in Copenhagen. "We have no time to lose," the German leader said. "Today's generation needs to prove that it is able to meet the challenges of the 21st century."
But during European Union talks last week, Merkel reportedly balked at making specific pledges to help fund developing countries' fight against climate change.
In Barcelona, Spain, meanwhile, African countries ended their boycott of United Nations climate talks after gaining agreement for more discussion of the extent to which industrialized countries need to cut their greenhouse gas emissions.
The African nations, backed by some 70 other developing countries, said industrialized countries were making weak commitments to cut emissions while global warming is devastating Africa and other parts of the developing world. South Africa's delegation head Alf Wills told Reuters news agency that richer nations are using "delaying tactics" rather than discussing how they can share the burden more fairly through deeper emissions cuts.
As he looked forward to the UN's climate change conference of 192 countries in Copenhagen next month, UN Secretary-General Ban Ki-moon told the UK Telegraph the meet was unlikely to produce agreement on specific emissions cuts. But he said agreement on a "strong, politically-binding commitment" would be a "reasonable success." He said world leaders are ready to sign onto the principle of cutting emissions to keep temperature rise below 2 degrees Celsius (3.6 degrees Fahrenheit), but "some countries" are not ready to agree to a legally binding target.
Moon added, "I am not lowering the bar, I am looking at a very realistic point of view. It is a very complex process including all these verification systems, targets and money."
A potentially more optimistic view is being expressed by Connie Hedegaard, Denmark's climate and energy minister, who will chair the Copenhagen conference. As reported by ClimateWire, she told journalists last week that reaching agreement involving industrialized countries' firm commitments to emissions cuts and developing countries' commitments to specific actions is "still doable … if the will is there."
Hedegaard said it is vital to reach agreements that bind countries in the long term, not just their current governments. "Time matters," she said. "It takes years to change the path we are on. For each year we hesitate and postpone, the consequences for the Maldives and others are getting more severe and the costs are getting higher, and the ways we will have to change our habits will be even more significant. If we start acting now, we can still within sensible tools change the path we are on."
Photo: http://www.flickr.com/photos/wheatfields/ / CC BY 2.0