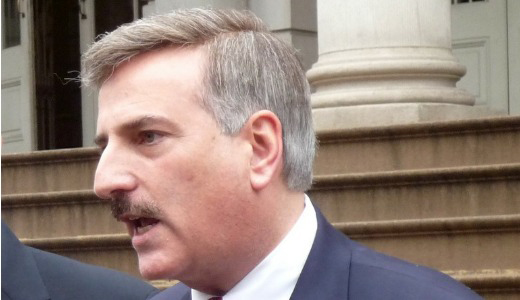 NEW YORK – Democrats are making a last minute push today, the day of the special election in New York's 9th Congressional District, where the surprisingly embattled Democratic candidate David Weprin is predicted to lose Republican Bob Turner.
A September 9 Sienna poll showed Turner beating Weprin 50-44.
"We probably won't win, unless we see a huge increase in turnout," said one poll worker who preferred not to be identified. "If people came out to vote, we'd win."
But such a turnout doesn't seem likely: "I was working at a poll site this morning until 10 a.m., and when I went in to vote I was only voter number four in my electoral district," wrote Jeanne, another Democratic activist, wrote in an email. "That's terrifying."
While in general the loss of a single Congressional district would not be much of a blow for either party, this race has taken on special significance. The 9th district, located in Brooklyn and Queens, has been in Democratic hands since 1923, and was home to party luminaries Geraldine Ferraro, who ran for vice president under Walter Mondale in 1984, and New York's senior Senator, Charles Schumer.
Losing such a solid district would consequently be a huge blow to morale for the Democrats, especially in a context where the party is struggling to assert itself in the House, currently under extreme right-wing Republican leadership.
The special election became a necessity after Weiner, a popular Democrat, vacated his seat following a scandal in which he was found to have sent lewd pictures to a young woman via Twitter.
Republicans have portrayed the election as a referendum on the policies of President Obama, and have used to attack him over his handling of the Israel-Palestine conflict. While most don't see Obama as a toxic asset, Turner's extreme anti-Obama rhetoric has helped to energize far right-wing sections of the electorate. In a special election, whoever is most able to energize their base wins.
The White House, of course, hopes to see a Democratic upset in the district, but doesn't see the prophesied defeat as indicative of a change in tide towards national support of the Republican Party.
"Obviously," said White House spokesperson Jay Carney yesterday, "special elections, small turnout, circumstances involving why the special election is taking place all have an impact on races like that. I will simply point you to a statement that the prime minister of Israel made just the other day about the historic level of assistance and cooperation and friendship that President Barack Obama has shown Israel."
So why is Weprin trailing?
The district has a relatively large Orthodox Jewish population, which generally tends to vote Democratic. But several prominent rabbis, a couple Orthodox newspaper and Dov Hikind, Weprin's colleague in the State Assembly, endorsed Turner, the Republican, because of Weprin's vote in favor of gay marriage.
Some point to a few gaffes the candidate made, including an infamous mistake in which, during an interview with the Daily News editorial board, Weprin gave a figure for the national deficit that was $10 trillion too low.
Others give different reasons. "People are unhappy, demoralized," said the poll worker. "Weiner, everyone loved him, he goes and sent pictures of his —- to some girl on Twitter, and then lied about it. To the average person, you know, to someone who's not active in politics, that's going to keep you away from the polls."
"But the economy is no good," she continued. "People don't see action coming to fix things. A lot of the people might just stay home, feeling too demoralized to vote."
Also, the labor movement seems to be split. While Turner lists no labor endorsers on his site, Weprin lists some of the city's most powerful, including AFSCME District Council 37, which represents most public workers; the United Federation of Teachers; and SEIU Local 32BJ. But missing from the list of endorsers are 1199 SEIU, itself a political powerhouse, as well as the Transport Workers Union Local 100. In 2009, a split in the labor movement cost Democratic mayoral candidate Bill Thompson the election, allowing current Mayor Michael Bloomberg a victory, if only by less than five points.
Still, Weprin supporters aren't giving up the fight easily, and think they could turn the tide.
"To me, voting is a powerful experience," wrote Jeanne in the email to supporters. "I never forget that people gave up their lives for the right to vote. So please don't forget to vote before the polls close at 9 tonight. And please help extend the right to vote to new voters at one of these upcoming voter registration drives."
Her email drew attention to several events across Brooklyn, where volunteers would be canvasing and manning phone banks. Such events are also taking place elsewhere in the borough and in Queens.
Photo: David Weprin. Azi Paybarah // CC 2.0