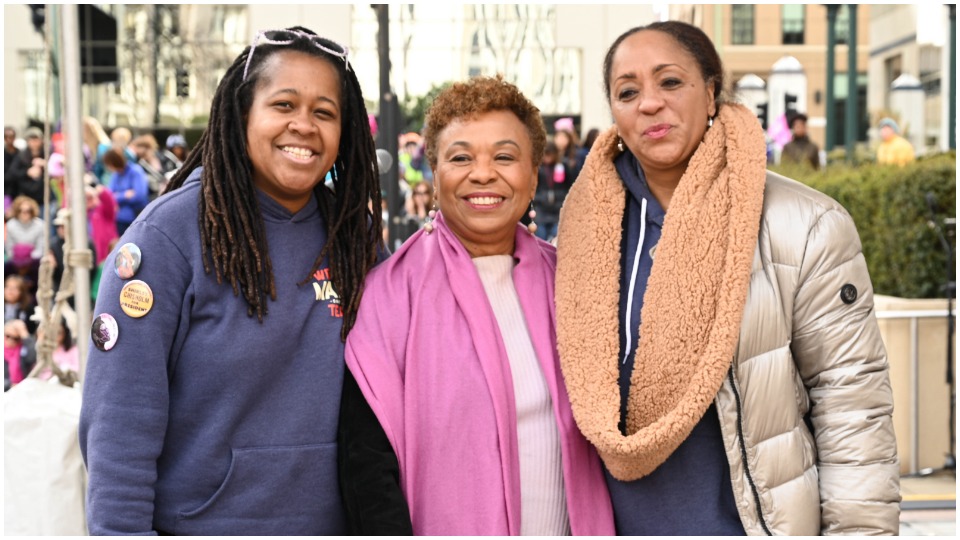 Since 1971, the number of women elected to serve in state legislatures has more than quintupled. This is an important advance, but on a fundamental level, we need to do even more to close the gender gap in politics and truly reflect the diverse nature of our country. The barriers that facilitate gender-based inequities must be confronted and transformed. Women represent half of the American population, but why is that not reflected in our government?
Women's empowerment and equality should be at the center of the political agenda. Some of the most critical issues facing the United States—such as reproductive rights, the wealth gap, human trafficking, and healthcare—disproportionately affect women. We have seen that when progressive women lead on these issues, especially progressive women of color, concrete change can occur.  When women's rights are made a priority, all working people benefit.
In state legislatures nationwide, only 29% of seats are occupied by women. Of those, only a quarter are filled by women of color. At the federal level, the House of Representatives is just 23% female, 101 out of 435 members. While the Senate fare slightly better, with women taking 26 out of 100 seats.
In 2019, the Nevada legislature became the first in the nation to have a woman majority, and other states such as Colorado and Oregon are following closely behind. The 2018 midterm elections made history by sending a record number of women to the House of Representatives in Washington. Michigan and Minnesota gave us the first Muslim-American women in Congress, Rashida Tlaib and Ilhan Omar. Massachusetts elected its first Black Congresswoman, Ayanna Presley, and Guam even saw its first female governor, Lourdes Aflauge Leon Guerrero. This election also brought Deb Haaland of New Mexico and Sharice Davids of Kansas to office, the first two Native American women elected to Congress. Showing the difference these changes can make, we've already seen, in response to the pandemic, Rep. Ayanna Presley rolling out numerous bills addressing racial injustice in the health impacts of COVID-19 . Rep. Ilhan Omar, meanwhile, has tried to tackle some of the economic damage felt by working people by co-sponsoring a bill that would forgive student loans.
Looking again at the differences state-level, California has sent the most women to Congress of any state, 43 to date. Despite leading the charge in electing women to Congress, California remains ranked number 17 nationwide by the Center for American Women in Politics for its number of women-occupied seats in its state legislature. The state has a number of organizations, however, that are working hard to close that gap.
The goal of BWOPA (Black Women Organized for Political Action) is to involve as many African-American women as possible in the political process. "More Black women will see the urgency of getting involved and will be willing to do the juggle" of work, life, and political responsibilities, Executive Director LaNiece Jones told People's World.
One of BWOPA's key programs is TILE (Training Institute for Leadership Enrichment) which identifies potential leaders and provides them with the tools and skills needed for sustainable leadership. It features a series of workshops that train women on how to run for office by helping them to strategically build community. The organization began in 1968 in the San Francisco Bay Area and now has over 1,500 members. In light of the recent protests against systemic racism and police violence, there has been an uptick in requests for membership and donor support. "U.S. Reps. Barbara Lee and Maxine Waters, U.S. Sen. Kamala Harris, and State Sen. Holly Mitchell are all among the women that received early support from BWOPA," Jones said.
Another organization working to tilt the gender balance is Close The Gap California, which wants to see 50% of California state legislature seats occupied by women by 2028. It recruits progressive women to lead on issues such as reproductive choice, support for public schools, and meeting the needs of the most vulnerable. Eleanor Moses, who is on the fundraising and outreach committee for the organization, says that their recruiting "emulates our politics," which means the process strives to be very inclusive. Potential women candidates are targeted in blue and purple districts, and groups in the community are canvassed to find out which have the strongest potential to run for office.
Close the Gap California helps women plan their campaign strategies and determine who their natural support systems are. "Women bring a unique lens to problem solving, are much more community-oriented, and willing to do the hard work," said Moses. Women tend to display more big-tent thinking that acknowledges and encourages a wide spectrum of views by building consensus. "As we unravel the cultural fabric, women are about protecting our communities," said Moses. "We handle our power differently."
Nine recruits from Close the Gap California are currently serving in the state legislature. Some of the progressive powerhouse candidates that have come out of California include the first female lieutenant governor, Eleni Kounalakis, and Senate President Pro Tempore Toni Atkins.
The success made toward narrowing the gender gap in legislation varies depending on location and party. FiveThirtyEight's "When Women Run" project reports that the West and Northeast have better outcomes than the South in electing women to state legislatures. Women, particularly women of color, are increasingly represented in higher numbers in the Democratic Party, whereas among Republicans, not so much.
As progressive women continue to make strides in the political realm, supporting the organizations that help them along the way remains essential. The simple truth is that women are underrepresented at every level of government. Advocacy for women, as well as encouragement for women-led organizations and movements, is crucial. Progressive governance that focuses on issues such as voting rights, racial justice, child care, reproductive health, and immigration need to be at the center of this country's vision moving forward. 2018 set a precedent for women in leadership. Fighting back against racist police violence and battling the inequity of the coronavirus impact mean the 2020 elections have to continue the trend. With continued support, the gender gap will and can continue to close.