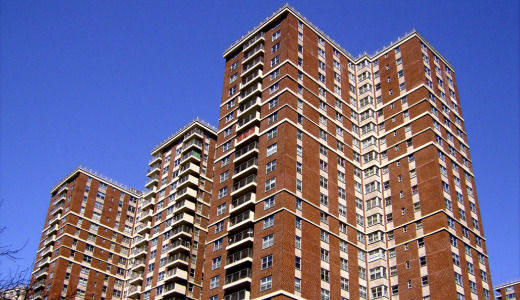 BRONX, N.Y. – More than 500 maintenance workers at Co-op City, the world's largest co-op apartment complex, have agreed with management to seek the aid of federal mediators in a dispute over wages and health care coverage that culminated in an eight-day work stoppage June 1-8.
The workers are members of Service Employees Local 32BJ. They maintain Co-op City's15,372 residential units, in 35 high-rise buildings and 236 townhouses.
"The importance of keeping these workers on the job became abundantly clear during the lockout," Kyle Bragg, vice president of 32BJ SEIU, said in a statement. "No one likes to see Co-Op City with mountains of garbage piling up, and the thousands of people who live there should not be subjected to such a mess and public safety threat."
Management called it a strike. The workers and their union called it a lockout, citing management refusal to accept a union offer to continue negotiations for a week as the contract was running out.
In a petition filed with the National Labor Relations Board, workers charge they received phone calls the night before the contract expiration, telling them not to come in to work the next day, and workers who did report for work were not permitted to go to their jobs, but were sent home instead.
At the point when negotiations broke down, agreement had been reached on almost all points, including modest wage hikes over the next few years. One sticking point remained – management demanded a change of health care plans that it says will save $1.3 million annually, and that workers say would reduce their coverage, and put a $200,000 cap on payouts.
Workers are now back at work pending outcome of the talks.
"Many of us don't just work at Co-Op City, but live there too, so we're the last ones that want to see a work stoppage," said Filomena Velasquez, a Co-op City resident who has worked on staff for 18 years. "But with our wages, we cannot afford to pay for health care out of pocket. We really need our current health plan, and we need a cost of living increase just to stay afloat."
The complex, in addition to its residential units, also has eight parking garages, three shopping centers, a high school, two middle schools and three grade schools, its own power plant, a four-story air conditioning generator and a firehouse. If it were a separate municipality, instead of part of Bronx county, it would be the 10th largest city in New York State.
Photo: Some of Co-Op City's 35 high-rises. http://www.flickr.com/photos/julesantonio/3402486668/ cc 2.0