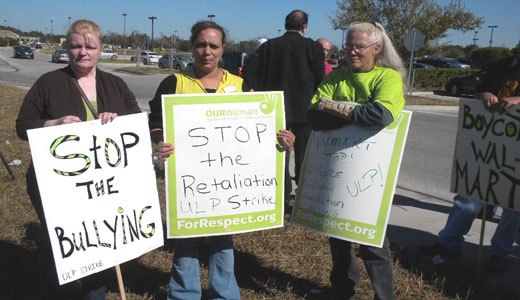 ORLANDO, Fla. – The Organization United for Respect at Walmart – OURWalmart – and community supporters stood up for one of the company's workers at five Orlando-area Walmart stores on Feb. 28.
The actions were in solidarity with Lisa Lopez, a Walmart associate who has experienced retaliation from her bosses for her involvement in OURWalmart, which is supported by the United Food and Commercial Workers union.
The retaliation has, say Lopez's supporters, included excessive work, surveillance on the job and disciplinary write-ups for frivolous reasons, which have put Lopez in danger of being fired. Lopez, a single mother who is also raising grandchildren, joined OURWalmart on Black Friday–Nov. 23, 2012–walking off the job with Rep. Alan Grayson, D-Fla. Lopez was unable to attend the action due to illness.
A small delegation of OURWalmart members and community supporters attempted to enter the store where Lopez works in order to present her store manager, Terry Wilson, with a letter in support of Lopez signed by community members.
However, before they reached the entrance they were stopped by Walmart managers and Orange County sheriff's deputies. Wilson listened as the letter was read to him, but refused to take it.
The letter stated: "We, the community of Orlando, feel that Lisa Lopez's recent coachings or disciplines [write-ups for alleged infractions of work rules] are a direct result of her actions taken on Black Friday when she went on strike to protest Walmart's unfair labor practices.
"Retaliation against associates who stand up is not only unfair, it's against the law. We would like to see 1) Lisa's coachings removed; 2) Retaliation in your store to stop immediately."
Members of the Student Labor Action Project (SLAP) at the University of Central Florida and Central Florida Jobs with Justice fanned out across the store's parking lot to hand out fliers in support of Lopez. The flier urged customers to call the store manager "and demand that Lisa not be fired for speaking out."
At the request of managers, deputies issued trespass warnings to two members of the delegation: Angela Williamson, a former Walmart worker from Florida who is now an organizer with OURWalmart, and DeWitt Pollard III, a Walmart worker in Aurora, Co.
"I'm a fired worker now and they're still trying to shut me up," said Williamson, who also has been barred from two other Walmarts. "They're still trying to control me and intimidate me into not speaking out. And I'm just not going to stop.
Pollard said being trespassed "just adds fuel to the fire, as to why we need to unite and why we need to organize and to take these tyrants on." Pollard said that after two-and-a-half years on the job he is paid just $9.20 an hour (after starting at $8.40).
Small groups of SLAP and OURWalmart members, many of them clad in bright green T-shirts, also fliered customers at four other Walmarts in the vicinity of the store where Lopez works.
The actions were a culmination of a multi-day training held in the Orlando area and attended by more than a dozen OURWalmart members from around the country.
Walmart's heavy-handed tactics against OURWalmart helped spark the wave of strikes at Walmarts around the country in October, 2012 and on Black Friday, and have continued to spur the growth of the group which was launched in 2011.
Karen Aubrey, an OURWalmart member who recently retired on disability after having worked at a Walmart in Merritt Island, Fla. (about 50 miles southeast of Orlando), said that the group's members want "respect first and foremost" along with better wages and benefits.
"We want Walmart to take responsibility for their employees–get them off the welfare rolls," said Aubrey.
Because of the company's failure to pay living wages and to provide decent benefits to its workers, "every taxpayer in America is supporting Walmart workers," she said.
The Daily Kos website reported that "Walmart has become the number one driver behind the growing use of food stamps in the United States with 'as many as 80 percent of workers in Walmart stores using food stamps [citing a study from the group Good Jobs First].'
"Walmart's employees receive $2.66 billion in government help every year, or about $420,000 per store. They are also the top recipients of Medicaid in numerous states."
For its fiscal year ended Jan. 31, the company reported total revenues of $469 billion. Walmart has 2.2 million workers worldwide, including 1.4 million in the U.S., making it the country's largest private employer.
Participants in the Orlando actions were unable to hold signs or do anything else that could be considered picketing. As a result of an unfair labor practice complaint that Walmart filed with the National Labor Relations Board about the Black Friday strikes, the UFCW and OURWalmart agreed not to engage in any "recognitional" picketing for at least 60 days. (This is picketing meant to get an employer to recognize a union.)
OURWalmart maintains that its activities are legally protected, and UFCW has said that it will continue to support the group. The agreement will expire at the end of March.
Photo: Florida OurWalmart members (L to R): Vanessa Ferreira (St. Cloud), Lisa Lopez (Orlando), Karen Aubrey (Merritt Island) at a Black Friday (Nov. 23, 2012) action. Ben Markeson/PW