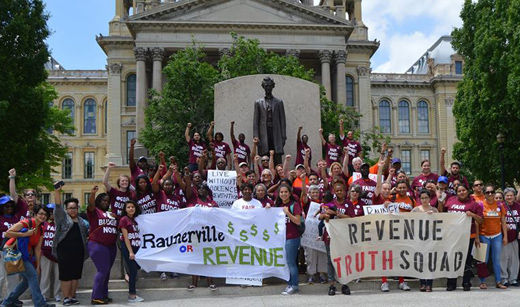 SPRINGFIELD – Community and labor groups that are part of the Grassroots Collaborative have been lobbying at the Illinois Capitol here against budget cuts proposed by the Republican governor, Bruce Rauner. The coalition includes unions like the Chicago Teachers Union and SEIU and organizations like the Action Now Institute, American Friends Services Committee, Enlace Chicago, and the Chicago Coalition for the Homeless.
Amisha Patel issued the following statement for the Grassroots Collaborative on June 1.
"To say Illinois legislators are not for the middle class, but for the political class is disingenuous on the part of Gov. Bruce Rauner. Especially, when he could look in the mirror and say the same thing about himself.
"Instead of finger pointing and political posturing, Grassroots Collaborative hopes Springfield lawmakers will spend this week listening to the needs of Illinois residents who are impacted directly by the governor's proposed budget. The needs of working families must be put back on the table and not served up as a bargaining chip.
"From the beginning, Rauner told taxpayers his goal was to 'shakeup Illinois'." What the self-described 'compassionate conservative' didn't tell us is that his compassion wouldn't extend any further than his rich buddies and billionaire donors. Once again, low-income and working class families find their worlds about to be turned upside down due to budget cuts that take financial support, resources and programs from them rather than requiring those who can afford it to pay their fair share.
"Grassroots Collaborative, along with a coalition of workers, retirees and social service agencies, spent last week in Springfield. Our Revenue Truth Squad demonstrated how cuts would hurt working families. We advocated on the need to support progressive revenue solutions to balance the state's budget, we held workshops and news conferences and prodded the governor to do the right thing by all taxpayers throughout the state, whether they live in Cairo, Peoria, or Chicago.
"All we're asking for is commonsense alternatives that generate revenue to take the budget burden off the backs of working class families and require everyone to pay their fair share. Alternatives such as reinstating the personal income tax, passing a financial transaction tax, creating a progressive income tax, a tax on luxury items, closing corporate loopholes and ending bad bank deals.
"Fortunately Rep. Chris Welch (D-7th) gained support for his resolution, HR0531, urging the General Assembly not to make cuts from services without equally proportionate cuts to big bank fees for financial services. Grassroots Collaborative supported this resolution. It passed unanimously.
"We can avoid cuts in all areas of the budget if the governor would sit down and talk revenue. We must have new revenue to have a budget that makes Illinois families and communities strong," said Welch.
"It is this kind of bold, creative leadership that Illinois taxpayers want from their elected representatives in Springfield. Last week, we saw a glimpse of it as state Representatives Kelly Cassidy (D-14th), Mary Flowers (D-31st), Will Guzzardi (D-39th), Andre Thapedi (D-32nd), and Chris Welch stood with the Revenue Truth Squad at a news conference to show their support for commonsense solutions instead of Gov. Rauner's severe cuts to vital services and programs for working families.
"Both Democrats and Republicans are pushing billions of dollars in cuts. So, there are real challenges for taxpayers to make sure our legislators think about how to move Illinois forward and create economic prosperity in every neighborhood and community. We need bold leadership to require making the wealthy pay their fair share, closing corporate loopholes, and ending and renegotiating bad bank deals immediately.
The people of Illinois deserve a fair shake. That can only happen, however, when all classes-low-income, middle-income and the wealthy work together to make sure no one is left out by the people we elect to represent us.
Photo: Grassroots Collaborative Facebook page