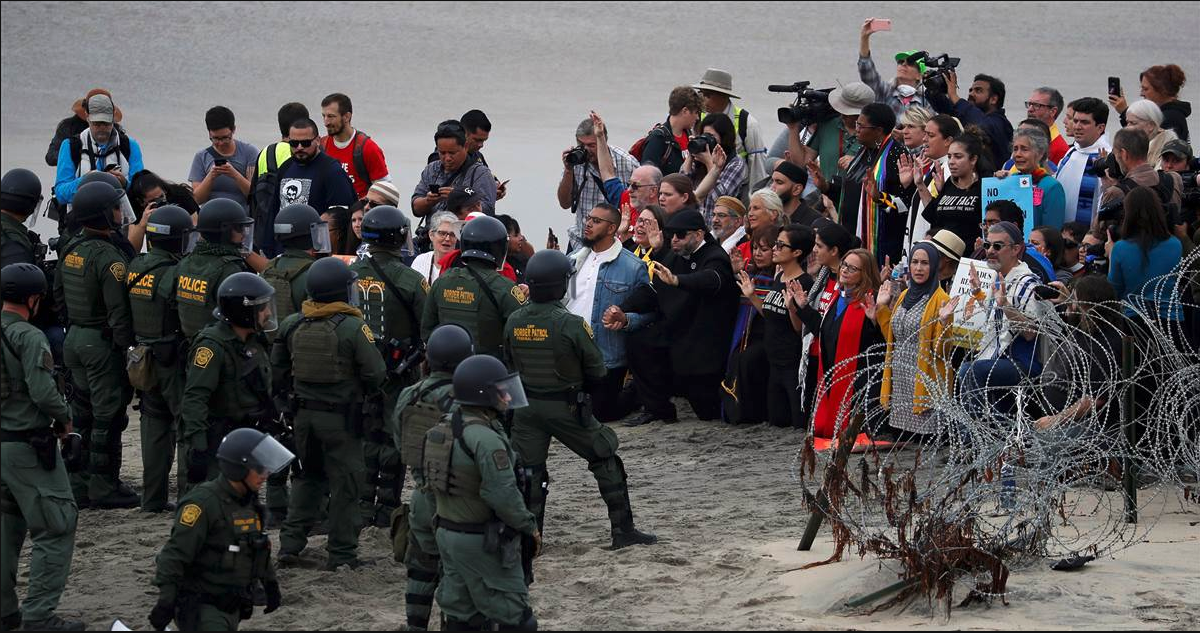 WASHINGTON—It's time to put a cap on ICE…and the Border Patrol…and the FBI…and any other federal law enforcement agent who illegally violates someone's civil rights, by making violators personally liable for damages when they do.
Removing that immunity from prosecution for damages is, in so many words, what more than a dozen organizations, including pro-labor Farmworker Justice, the ACLU, the National Council of Churches, Amnesty International, and the Human Rights Campaign, want the Senate to insert into the George Floyd Justice in Policing Act.
Their headline case for removing immunity for those federal agents is the holy horror on the U.S.-Mexico border several years ago.
Border Patrol agent Jose Mesa thought 15-year-old Sergio Adrián Hernández Güereca and his friends—who had been playing in the dry cement ditch that's the Rio Grande River separating El Paso from Cuidad Juarez—were trying to illegally enter the U.S.
The kids saw Mesa and ran back to the Mexican side. He shot anyway and killed the teen. But when Hernández's parents sued Mesa for damages, U.S. courts, all the way up to the U.S. Supreme Court's five-man GOP-named majority, said "no." Mesa had immunity, because of the border, the judges ruled. And only Congress can change that, Justice Samuel Alito's decision added.
Which is what President of Farmworker Justice Bruce Goldstein and the other group leaders want lawmakers to do, because cases of federal agents illegally violating peoples' civil rights cover much more than a murder on the border.
That's what they told Senate Majority Leader Charles Schumer, D-N.Y., and GOP Leader Mitch McConnell, R-Ky., in a June 1 letter organized by the Project On Government Oversight and The Constitution Project.
"The ability to sue serves as a deterrent against misconduct" by federal law enforcement agents, Goldstein e-mailed People's World. For example, ICE agents' actions include "unconstitutional searches and seizures of farmworkers in the fields and housing for alleged undocumented immigration status," he pointed out.
At one point, in the Bivens case more than 50 years ago, the Supreme Court gave people the right to sue federal officers who violated people's civil rights. But Bivens was silent, the High Court noted in the Hernández case, about whether the right extended across borders.
And at any rate, Bivens "was helpful, but the Supreme Court has chipped away at Bivens for years and legislation is needed to assure access to federal courts," Goldstein elaborated.
The groups want Congress to ensure that access by taking away the immunity of federal agents, at the same time, in the George Floyd Access To Justice Act, lawmakers take away such immunity from state and local cops.
And it's not just families of murder victims who would benefit. The groups list a string of instances where government agents violated peoples' civil rights. Not surprisingly, many, including the ICE raids, targeted people of color and were ordered by the GOP Trump regime.
But it's not just Trump. Federal agents' illegal violations of peoples' civil rights stretch all the way back to the notorious Palmer raids and deportations of workers, labor leaders, leftists, and Communists in 1919. And longtime FBI Director J. Edgar Hoover notoriously wiretapped and had agents trail "subversive" Black civil rights leaders, notably Dr. Martin Luther King.
These days, "Redress for a federal officer's unconstitutional acts is either extremely limited or wholly nonexistent, allowing federal officials to operate in something resembling a Constitution-free zone. If you wear a federal badge, you can inflict excessive force on someone with little fear of liability," says the groups' letter, quoting federal appellate judge Don Willett.
As a result, Mesa could kill Hernández and get away via immunity. That was the first case the letter cited. So could federal officers who strip-searched Muslim immigrants and threw them into solitary confinement. So could Border Patrol agents who tore screaming children away from their parents by force. So could ICE agents seizing farm workers, Goldstein says.
And so could the agents who massed in Lafayette Park last year and tear-gassed peaceful anti-racism protesters there, driving them out so Oval Office occupant Donald Trump could strut across the park to brandish a Bible upside down in front of St. John's Church.
So the law allows a civil rights/damage suit in the most notorious recent local murder, by former Minneapolis cop Derek Chauvin of unarmed Black man George Floyd. Chauvin now faces civil rights charges, under section 1983 of the 1871 Civil Rights Act, even after a Minnesota jury convicted him of one count of murder and two of manslaughter. Agent Mesa never will.
Whether Goldstein and his allies will get lawmakers to yank immunity from the federal agents is uncertain. Bargaining over the Floyd Act continues, but McConnell has figuratively wrapped himself in a blue pro-cop flag, saying preserving police immunity is non-negotiable. And that leaves the fate of the Floyd Act—and the addition Goldstein and his allies advocate—very much up in the air.