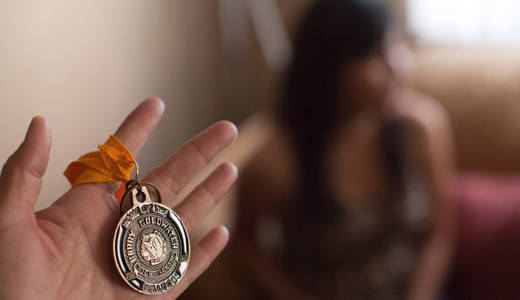 The Department of Homeland Security clarified rules Aug. 3 for undocumented immigrant youth looking to apply for temporary legal status. Now the immigrant-led coalition United We Dream is launching a campaign to make sure that all eligible youth understand and take advantage of the new rules.
The group plans a "day of action" Aug. 15, the day that Homeland Security gave as the first to apply for deferred action on their immigration status, which would allow these young immigrants to remain here to continue their education. Starting on Aug. 25, United We Dream will host events at application centers nationwide to help undocumented youth complete their applications and to offer legal advice.
President Obama announced the new policy June 15. "Since the president's announcement of this program we have been working around the clock to build a solid and massive infrastructure to ensure that DREAMers and our entire communities have accurate information and trusted assistance to apply for Deferred Action," Cristina Jimenez of United We Dream said in a press release.
Under the new rules, DREAM Act eligible youth will be able to avoid deportation proceedings for renewable two-year terms. These youth – undocumented immigrants brought to the country before their 16th birthday, are currently under 30, who have been here at least five years, who have not been convicted of a felony or serious misdemeanor and who are in school or are high school graduates – can also apply for work permits.
The DHS guidelines actually expand the number of youth eligible for deferred action. On June 15, Obama said only that only current high school students and graduates could apply. However, under the new guidelines, according to a report from Migration Policy Institute, undocumented youth who previously dropped out of school can apply for deferred action so long as they re-enroll in school by the time of their application. Original estimates suggested that 1 million young people might be affected by Obama's decision. New estimates put the number closer to 1.39 million.
The legal advice is essential, Crystal Williams, executive director of the American Immigration Lawyers Association, argued in a press release. "This process, while generous, has no appeal and requires that you reveal yourself to the government," she said. "So it is important that you get good legal advice from a licensed attorney or accredited representative."
Across the country, advocates for immigrants are cautioning against sleazy "immigration lawyers" out to defraud immigrants who do not yet know the new process or rules for deferred action.
The coalition said that a centralized website and a national telephone hotline are being created to assist eligible youth.
In announcing it would begin accepting applications for deferred actions on Aug. 15, the Homeland Security department clarified further which crimes and misdemeanors would bar immigrants from applying. The department said such acts include, "regardless of the sentence imposed … an offense of domestic violence; sexual abuse or exploitation; burglary; unlawful possession or use of a firearm; drug distribution or trafficking; or, driving under the influence." Further, any misdemeanor that carried a sentence of 90 days or more is considered significant.
According to the Department of Homeland Security, information provided on applications will be kept confidential, meaning that it will not be provided to Immigration and Customs Enforcement for use in deportation proceedings. However, a frequently asked questions section on the DHS website says the policy "may be modified, superseded, or rescinded at any time without notice."
In fact, because the entire rules change was done by executive order, a new president could reverse the policy entirely. While advocates do not think it likely that a possible President Romney would undo President Obama's decision – which polls well among most sectors of the American people – they can't rule it out. For this reason, and because only Congress can authorize a law allowing a path to citizenship, they argue that the DREAM Act is still necessary.
Even DHS says the DREAM Act is still necessary. "Deferred action does not provide lawful status or a pathway to citizenship," the department notes on its website. "As the president has stated, individuals who would qualify for the DREAM Act deserve certainty about their status. Only the Congress, acting through its legislative authority, can confer the certainty that comes with a pathway to permanent lawful status."
The Development, Relief, and Education for Alien Minors Act was introduced more than a decade ago by Sens. Orrin Hatch, R-Utah, and Dick Durbin, D-Ill. It would provide a path to citizenship for the same youth now affected by the new DHS rules. The rules change accomplishes much of the DREAM Act, but does not offer a chance at citizenship or permanent residency. Though originally a bipartisan measure, the bill's most recent version was killed in 2010 in the Senate on a mostly party-line vote.
Photo: Cynthia Moreno's mother, Lorena, shows off her daughter's graduation medal from Barry Goldwater High School, at their home in Phoenix, Ariz. Moreno, 18, from the Mexican state of Chihuahua, doesn't have documents and is uncertain as to where to begin to get information about President Barack Obama's Deferred Action program. Moreno wants to go to the university to become a business owner, but hasn't enrolled because an Arizona education law states that undocumented immigrants must pay out of state tuition. (AP Photo by Nick Oza)