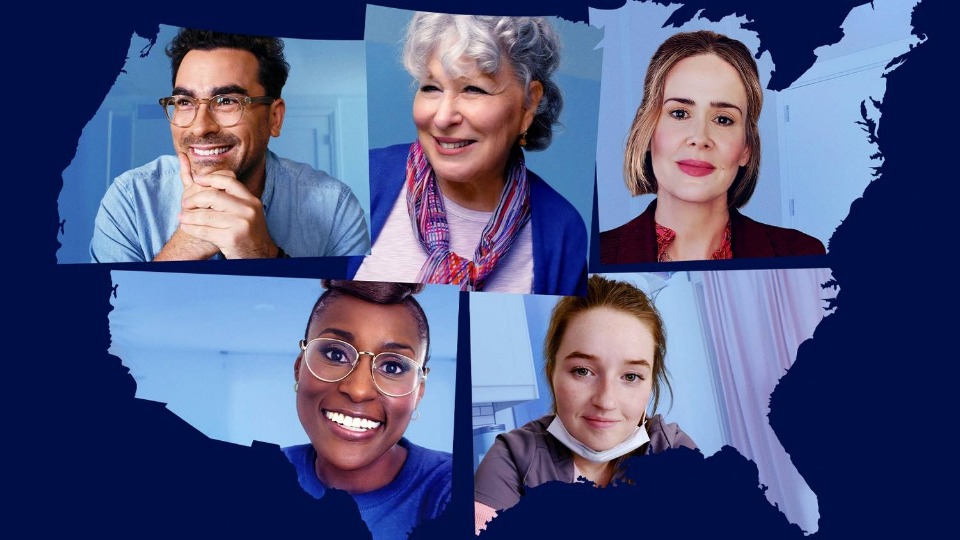 Form follows function in Paul Rudnick's lively new theater piece "Coastal Elites".  Rudnick ("Sister Acts", "In and Out", "Stepford Wives", "Addams Family Values"), one of our most clever and amusing writers, digs a little deeper this time with a well-crafted theater piece consisting of five monologues which forcefully break the fourth dramatic wall, speaking directly to the audience.
Each triptych is the product of the emotional plumbing of a single actor. Each deals with their own psychological state refracted through the present prism of pandemic. Despite and often because the pieces are so grounded in current crises, they speak loudly to universals of love, identity, values, survival, and relationships.
Bette Middler ("The Rose", "Beaches", "First Wives Club" "Down and Out in Beverly Hills") recounts her experience confronting a red MAGA-hatted Trump supporter. Their coffee shop face-off spills out into the street and eventually into the arms of the law. Issa Rae ("Insecure") infuses her uncanny deadpan, spot-on breath-taking, account of her encounters with Ivanka Trump. Rae's character sketches out the all too easily recognizable, dangerously soulless contours of Daddy's girl. Sarah Paulson serves up a bitter sweet stew of family while Dan Levy ("Schitt's Creek") turns actors' dilemmas into a heart rending dissertation on identity.
Perhaps the most affective work is done by Kaitlyn Dever ("Justified", "Unbelievable", "Booksmart"). With what seems at first great restraint, Dever ties the pieces together. It's not a conclusion or summary. It's just an accounting of the loss that both our physical and political pandemics have exacted. As with her other work, you don't get a sense of Dever's effect…until she's done. Dever, Rae, and Levy are among our very brightest young actors.
Rudnick's writing and Jay Roach's reliably deft hand directing have produced the first excellent film that speaks to what we have and are currently going through as a society. Hopefully, it will help us toward recovery on all fronts.
"Coastal Elites" is available live streaming on Netflix.