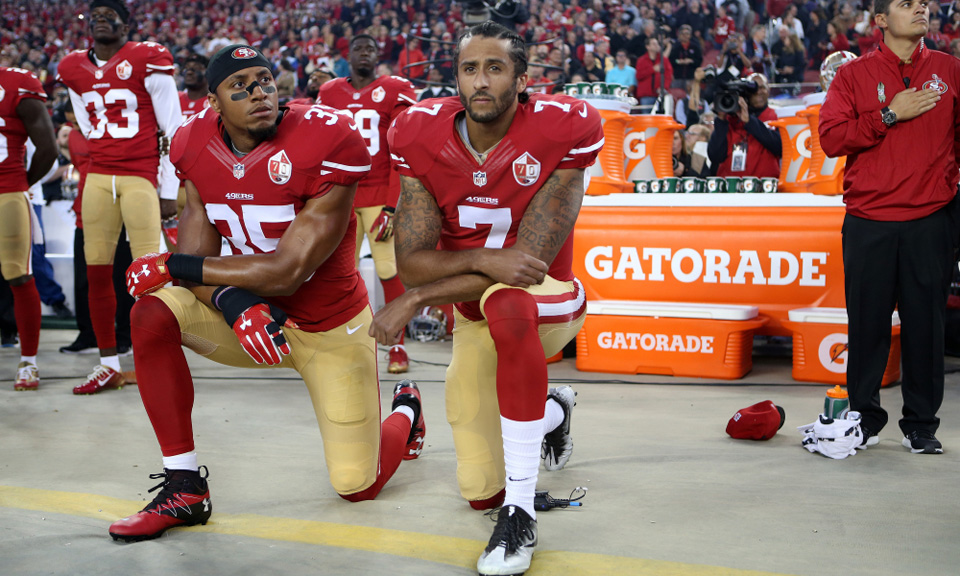 While Colin Kaepernick has effectively been locked out of the National Football League, his kneeling protests continue to inspire controversy and comment.
Recently, Sports Illustrated honored Kaepernick with the Muhammad Ali Legacy Award. Lonnie Ali, Muhammad's widow, highlighted his "passionate defense of social justice and civil rights for all people," in presenting the award. Ali's statement asks us to consider what social justice means and how we can understand Kaepernick's defense of social justice in terms of the full array of issues his protest has confronted and, also importantly, can potentially bring to light.
While his kneeling for the anthem has most overtly been understood as a protest against racial inequality and police brutality, Kaepernick's actions as well as the vibrant aftermath of incidents his actions spurred can actually lead us to spotlight a range of social justice issues, in addition to the crucial one of racial inequality, central to fostering a democratic society.
One particular issue Kaepernick's protest ought to raise but which has been not only overlooked but demonstrably obscured in the discussion is that of workplace democracy, or workers' rights in the workplace, particularly regarding speech.
Commentators seem not to recognize that the gridiron is a workplace or to understand that to a great extent workplaces in the United States constitute democracy-free zones where workers, in many instances, do not enjoy the right of freedom of speech.
Certainly comments by Republican Speaker of the House Paul Ryan and the Republican Governor of Illinois Bruce Rauner underscore this ignorance. Ryan, for example, in weighing in on the issue, called it "misguided to protest the anthem and the flag" but asserted that "clearly people have a right to express themselves as they want to." Rauner took a similar tack with regard to Kaepernick and others kneeling for the national anthem, admonishing, "I strongly disagree with those who have chosen to disrespect, to — frankly — insult our flag, our national anthem, our nation as a whole, our values and to insult our veterans," but then added, "That said, one of the reasons — the primary reason — we're the greatest nation on earth … is freedom. And part of that is freedom of speech and freedom of expression. People in America are free to be insulting."
Is it true that, as Ryan says, "clearly people have the right to express themselves as they choose"?
It's not so clear at all. In fact, it's far clearer that people, especially in the workplace, do not. Ryan and Rauner are either ignorant of the exemption of workplaces from democracy or else intentionally gloss over this reality.
Just ask Jemele Hill, Juli Briskman, Chicago police officers, players in the National Basketball Association, or any public worker.
Here's what I mean:
*Sportscenter host Jemele Hill avoided suspension by ESPN last September after calling Donald Trump a white supremacist in a tweet and provoking the White House to call for her firing. In October, however, ESPN did in fact suspend her for two weeks for violating their social media policy after she tweeted that fans who disagree with Dallas Cowboys owner Jerry Jones' policy that he would bench players who knelt for the anthem should boycott those companies who advertise with the Cowboys. In short, whether she had been suspended or not, in each case the employer has the right to curtail employment based on what a worker says.
*Juli Briskman, a marketing executive at Akima, a government contracting firm, was fired for flipping off President Trump's motorcade while riding her bike. She wasn't even at work. Because she had been photographed and the photograph had been published with great popularity, she identified herself to her company and was promptly called into a room and fired for violating code-of-conduct policies. Clearly, she did not have the right to express herself as she chooses, even outside of the workplace, without consequences for her employment.
*Two Chicago police officers who were photographed taking a knee while on duty in their precinct office were reprimanded for violating department policy that prohibits officers from making political statements while in office.
*Policy of the National Basketball Association dictates that players must stand for the national anthem.
*Public workers, as a matter of law, do not enjoy First Amendment rights in the workplace. The 2006 Supreme Court ruling in the Garcetti v. Ceballos case clearly stated, "When public employees make statements pursuant to their official duties, they are not speaking as citizens for First Amendment purposes, and the Constitution does not insulate their communications from employer discipline."
Thus, what Kaepernick's protest can hopefully highlight for us is a major shortfall in realizing democratic ideals in U.S. society. My guess is that most Americans take for granted that the place where they spend a great deal of their waking life is not run democratically. And Ryan's and Rauner's statements gloss over this reality.
Michael Zweig, though, expresses quite clearly the lack of democracy at work in his book, The Working Class Majority: America's Best Kept Secret:
"On the job, most workers have little control over the pace and content of their work. They show up, a supervisor tells them the job, and they do it. The job may be skilled or unskilled, white collar or blue collar, in any one of thousands of occupations. Whatever the particulars, most jobs share a basic powerlessness in relation to the authority of the owner and owner's representatives who are there to supervise and control the workforce."
Detroit Piston's coach Stan Van Gundy recently defended athletes who protest by kneeling for the anthem, writing,
"One of the most important freedoms that our military has fought for over two-plus centuries is the freedom of speech. When these professional athletes protest during the anthem, they are exercising one of the very freedoms for which our military men and women fought so valiantly, thus honoring our highest values and, in turn, those who have fought for them."
Van Gundy doesn't seem to recognize that, in fact, workers, including NBA players, don't typically have that right.
Was our military defending this lack of freedom of speech and democracy for workers?
I'm not sure most Americans would think so.
At the same time, sadly, I'm not even sure as a culture we have even the expectation of enjoying democratic rights in the workplace. Kaepernick himself is suing the NFL for colluding against him and locking him out of the league, so we can see clearly that he himself understands his issue, in some sense, as one of workplace rights and workplace democracy.
Hopefully, his protest and all it has spawned will help us realize that, in addition to achieving racial equality, we also need to achieve rights for workers in the workplace if we are going to realize a genuinely democratic society. A truly democratic society cannot in fact be if it allows for democracy-free zones.