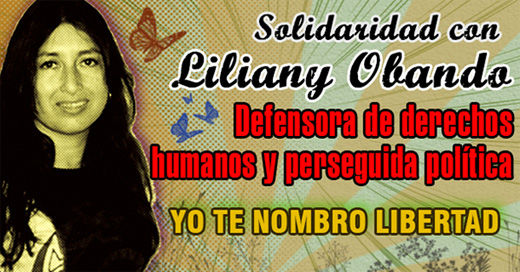 On April 3, the Colombian Supreme Court announced its rejection of an appeal by Liliany Obando of a conviction and sentence handed down in 2013. Political prisoner Obando's conviction for "rebellion" stands, as does a sentence of five years, eight months of house arrest and a fine of 707 million pesos, ($368,347 USD). Formerly human rights director for FENSUAGRO, Colombia's largest agricultural workers' union, Obando benefits from wide international support.
The Court dropped one charge against her, that of handling "resources related to terrorist activities." Her sentence includes time already served in state custody. Time remaining under house arrest is unclear, probably under two years. In confining Obando to house arrest, the Court was recognizing Obando's status as a head of household with two children, a classification she had long sought.
Arrested on August 8, 2008, Obando had been confined to the Buen Pastor women's prison in Bogotá until her release to house arrest on March 1, 2012. In prison, Obando campaigned to defend prisoner's rights, especially those of women political prisoners. She assumed a leading role with the "Manuela Sáenz Women Political Prisoners Collective," whose work extended to other Colombian prisons and even internationally. On March 8, International Women's Day, she released a since widely disseminated study "Women's exclusion from society and politics and invisibility in Prison."
Obando is a sociologist and documentary filmmaker. A week before her arrest, she issued a report documenting the murders of 1500 FENSUAGRO union members. Working with FENSUAGRO, Obando met with unions and political organizations abroad, informing them about Colombian realities.
Prosecutors accused Obando of belonging to the international commission of the FARC. Their case rested on files taken from computers of FARC leaders seized during the Colombian military's attack on a FARC encampment in Ecuador on March 1, 2008. In 2011 the Colombian Supreme Court invalidated the legal standing of material the computers contained. The appeals court apparently paid little heed to that decision.
Since leaving prison in early 2012, Obando has worked on behalf of political prisoners and for social justice and peace in Colombia. She has contributed both to ongoing educational and action-oriented projects of the "Open and Free Classroom" and to projects of Colombia's "Long Life to Butterflies" campaign dedicated to political prisoners. She has taken on a leading role with the International Network in Solidarity with Colombia's Political Prisoners.
Together with her family, Obando under house arrest has experienced harassment, persecution, and monitoring at the hands of security officials. A new solidarity effort, "I Name You Liberty" (Yo Te Nombro Libertad), is active on her behalf.
Image: INSPP