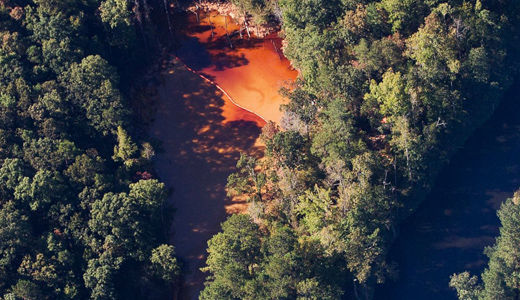 NASHVILLE, Tenn.-The anxiety felt by the stalwart sacred water protectors and their allies in their resistance to the Dakota Access Pipeline can be confirmed by the Colonial Pipeline spill affecting large swaths of the Southern and Northeastern United States. The effect of this spill is being felt all the way to New Jersey.
Living in one of the states, Tennessee, affected by this pipeline break, I first heard of the spill last Friday, September 16. There was the usual lamenting and dire predictions of the gas stations running out of fuel, long lines and angry motorists (locally I even was told of a few fist fights at the pumps).
Astonishingly, then again maybe not so astonishingly, there was the information that the break actually occurred on September 9, a full week prior to any news release. The leak was reportedly discovered by an inspector for the Alabama Surface Mining Commission in the course of performing a routine check at an inactive coal mine. Just, think, he was not even checking the pipeline. This leak was discovered just by happenstance!
What has been conspicuously absent in local papers and other mainstream news outlets is the damage being done to the environment. At first report 1,000 gallons of gasoline had been "spilled", then 250,000 gallons and now 336,000 gallons according to latest estimates. Considering the integrity or lack thereof of such estimates, who knows for sure the amount of gas spilled? Further, at last look the cause of the break still had not been determined.
News reports have said, though, that the leak has released vapors unsafe even for workers. What about a danger to water for everyday use? What danger to flora and fauna? Not a word from the mainstream media. There has to have been the likelihood of great environmental harm.
Further, research into pipeline breaks has garnered more disturbing information. The thousands of miles of pipelines traversing the entire country are starting to fail with increasing frequency according to Energy Wire, which researched pipeline failure data. It reported that in 2013, there were 7,662 spills, blowouts and leaks across 15 states, which is an average of 20 per day. This doesn't even cover states where such spills are not reported. And there is no national listing of oil and gas spills. Nor has the uptick in spills led to any increase in enforcement against the companies. The apprehensions of the Standing Rock Sioux are thus firmly substantiated.
The country must continue to rally to the support of Standing Rock in the fight for environmental justice and human rights for all of America. Often resonating at the afternoon gathering in the Oceti Sakowin protector camp was the rallying cry "We are fighting for all Americans." I recall at one of these gatherings that an elder said, now it seems almost prophetic, that there should be people from all parts of the country at the encampments, including Virginia, Tennessee, Kentucky, Alabama, Georgia and so on because the Water Protectors were fighting for them also, as they would sooner or later be fighting the same battle as Standing Rock. Now, we are looking at a massive pipeline break in the South that has just come to pass.
This is of course a rapidly developing story of determined opposition to money-mad corporate domination of which there are so many aspects.
Other urgent matters that will be covered in coming columns on this epic, historic resistance will deal with convergent issues including the apartheid application of the law to the Sacred Water Protectors by local authorities; the Morton County Sheriff Kyle Kirchmeier, the "Bull Connor" of North Dakota, and his investigation of the September 3 incident of demonstrators being viciously assaulted by DAPL-hired security guards and their attack dogs (might as well have David Duke head an investigation of police murders of people of color); Twitter and Facebook stopping the flow of information on Standing Rock (whatever happened to freedom of speech, freedom of expression, etc.?); the sordid background of Energy Transfer Partners in profiting off human misery; the obsession of said company with destroying Native American sacred sites and burial grounds (including its destruction of sacred sites in Big Bend area of Texas).
The recent oil spill in the South proves again the veracity of what was said in the protector encampments at Standing Rock: "It is not a question if the pipeline breaks, but when the pipeline breaks."
Photo: This aerial photo shows a pair of water retention ponds at the site of a pipeline leak, Sept. 20, near Helena, Ala. The retention pond on the left is where the gasoline has been contained. Brynn Anderson | AP