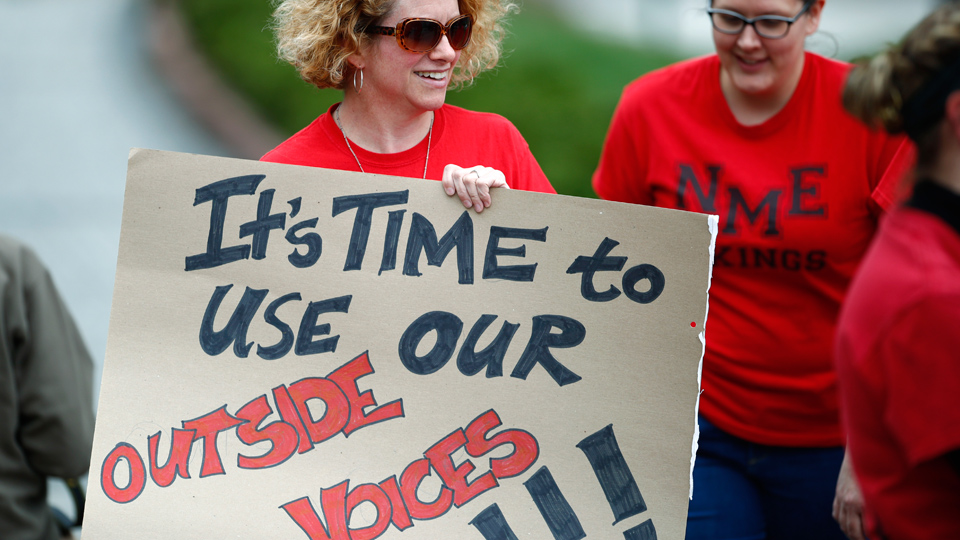 DENVER (PAI)—First it was West Virginia. Then Oklahoma. Then Kentucky. Then Arizona. Now add Colorado to the ever-lengthening list of states where teachers are taking to the streets in mass marches, protests, and campaigns to demand more funds for their students.
The differences in the Centennial State? Several: It won't be a statewide strike, but dozens of schools closed on April 26-27. And Democrats, who are more sympathetic to education, have a state surplus to spend, and they control the governor's chair and one house of the legislature.
Another difference: The campaign at the Capitol building in Denver, expected to attract 10,000 teachers, is their second such march on the legislature this month. The first won a reversal of pension schemes. And two state legislative Republicans reacted with a bill—which may go nowhere—calling for mass firings and jail for striking teachers and a big fine against the union.
But there are similarities with the other states, which in turn brought Colorado teachers into action. One is crowded classes: Colorado is 14th-worst in the U.S., at 16.4 students per teacher, including primary grades and kindergarten. Arizona, at 23.8, was second worst.
Another is low pay: Colorado, at an average of $46,155 in 2016, is 46th in the U.S., National Education Association data show. That's up 3.9 percent—the second-largest percentage hike—in one year. That jump lifted Colorado from 49th.
That #46 ranking understates the pay problem, says Kerrie Dallman, president of Colorado Education Association, the state's largest union.
"We have starting salaries in this state at $29,000," she told a recent local TV interviewer. "No educator planning to come down here wants to be here rather than in the classroom. But as educators, we feel compelled to be here for our students."
That's because her union says the state's funding shortfall for Colorado schools is $828 million—and because it hits rural schools especially hard.
"We have great public schools in Colorado, but in too many communities we are not giving schools the resources they need for every child to succeed. To be sure we can attract and retain high quality educators to Colorado, we must prioritize education funding so educators can support their families and contribute to our communities and our children can reach their full potential," the union said in announcing the mass rallies at the end of April.
"School districts and public school supporters end up begging for the leftover money at the end of every legislative session while our dedicated educators are forced to work second jobs and buy school supplies out of their own pockets. Our members are taking a stand…to demand something better than the leftovers," said Dallman.
"Lawmakers are uniquely positioned to make game-changing investments in K-12 this year and we want to see big results, like a multi-year commitment that proves Colorado values students and respects educators. We invite community members everywhere to join us in demanding the schools our students deserve."
That takes money, and the teachers offer lawmakers a solution: "Commit to a freeze on corporate tax breaks of all kinds until school funding is restored or until per-pupil funding reaches the national average." Arizona's teachers have a similar demand.
Colorado teachers also thanked lawmakers for rejecting a proposed change, SB18-200, in teacher pensions from a traditional defined benefit pension to a defined contribution, 401(k)-like plan. Making the pensions lower and variable will drive teachers out of the state, increase turnover in the classrooms, and lower the quality of learning the students receive, the union said.
Kentucky teachers demanded, and got, a similar pension win earlier this year, as the GOP-run legislature and GOP Gov. Matt Bevins retreated from massive cuts. The Kentuckians staged a huge sickout call-in, which shut the schools—for lack of teachers and subs—in Louisville, Lexington, and elsewhere. A mass rally at the capitol in Frankfort followed.