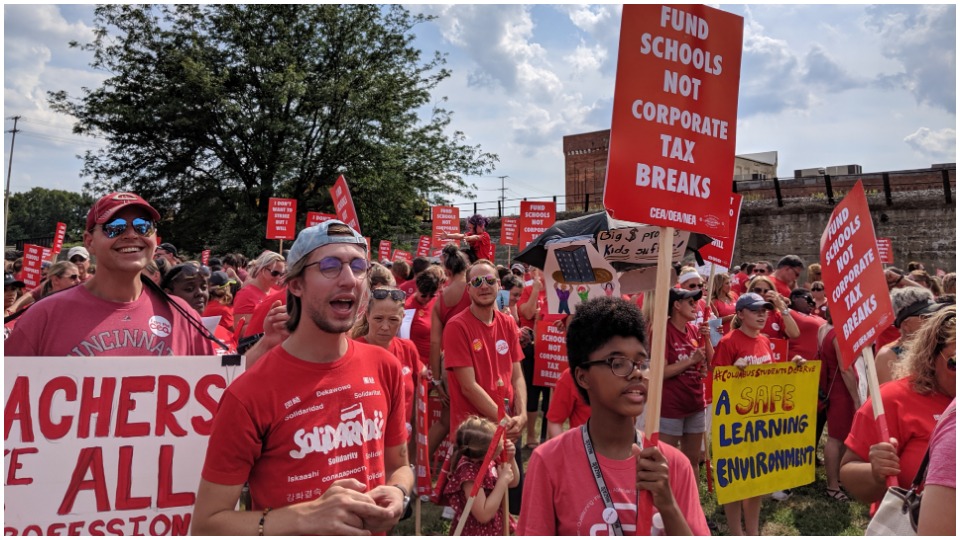 COLUMBUS, Ohio—Two thousand teachers and their allies descended on Columbus City Hall Monday evening to protest the city's practice of granting huge tax giveaways to big developers while its beleaguered public school district is short-changed.
The Columbus Education Association, now in prolonged contract negotiations with the School Board, led the march of red-shirted educators who carried signs saying "Fund schools, not corporate tax breaks" and "I don't want to strike, but I will."
While City Council deliberated inside, protesters were united in conveying the message that its generous program of tax abatements and incentives has meant that up to $150 million in tax revenue that schools desperately need went instead into corporate pockets.
Regina Fuentes, a teacher at Eastmoor Academy in Columbus and a CEA spokesperson, said that the union wants to bring awareness of these tax abatements to the public. "People are not aware of how much money is lost to the city in lost tax revenue and the impact it has on students. We understand that abatements will continue, but we want a better deal for our students."
Generosity for developers and austerity for students and teachers has meant large class sizes (up to 29 kindergartners or 36 high school students in single classes), high staff turnover (nearly a third of those hired since 2012 have left), and deferred maintenance that results in dangerous working conditions—including classrooms without air conditioning or adequate heating and school buildings afflicted with mold and rodents.
Over the years there have been cutbacks in the services that students receive, meaning nurses and school psychologists are forced to cover multiple buildings and spend some of their working time shuttling between locations. A single library media specialist sometimes is shared among eleven different elementary schools. Instead of rooms dedicated to art and music education, in many buildings, there's an "art cart" that moves from room to room.
The union's bargaining platform, #ColumbusStudentsDeserve, calls for fair professional compensation for educators to reduce turnover and provide more stable learning environments for students. The union also asserts that Columbus students deserve reduced class sizes, adequate support services like counselors, social workers, language pathologists and librarians, and school buildings that are safe, functioning, and comfortable learning spaces.
Asked about the impact of the huge turnout, Fuentes said that she is thankful for the parents and the public who support teachers. "They know we have the students' best interests in mind."
CEA president John Coneglio brought it back to the continuing contract negotiations. On 1,600 red signs, teachers made it clear to City Council that a strike is on the table. Coneglio told reporters that the huge turnout means that "teachers will keep fighting, that we're united, and that we want to have the schools that our students deserve."