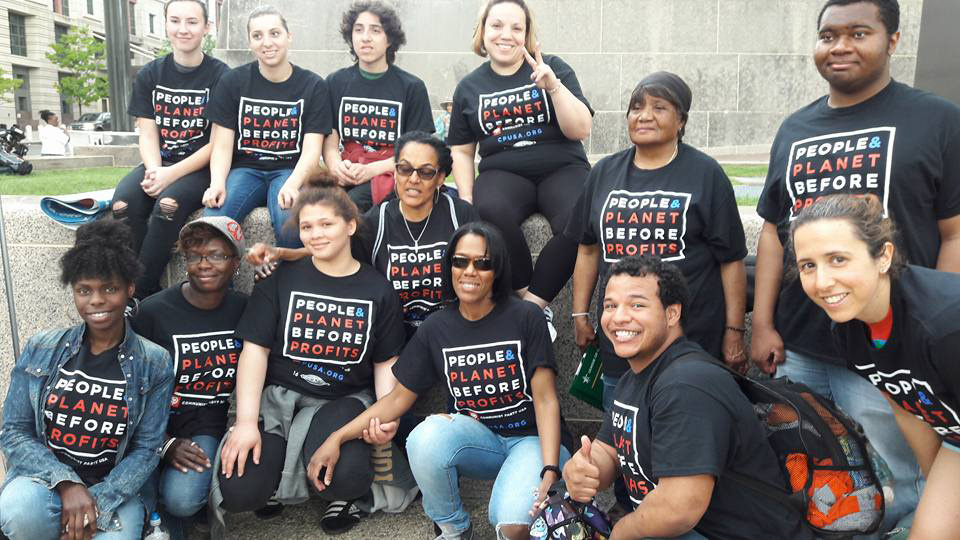 "Almost 1,000 people have joined the Communist Party since Trump's election—973 to be exact," says John Bachtell, national chair of the Communist Party USA, commenting on an upcoming national conference the organization will be hosting in November.
"Resist, Organize, Vote, and Grow," is the conference's theme, according to Bachtell. The CP, like many other left and progressive organizations, is experiencing a significant uptick in growth, says the 61-year old Chicagoan. "Trump's got people alarmed and some are looking left," he explains.
Responding to a recent membership survey, 120 new CP members volunteered to help organize new clubs. "We've got new clubs in Oklahoma, Kentucky, Utah, and Nebraska," said Rossana Cambron, the Party's membership coordinator. "We haven't had clubs in those states in a very long time."
The CP's new growth promises to translate into good attendance for the conference, which takes place November 11 to 12. It will be centered in Chicago, with regional meetings in New Haven, Conn.; St. Louis; Athens, Ohio; Houston; Los Angeles; Oakland; and in Florida. Live-streaming will connect all the gatherings. "It's a great and inexpensive way to bring us together and involve the membership all over the country," said Joe Sims, one of the conference organizers.
Workshops to be featured at the conference include: party-building in connection with the 2018 elections; labor-community alliances; social media; and the ABC's of building the organization from the ground up.
"The party's in a unique situation, but it's not all rosy," said Bachtell. "We've got an aging organization of boomers in a number of states and cities along with three or four thousand members who have joined online in small towns all over the country. How to integrate the new members into the party and build clubs around them is a big challenge."
"Combining face-to-face organizing with social media organizing and outreach is also a big challenge," remarked Sims. "For some reason, they're seen by some almost as separate, unconnected continents."
"It's not really a new idea," Bachtell said about the use of organizing via social media. "It was Lenin who first put forward the concept of building the party around the press, but the importance of this concept has increased tremendously with the explosive growth of the internet. Today, you can't compete unless you're using mass communications. It's as simple as that."
"Rooting the party in today's struggles is a big issue," said Cambron. "We're not going to grow the way we should unless we're involved in the healthcare, immigration, and environmental battles. Trump and company are preparing an all-out assault on the environment, immigrant families—you name it."
"We're involved, but not to the degree we should be," agreed Bachtell. "Here again, connecting our new members, many of whom do not have a whole lot of organizing experience with these struggles, is key. This is particularly important regarding the upcoming elections. It's got to be all hands on deck."
"These are great problems to have," said Sims, "The point is that the party is growing—but sustaining that is not a given. There have been important breakthroughs, but the growth is not even, both on and off line. Houston is doing a lot of face-to-face recruiting; in Ohio, a group of 20 or so people signed up at a speaking event; 40 joined at a Juneteenth celebration in Buffalo; and we're just scratching the surface in terms of people who sign up online."
"The conference also has to come to terms with anti-communism," remarked Bachtell. "It's less of an issue than before, but in many areas it's holding our clubs back."
In this regard, party organizers have taken note of stepped-up online trolling and attacks from right-wing extremists. "It's a factor, but the solution to it is not retreating; it's working in broad coalitions," said Cambron. "Unity is key."
"The party's time is coming," said Sims. "That includes fielding candidates. It's key to getting our message out, organizing, and providing people with alternatives—including the socialist option. Let's not forget it's the 100th anniversary of the October Revolution. We'll be commemorating it at the conference."