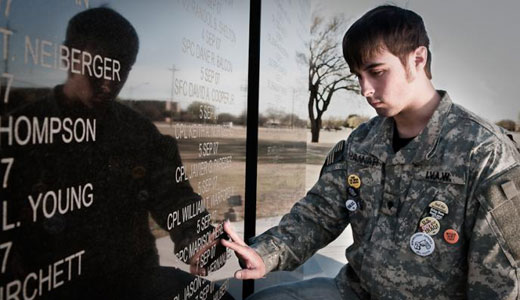 CHICAGO – With the Iraq war officially over, leaving 4,500 U.S. troops and 100,000 Iraqis dead plus tens of thousands wounded, the soldiers who fought and experienced the horror are returning home. They're stepping out of one war zone and into another.
Faced with high rates of unemployment and discrimination in hiring, many are coping with horrific injuries and post traumatic stress disorder, fueling drug and alcohol abuse, and divorce and record suicide rates.
Others will simply to be shipped out again to Afghanistan.
The experience is causing veterans to draw basic conclusions about the real nature of U.S. foreign policy and even capitalism.
Understandably there's been an influx of veterans, including combat veterans, into the ranks of the Communist Party USA and Young Communist League. I spoke with some of these veterans, who asked me to use their first names.
Among those who joined recently, and are organizing a new CPUSA veterans committee, is Greg, who served as a military police at Bagram Air Force base in Afghanistan.
He said he still gets nightmares from what he witnessed travelling back and forth between Bagram, Kabul and Kandahar.
"A lot of veterans like myself go to war and want to do the right thing for our country," he said.
"We come home and can't even find jobs, not even part-time. I've found a lot of companies are hesitant to hire veterans, because veterans may have mental or physical issues. That shouldn't be."
Greg said he's also experienced racism and ageism.
"When I got home my old company hired me back like they were supposed to. But soon after, that they laid me off which happens to a lot of veterans," Greg said.
"That really pushed me over the edge. I had read a lot of the history of the party. The next day I got on line and joined the CPUSA," he said.
The son of a Detroit autoworker, Greg said his family told him he did the right thing when he went home for Thanksgiving.
"You were always the rebel of the family," he said they told him.
Greg is active in the growing movement of the unemployed in Chicago, and is concerned about what the returning troops will do for work.
Another veteran, Frank, joined the CPUSA in September. He grew up east of Los Angeles, amid the foothills of the picturesque San Gabriel Mountains. Orange and avocado groves surrounded his hometown.
By the time he graduated high school they were replaced by a growing population and industry associated with the Vietnam War buildup.
Frank was drafted and spent two years in the Army. He was trained as a tank commander and saw combat in Vietnam, serving a tour of duty.
"Little by little, I realized in Vietnam, this supposed capitalist democracy wasn't working. This wasn't what the Vietnamese people needed. They would be much better off with socialism," Frank said.
"When I got back there weren't a lot of jobs for tank commanders and I had to deal with a lot of other things, nightmares of the things I'd seen. These young men and women returning [from Iraq] are dealing with similar things," he said.
"There has to be a better way. Socialism is the way we have to go if there's ever going to be equality between people and countries. And that's what led me to join the CPUSA," said Frank.
Today Frank is a leader of Veterans for Peace, and is fighting hard for programs to address the needs of veterans.
"Many of the returning Iraq and Afghanistan war veterans have issues they are not aware of. It's good to talk to older vets who have been thru it," he said.
Benny was born in Goree, Texas, into a family of migrant workers. He first went into the fields at age six, picking cotton, fruit and "every kind of vegetable you can name" in fields and orchards across the country.
He served in the U.S. Army in 1968-69, and after doing basic training in Fort Campbell, Ky., shipped out to Vietnam with the 1st Air Calvary.
"When I was sent to Vietnam we were told we were fighting communism so the Vietnamese people could be free," said Benny, 61. "After seeing all the guys being killed I realized we weren't fighting for what they said we were. Instead it was about enriching corporations."
"It was wrong the way we were treated when we came back, as if it was our fault," he said.
"When we got out, the VA wouldn't give you any medical attention. Today's returning vets stand a better chance, but they still need a lot of help."
"We're setting up this [veterans] group to help our members get resources and fight for jobs," he said.
Benny joined the Communist Party last year after going through a long process of struggling with the anti-communism that he said he was inculcated with during the war.
"It's been ground into our heads so much. So you sit down, and try to figure out what the truth is," he said.
"I realized the kind of society of peace and equality the party envisions is really what I wanted too."
The new CPUSA veterans committee can be contacted at veterans@cpusa.org.
Photo: (Jon Orlando/IVAW.org)