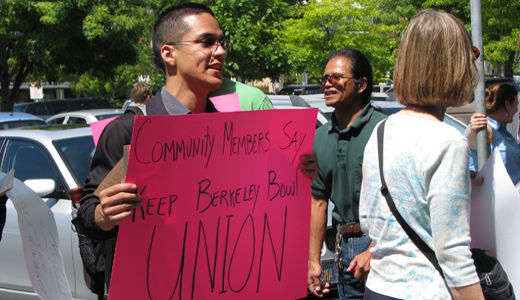 BERKELEY, Calif. – Workers at the popular Berkeley Bowl Marketplace supermarket here have fought hard to have a union, overcoming numerous unfair labor practices as well as efforts by pro-management employees to decertify the union.
The 180 workers, whose second union contract expires July 31, are represented by United Food and Commercial Workers Local 5, which represents some 26,000 grocery and other workers in the San Francisco Bay Area. A new effort to decertify the union-led, the union says, by a close friend of the owner's son-is being fought vigorously by the workers' representative committee, and is set to come to a vote June 23.
As in almost every labor struggle these days, health care is a big issue. Without negotiating with the union, the Berkeley Bowl changed its health care plan, raising the workers' co-pay and cutting off dependents.
The workers' struggle to uphold their union isn't taking place in a vacuum. On June 10, dozens of community supporters converged on the store to let its customers know about the situation.
"Workers fought for years to get a union here," Berkeley City Councilmember Kriss Worthington told the rally. Management has violated workers' rights repeatedly, and has been told by the National Labor Relations Board that its actions were illegal and immoral, he said.
"The union is here, the store's prices are still reasonable," Worthington added. "But we're not going to continue to spend our money at a store if it does unfair and illegal things."
UFCW Local 5 is also fighting what it says is the unjust firing of Berkeley Bowl deli worker Olimpia Moreno last August. Despite an unemployment administrative judge's finding that Moreno had not violated company policy and was therefore entitled to unemployment compensation, and a Federal Mediation and Conciliation Service official's recommendation that she should have her job back, Moreno has still not been restored to her position.
Meanwhile, workers at the new West Berkeley Bowl are continuing their campaign for a union there. The company initially refused to talk with the union about the new store, but after workers and the community mobilized and the City Council passed a resolution supporting unionization, management agreed to card check and neutrality.
Community members will again gather at the original Berkeley Bowl, 2020 Oregon St., Berkeley, on June 21 at 4 p.m. to show support for the workers and their union.
Photo Marilyn Bechtel/PW