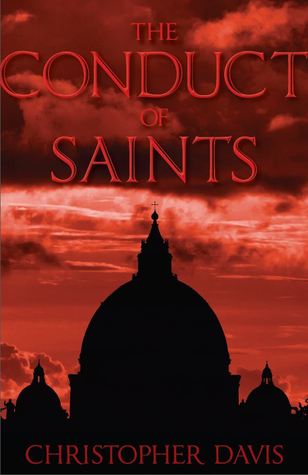 When I was a graduate student (who knew everything, naturally), a professor in colonial Latin American historiography gently guided me toward the eternal mysteries of a place called Nuanceland. There, I discovered, the Roman Catholic Church was far more than just the maidservant to Spanish imperialism that quieted whatever troubled conscience the conquistadores might have suffered while subduing the native populations and claiming their lands for the Crown. The Church also employed thousands of people, operated the only hospitals in the New World, ran the schools, and built magnificent architectural wonders. It even ruled against actual enslavement of the natives (Africans were another story, alas). Suddenly it became not so easy to parse out the good from the evil.
Christopher Davis's new novel, his twelfth, The Conduct of Saints, takes place precisely on this shifting, shaking moral ground. His playing field is Rome 1945, during the Allied Military Government occupation in the months following the retreat of the Nazis. Streets, cafés, prisons, palazzos, and churches in and around the Vatican, are occupied by a smarmy mix of religious types, all with their own (and conflicting) agendas; soldiers of present and recent régimes who continue to lurk about; opportunists, thieves, and special pleaders of every stripe; and at least a couple of actual killers around whose fate the novel revolves. The story has the pacing and the atmosphere of a particularly hardened film noir.
Davis was a National Book Award nominee for his novel A Peep into the 20th Century, which took a troubling look at the first execution by electric chair in 1890. In that book, and in numerous essays, Davis has witnessed powerfully against the death penalty, even for murder. It's a subject Davis well knows: His uncle, the radical composer Marc Blitzstein, was beaten to death in 1964. Unrecognizable to most readers, no doubt, is a fictional recapitulation of that incident in Conduct of Saints, which must have been wrenchingly difficult to write.
Davis's inventive set-up concerns an Irish-American priest and lawyer, Brendan Doherty, whom Pope Pius XII has charged with a high responsibility. He will be the "Devil's Advocate," i.e., the one who raises doubts and objections concerning the upcoming plan to make someone a saint. In this case, he must determine if one Alessandro Serenelli, who 40 years earlier savagely murdered 12-year-old Maria Goretti, is sincere in his repentance if Maria is to be canonized. The Pope, you see, needs this new saint as an inspiration to all the war-torn youth who might otherwise gravitate toward communism. Doherty's Devil need not advocate too persuasively.
And Doherty, likewise on Papal assignment, is also interested in the matter of Pietro Koch, a German-Italian Nazi mass murderer who has also repented: But again, really? Without excusing the crimes, Doherty is nevertheless a staunch opponent of the death penalty. An example is given of a Nazi collaborator dragged through the streets and killed by an angry mob, but it turns out the guy was a mistaken identity. Oh, well. Not easy questions, capisce?
Populating this scenario we find other historical figures such as the Pope and filmmaker Luchino Visconti. But the focus is on Doherty, his many personal imperfections and likewise his almost Quixotic attempt to reconcile justice with compassion. It is no plot spoiler to reveal that Doherty is dogged by inner conflict over his sexuality, adding yet another level of depth to the novel. The Conduct of Saints sounds like a potboiler, but one lucidly conceived and stunningly written, chock full of ideas and philosophies (and their intricate nuances), the very stuff people of conscience struggle with on a daily basis.
Emanating from a small publishing house, this novel likely has no five- or six-figure advertising budget, and may escape notice. Make sure your local library gets it.
"The Conduct of Saints"
2013, The Permanent Press
Hardcover, 264 pages, $28
Photo: Goodreads.com