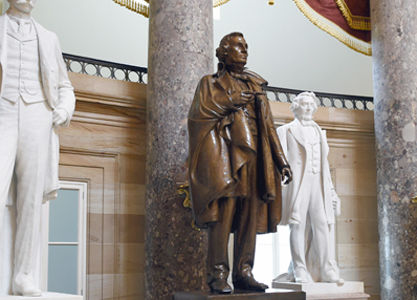 The Confederate flag was ordered down from state capitol grounds and big box store shelves this week following the racist massacre of nine African American worshippers in Charleston, S.C., by a white man who identified himself with that flag.
In response Walmart, Amazon, Sears/Kmart and eBay announced they will stop selling Confederate flag-themed items.
These retail giants have been selling thousands of Confederate-related products for years, evidently not concerned that this might be offensive to millions of shoppers or grist for racists. Now, however, spokespersons for the companies have told reporters they are pulling the items because they "do not want to offend" anyone. The flag, they said, has "become" a symbol of divisiveness and racism.
Meanwhile Republican politicians across the South are moving to distance themselves from what is known as the Confederate battle flag, and are calling for its removal from state flags and capitols.
On Tuesday, the Republican-dominated 170-member South Carolina legislature voted nearly unanimously to take up a bill to remove the Confederate flag from the Statehouse grounds.
Among those speaking out for taking the flag down was Republican state Sen. Robert Thurmond, son of U.S. Senator Strom Thurmond, the notorious racist and segregationist who died in 2003. "Our ancestors were literally fighting to keep human beings as slaves, and to continue the unimaginable acts that occur when someone is held against their will," Robert Thurmond said.
On Wednesday morning, Alabama Gov. Robert Bentley had four Confederate flags removed from a memorial at the state Capitol.
In Mississippi, the speaker of the state House, Philip Gunn, a Republican, called for taking a Confederate battle cross off the state's flag. (Mississippi is the only state in the country that still directly reproduces a Confederate symbol in its flag. Six other former Confederate states have elements of the Confederacy's flags in their state flags.)
On Wednesday, both of Mississippi's U.S. senators, both Republicans, called for changing the state flag to eliminate the Confederate emblem. In the morning, Sen. Roger Wicker said the flag should be replaced by "one that is more unifying to all Mississippians." This was a reversal of his statement two days earlier that the issue was up to the state. Wicker chairs the National Republican Senatorial Committee, a major Republican political campaign apparatus. His colleague, Sen. Thad Cochran, likewise at first claimed the flag was a state matter, but by the afternoon he conceded that the state should "consider" changing the flag. "The recent debate on the symbolism of our flag, which belongs to all of us, presents the people of our state an opportunity to consider a new banner that represents Mississippi," Cochran said, adding that "we should look for unity and not divisiveness in the symbols of our state." Interestingly, Mississippi's black voters are credited with helping Cochran win a tough 2014 primary against a tea party Republican.
In Tennessee, a number of political leaders are saying a bust of Nathan Bedford Forrest, a Confederate general and Ku Klux Klan founder, should be moved out of the Statehouse.
In Virginia, Gov. Terry McAuliffe, a Democrat, ordered that the Confederate flag no longer appear on license plates. This is also being raised in Maryland, North Carolina and Tennessee.
Of course, the Alabama Confederate Memorial, whose cornerstone was laid by former Confederate president Jefferson Davis in 1886, remains in place on that state's Capitol grounds, and Confederate flags remain in its Old House and Senate chamber.
Tributes to the slaveocracy and its racist legacy persist around the country. Debates are unfolding in many places, not just the South, over government buildings, schools, streets and other public sites named after Confederate leaders, or containing statues honoring them. That includes the U.S. Capitol, where a number of statues of Confederate figures are displayed. "There are few places where those symbols are in more abundance," The New York Times notes.
Photo: A statue of Jefferson Davis, second from left, is on display in Statuary Hall on Capitol Hill in Washington, June 24. The statue was given to the National Statuary Hall Collection in the U.S. Capitol by Mississippi in 1931. The move in South Carolina to remove the Confederate flag from the statehouse grounds is prompting members of Congress to take a new look at Confederate images that surround them every day. (AP Photo/Susan Walsh)