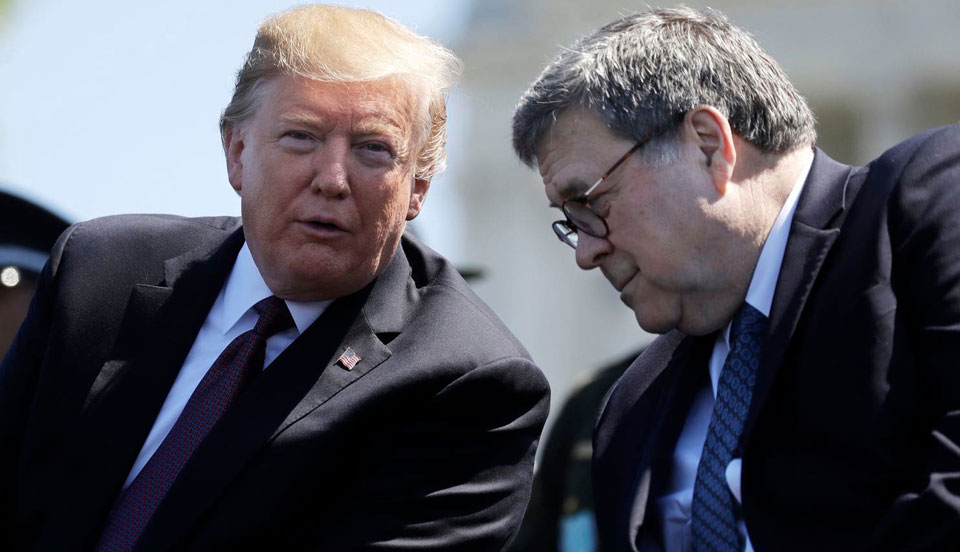 As we went to press with this story the White House directed Hope Hicks and a former McGahn aide to withhold documents from the House Judiciary Committee, thus deepening the constitutional crisis.
Hicks was a top aide to the president and Donaldson was chief of staff for McGahn, the former White House Counsel.
Hope Hicks, however, said later today that she would turn over to Congress the documents it wants.
WASHINGTON—Censure? Contempt? Fed-up House Democrats are preparing stronger moves – though not impeachment, yet – against GOP President Donald Trump's stonewalling of congressional investigations and continued obstruction of justice since Special Counsel Mueller submitted his report.
Majority Leader Steny Hoyer, D-Md., announced he will bring a contempt of Congress resolution to the House floor on June 10 against Trump Attorney General William Barr and Don McGahn, Trump's former White House Counsel, for refusing to testify to the House Judiciary Committee, which is leading the investigation of the case.
Judiciary also would decide whether to impeach Trump, as millions of rank-and-file Democrats – most recently at the California state Democratic convention last weekend – demand.
Meanwhile, Rep. Ro Khanna, D-Calif., who took the lead in pushing the use of the War Powers Act to end U.S. military aid to the Saudi-led war in Yemen – a measure Trump later vetoed — wants to censure Trump himself, for the same reasons.
The two moves are the latest developments in the increasing fight over Special Counsel Robert Mueller's report and its data showing that not only did the Russians manipulate the election in Trump's favor but that Trump himself engaged in 10 instances of obstruction of justice to try to stop congressional probes into it. A 1999 Justice Department memo, Mueller says, bars Trump's indictment.
One Trump obstruction was to tell McGahn, who has since returned to private practice, to lie about Trump's own role in trying to shut the probes down. McGahn refused, and quit, but Trump has since ordered him not to testify to Judiciary – and he didn't.
Barr's summary of Mueller's report was rife with mischaracterizations, though Mueller declined to call them lies. Barr, at Trump's orders, also refused to testify to the Judiciary panel.
All that steamed the normally unflappable Hoyer. The Marylander is more cautious and more moderate than House Speaker Nancy Pelosi, D-Calif. She doesn't favor impeachment, yet, but says Trump's obstructions could be considered impeachable offenses.
"Next Tuesday (June 10), I will bring a resolution to the House floor forcing Attorney General Barr and former White House Counsel McGahn to comply with congressional subpoenas that have been duly issued by the House Judiciary Committee," he said.
"The resolution will authorize the Judiciary Committee to pursue civil action to seek enforcement of its subpoenas in federal court. It also authorizes House committees that issued subpoenas as part of their oversight and investigation responsibilities to seek civil enforcement of those subpoenas when they are ignored."
Besides Judiciary, Trump has also stiffed the Select Committee on Intelligence, the Financial Services Committee, and the Oversight Committee, among others. Financial Services is probing whether foreign payments to Trump's hotel in D.C. violate the U.S. Constitution's "emoluments clause" which bars officeholders from private gain from their public offices. The other two are probing other aspects of Russian interference.
Khanna wants to go after Trump himself, with a censure resolution. That would, he pointed out, have the advantage of not needing the GOP-run Senate's involvement, unlike impeachment. Meanwhile, it would give Congress even more leverage against Trump.
"We need Congress, through our committee work, to continue to aggressively investigate the president and hold him accountable. I believe we should immediately take decisive action to censure him and keep all our options on the table. What President Trump did is wrong and violates the rule of law and our ethical norms," Khanna said on May 29 while home in California during the congressional recess.
"The advantage of that is it can be done with the House," Khanna later told Roll Call, a Congress-oriented newspaper. "We can hold the president accountable and say his actions are unethical, and he's engaged in blatant misconduct and there can be some accountability for future presidents. It's a permanent mark on the president's record."
"This administration's systematic refusal to provide Congress with answers and cooperate with congressional subpoenas is the biggest cover-up in American history, and Congress has a responsibility to provide oversight on behalf of the American people," Hoyer concluded.
The Hoyer and Khanna moves still aren't impeachment. In the last Congress, several other Democrats, including Rep. Al Green, D-Texas, a member of the Congressional Black Caucus, introduced impeachment resolutions, but they went nowhere. Green's was over Trump's racism and endorsement of the neo-Nazis who murdered Heather Heyer in Charlottesville, Va., during the neo-Nazis' riot there.
Like free stuff? So do we. Here at People's World, we believe strongly in the mission of keeping the labor and democratic movements informed so they are prepared for the struggle. But we need your help. While our content is free for readers (something we are proud of) it takes money — a lot of it — to produce and cover the stories you see in our pages. Only you, our readers and supporters, can keep us going. Only you can make sure we keep the news that matters free of paywalls and advertisements. If you enjoy reading People's World and the stories we bring you, support our work by becoming a $5 monthly sustainer today.