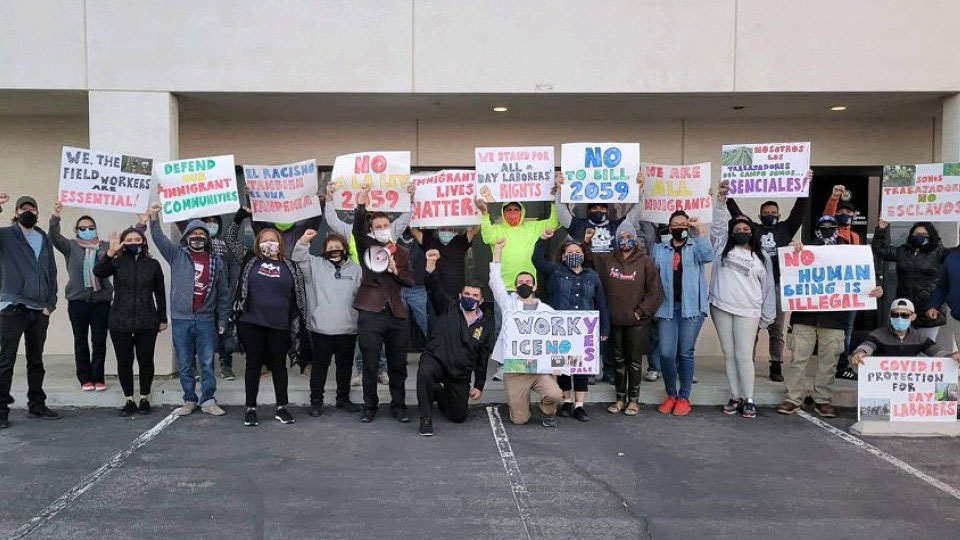 SANTA CLARITA, Calif. — Planned protests against two Congressional Republicans from Southern California, Minority Leader Kevin McCarthy (23rd C.D.) and Rep. Mike Garcia (25th C.D.) took place as scheduled on Fri., Feb. 26.
The actions took place in the cities of Santa Clarita, Lancaster, and Bakersfield, three bulwarks of the far right in California, as witnessed by their elected Congressional representatives.
The 25th C.D. has not always had ultra-conservative Congressional representation. A previous Republican representative, Steve Knight, also met with opposition from liberal and progressive organizations opposed to his past support for flying the Confederate flag over the Capitol. Those protests ushered in the 2018 election of Congresswoman Katie Hill, considered by many as a progressive Democrat. Hill was forced to resign after serving only a few months owing to a sex scandal orchestrated by her estranged husband. In subsequent elections, one to fill out the rest of Hills term, and a later one in November 2020 for a full two-year term, a moderate Democrat, Christy Smith, ran against far-right Raytheon official, Republican Mike Garcia. Garcia won both times, returning District representation to the right.
The Feb. 26 protests were organized by a coalition of organizations that included Our Revolution, the Dolores Huerta Foundation, Progressive Democrats of America, the grassroots Latino organization Salva, and supported by the American Civil Liberties Union. Protests cited the continued refusal by the Congressional representatives to face issues vital to the people of all three cities.
The issues include the Sheriff's conduct in dealing with minority and working-class communities, which has led to complaints being filed by the ACLU, and the continued crisis of acute homelessness facing low-paid and unemployed families. Of concern also is the treatment by authorities against immigrants who have settled in these communities and provide valuable services in the homes and fields of Lancaster and Bakersfield.
But these were not the only issues in the minds of the protestors.
Santa Clarita organizer Shawnee Badger, an activist with Our Revolution, also stated in the Santa Clarita Proclaimer, a new liberal Santa Clarita alternative to local conservative media, that Garcia "…has not had an inclusive Town Hall with diverse voices" as well as having rejected the November 2020 election of current President Joe Biden. "We want to make sure that Mike Garcia is held accountable," she stated.
The Santa Clarita caravan protest was almost immediately confronted by Santa Clarita Sheriffs, who threatened to cite protesters for allegedly obstructing traffic based upon complaint calls from Garcia's staff. It should be noted that Garcia's office is across the street from the Sheriff's station. Increasing momentum opposing Garcia has been felt by groups such as the Santa Clarita Democratic Club, and the reorganization of the Santa Clarita Democratic Action Alliance.
The Lancaster protest consisting of over a dozen cars also traveled to Garcia's office there. Protesters were able to park and march in front of Garcia's office carrying signs reflecting their issues and demands. Apparently responding to the issues of the Sheriff's Department's heavy-handed treatment of the Latino and African-American community, local sheriffs made no effort to confront the lively protest.
The protest in Bakersfield, the political home of Minority Speaker McCarthy, was also supported by Our Revolution and was coordinated by Julie Solis, a past candidate for the California Assembly. The protest had an impressive twenty or more cars, whose occupants honked and cheered their way past McCarthy's office.
However, this protest was marred by Trump supporters who were seen driving by Solis's home and attempting to intimidate her family. Supporters of Solis believe that the intrusion into Solis's family life was highly intimidating and was not met with intervention by Bakersfield law enforcement. They also believe that the Trump counter-caravan reflected on Solis's longstanding opposition to the politics of McCarthy and his support for former president Donald J. Trump.
Wade Alexander, a central figure in the Our Revolution organization, responded to the tri-city protests, stating that "We need issues that in the future can inspire people and help to build momentum for the future. That's because we're just getting started."
Alexander's views could not be more prophetic. Late word reached the Lancaster activists that a key ally of Mike Garcia, California State Representative Republican Tom Lackey, had reached out to protest leaders requesting a meeting to discuss the issues they were raising.