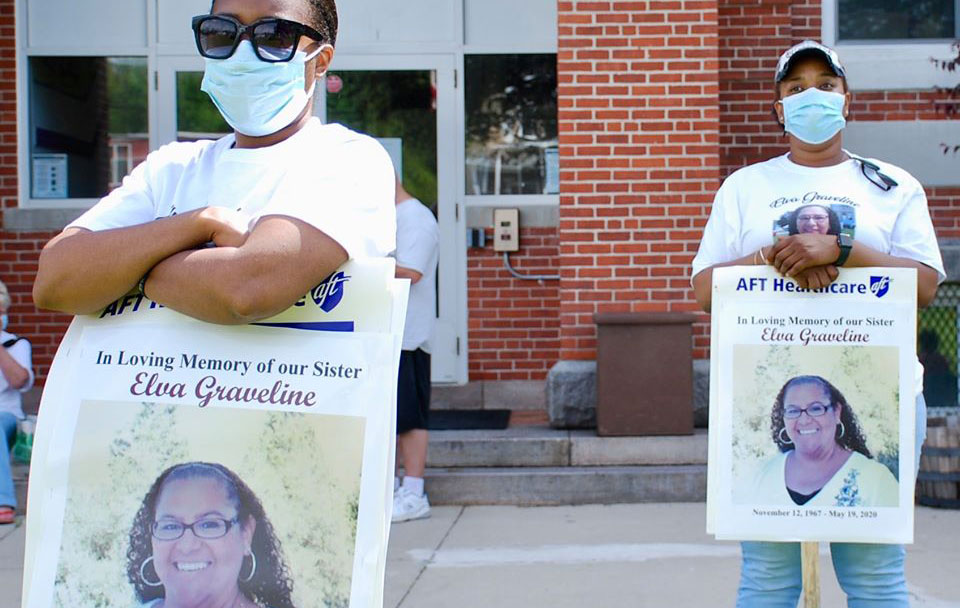 NEW LONDON, Conn. — Over 200 health care workers, family members and supporters rallied across from Lawrence Memorial Hospital May 30, "for safety, protection and respect in the workplace and raising awareness of health care professionals' concerns that without proper personal protective equipment (PPE), communities are at risk."
The rally, addressed by Teachers' President Randi Weingarten, was organized by members of American Federation of Teacher's Connecticut local unions at the hospital and the Visiting Nurses Association of Southeastern Connecticut in New London (both part of the Yale-New Haven Health System).
Health care workers have been forced to care for patients without adequate personal protection equipment that would protect both workers and patients.
Elva Graveline, a nurse's aide for 23 years at the hospital contracted Covid-19 and died after having to work under dangerous conditions. Her daughter reflected upon Elva's caring nature and commitment to her family and patients. Elva was a long-time member of AFT Connecticut Local 5123, the Healthcare Workers Union.
In her remarks, the President of the Local, Connie Fields, insisted that Elva's death could have been avoided had Yale-New Haven Health listened to the union's call for adequate PPE.
Strong political support for providing adequate supplies of PPEs to frontline healthcare workers came from Connecticut Gov. Ned Lamont, Lt. Gov. Susan Bysiewicz, Rep. Joe Courtney, New London Mayor Michael Passero, and numerous state representatives and senators from across the Southeastern Connecticut Region who spoke at the rally.
A common theme was the need for a safe environment for workers and patients.
Weingarten spoke forcefully about the struggle on a national level to obtain PPEs from China and then make them available to workers. The Trump Administration continues to place numerous obstacles in obtaining needed PPEs for health care workers.
Weingarten said that Elva's memory has motivated her to fight every day for the protection of health care workers across the country. She spoke about the three crises facing the United States; a health care crisis, an economic crisis, and a justice crisis as illustrated by the events in Minneapolis. She mentioned that all three crises are tied together and we need unity to fight them.
She emphasized that Elva's memory needs to be with all of us every single day, calling for a five million letter, card, and telephone call campaign to the U.S. Senate demanding passage of the Heroes Act supporting health care and other frontline workers.
Rank and file workers and local union leaders described the difficult working conditions without enough PPEs to provide protection from Covid-19 for frontline workers and their patients. Another common theme was the need for hazardous duty pay for health care workers.
Labor troubadour Ben Grosscup sang several songs including the powerful "We Just Come to Work Here, We Don't Come to Die," which highlights health care workers' commitment to their patients and demands for safe working conditions.
Comments at the People's World May Day Rally in Connecticut featured remarks by Jeanne Wehling, member of Local 5049, the Registered Professional Nurses' union. She described the approach of the hospital administration's and Yale-New Haven Health officials to safe medical practices as Covid-19 spread in the hospital. Workers use the same mask throughout the day resulting in possible spreading of the virus.
She described how the three AFT Connecticut local unions asked to negotiate with administrators over safety procedures and equipment. Some supplies of PPEs and cleaning materials were locked up and were not available to health care workers as they carried out their duties with patients.
Unsafe working conditions faced by these workers reflect those faced by workers across Connecticut as the Covid-19 virus spread across the state. It has required unity and constant struggle by workers, their unions, and allies to get protective supplies needed to keep patients and health care workers safe.