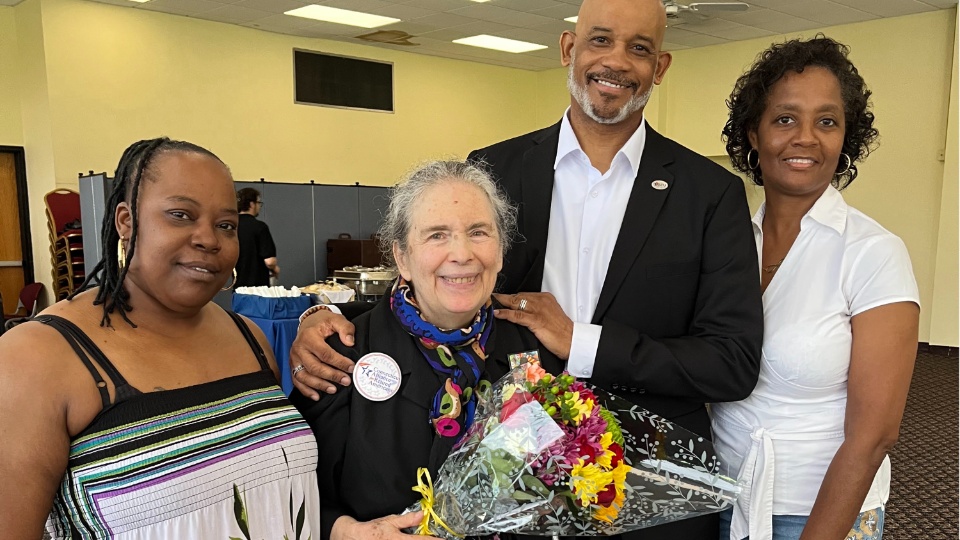 NEW BRITAIN, Conn.—An enthusiastic crowd renewed their commitment to protect and expand Social Security and stand up for the dignity and justice of all retirees during the Connecticut Alliance for Retired Americans (CT ARA) annual awards luncheon held at Central Connecticut State University recently.
State Rep. Jane Garibay accepted the Charlene Block Award, and CT ARA Recording Secretary Joelle Fishman accepted the Kevin Lynch Award on behalf of herself and in honor of Art Perlo, who passed away in December 2021 from cancer.
A standing ovation greeted Joelle as Kevin Lynch, founding president of CT ARA, presented the award, saying it was long overdue. He praised Fishman's constant solidarity with workers' struggles, handing out the People's World at conventions, and rallying for social justice across the state with husband Art Perlo, who helped organize Local 34 at Yale 40 years ago and served on the executive board of Yale Unions Retirees Association (YURA).
Before she accepted the award, a proclamation from Congresswoman Rosa DeLauro was read by ARA board member Bill Morico. On behalf of YURA, New Haven Alder Evette Hamilton gave a heartfelt appreciation of Art's role with the unions and in the ward she represents, saying his contributions "go beyond New Haven to Connecticut, the country, and even the world."
As coordinator of CT ARA's founding community affiliate, the New Haven People's Center, Joelle told how those early members marched and fought for Social Security, union rights, and an end to racial discrimination in the 1930s.
"From the moment Social Security was signed into law," she said, "the corporate profiteers have been aiming to get their hands on that money—our money from our labor!"
Joelle recalled Art's blunt warning that "Social Security is in danger, not because it is running out of money, but because it is running into vultures who want to kill our retirement security so they can feast on the carcass."
"That was in 2005 when George W. Bush had appointed a special commission designed to undermine and privatize Social Security," she said. "But Art's statement could have been made today as the MAGA Republican vultures circle."
In a call for unity, Fishman emphasized, "the MAGA Republican vultures circling to kill Social Security depend on divide-and-conquer tactics. They use race-baiting, labor-hating, and red-baiting. So, we have to be all about unity and solidarity. This fight can be won if we all stick together."
Sharing stories of lessons learned in the union about the power of collective action, Fishman urged that "retired union members are able to carry the message into the community…We can do that in 2024 and beat the circling vultures before they destroy all our rights and our democracy."
Fishman also shared her personal story growing up in a union household and a Communist household. "That means I grew up knowing we were on the side of the workers and not the bosses. I grew up on the union picket line at Campbell's Soup in Camden, N.J., where my father worked. I grew up marching as part of the civil rights movement. I knew we were on the side of racial justice and equality and not the KKK," she said to applause.
"I learned early on," she said, "that an injustice to anyone is an injustice to everyone, and I've tried to live my life that way as did Art."
Expressing her deep appreciation for the award, Fishman concluded, "I hope it will make our unity and vision stronger so we can win a better world."
Presenting the Charlene Black Award to Rep. Garibay, who chairs the state legislature's Aging Committee, ARA executive board member Amelia Smith praised her long-time activism in the town of Windsor and her leadership to improve the lives of seniors.
Her bill to expand adult day centers passed the House and Senate unanimously. She also pushed legislation to establish family councils, notification of unwanted releases from nursing homes, and protection of seniors in nursing homes and home care.
"I never expected to be in the legislature, and when I ran nobody thought I would win," Garibay said with a smile as she accepted the award. "Now I know this is where I should be."
Chaired by CT ARA President Bette Marafino, the event opened with remarks by national ARA representatives Tommy McLaughlin and Roger Boudreau. They expressed appreciation for the work in Connecticut to protect and expand Social Security.
Marafino leads a subcommittee of the national ARA working to repeal the GEP and WPO measures that deny some public sector workers from receiving their full Social Security benefits after retirement if they worked second jobs.
Greeting the luncheon, Connecticut AFL-CIO President Ed Hawthorne and Executive Vice President Shellye Davis spoke of their work at the legislature and within the union movement to win equity and justice for all workers.
A special appeal was made to support the Starbucks strike.  The CT ARA has adopted the Corbins Corner Starbucks in West Hartford for solidarity and support.
Saying that Social Security is keeping 167,000 Connecticut seniors out of poverty, Hawthorne emphasized the support of the Social Security 2100 bill introduced by Connecticut Rep. John Larson with Rep. Jahana Hayes "to strengthen Social Security so it's around not only for when I retire but for my daughter's generation and beyond."
He concluded, "Together, we are going to help workers on strike win better contracts, organize more workers into unions, ensure all workers have retirement security, and build a stronger labor movement! When we fight together, we win!"
Everyone went home with a button and bookmark for the Art Perlo Presente website at artperlo.net.
Fishman's full speech can be read here.
We hope you appreciated this article. At 

People's World

, we believe news and information should be free and accessible to all, but we need your help. Our journalism is free of corporate influence and paywalls because we are totally reader-supported. Only you, our readers and supporters, make this possible. If you enjoy reading 

People's World

 and the stories we bring you, please 

support our work by donating or becoming a monthly sustainer today

. Thank you!