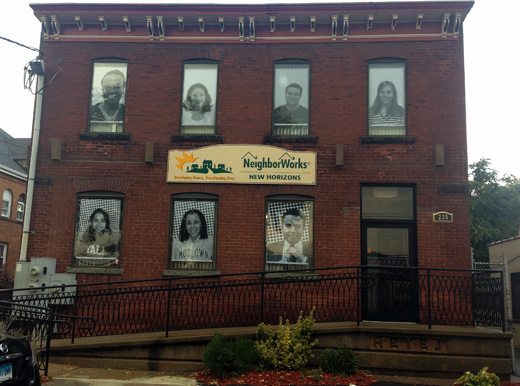 Immigrant rights organizations in Connecticut joined 130 cities nationwide on October 5 to celebrate a national "Day of Dignity and Respect" for immigration reform culminating in a national rally three days later in Washington DC.
The events in Connecticut, organized by the Connecticut Immigration Reform Alliance (CIRA), featured 180 giant portraits of immigrants and supporters. The photos were placed on exhibit in Danbury, Hartford, New Haven and Stamford.
With the help of the InsideOut Project, CIRA photographed the portraits "to bring the conversation back to the humanity that is often forgotten in the immigration debate," said coordinator Ana Maria Rivera. These images were blown up into 2×3 and 3X5 posters for display.
A statewide kick-off celebration was held at Junta for Progressive Action in the Fair Haven neighborhood of New Haven where many immigrants live. The photos, hung outside buildings along Grand Avenue, gave a powerful message.
"These photos put a face to the issue," said Rev. Scott Marks. "It shows you the mother who is stripped from her daughter and the father who is stripped from his son." Marks, who heads New Haven Rising, a grassroots labor-community alliance, called the current immigration laws "our country's biggest shame."
Alejandro Gonzalez, who came to the United States from Mexico 12 years ago to find a job when his daughter was eight month old, told of his pain at separation from his child because he is unable to travel. "We want politicians to know I am human, too," he said.
"There are 11 million reasons why we should be fighting for immigration reform," said Sister Mary Anne Burns of Apostle Immigration Services. "The immigration laws we have now aren't working for anybody."
The National Day of Dignity and Respect was organized to continue escalating pressure on members of Congress to pass a comprehensive immigration reform bill this year.
The portraits are on exhibit at the following locations:
Danbury: A Common Ground Community Arts & Dance Center and the City Center Danbury.
Stamford: Government Center.
Hartford: Laetus Restaurant.
New Haven: People's Art Collective, START Bank, Porky's restaurant and Junta for Progressive Action
Photo: Large portraits of immigrants on display at a New Haven neighborhood organization, as part of a national "Day of Dignity and Respect" for immigration reform. Ana Maria Rivera