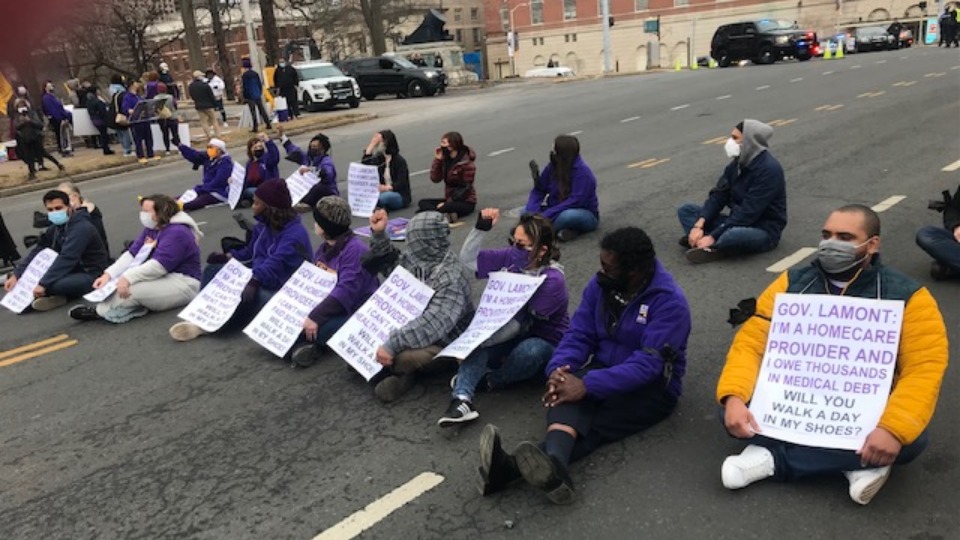 HARTFORD, Conn.—Union home health care workers from SEIU 1199 New England Health Care demonstrated outside of the Connecticut State Capitol this week with civil disobedience.  These essential workers, whom many call heroes, are fighting for a livable wage, health insurance, paid time off, and for dignity, respect, and a more just society.
Connecticut is one of the richest states and has a budget surplus of over $5 billion. Since the start of the pandemic, Connecticut's 14 billionaires increased their wealth by $12.6 billion while hundreds of working people, especially working people of color, are suffering.
Several hundred workers picketed and chanted while 20 union members sat down in the middle of a busy street in front of the State Capitol. The Hartford police gave those sit-down demonstrators warnings to get off the street or be arrested. They refused and were arrested for civil disobedience.
They urged the governor to "walk a day in our shoes" as essential workers caring for Connecticut's older residents and those with disabilities to understand the critical importance of investing in them and their work.
"I'm doing three people's jobs, but I'm making less than minimum wage. If things don't get better, I will have to leave and find another job," said Isaac Kolonziaa, a personal care assistant from South Windsor.
The state of Connecticut has 10,000 home care providers under a state contract who work for low wages and insufficient benefits while providing in-home support to those most in need. Union members say they urgently need the state to fund living wages and benefits that will enable them to support their families and stay healthy.
One by one, they shared devastating stories about trying to access care, pay bills, and keep their heads above water in the midst of a pandemic.
"We gather this afternoon—homecare workers and their good friends—to engage in a moral fight for dignity in the workplace. But this is not just a fight for fair compensation and benefits. We are fighting for human dignity, for respect, for a more just society. And we will win!" Rev. Josh Pawelek told the crowd.
Home care providers are so underpaid and undervalued that some of those who participated in the event at the Capitol are currently homeless. A January 2022 survey found that, due to the state's low wages, 50% of home care providers have taken unpaid days off in the last six months due to illness or quarantine, 26% have unpaid medical debt, and 32% have been behind on rent or mortgage payments in the last year.
They expect that if Gov. Ned Lamont spends the day with a home care provider, he will see not only how rewarding and challenging their work truly is, but also the unacceptable sacrifices they must make in order to survive on low wages and little benefits. They want Lamont to be confronted with the reality and importance of investing in the work of home care providers.
"We simply cannot accept the fact that state-funded work leaves home care providers too poor to avoid homelessness or forced to literally choose between food and medicine. Making the lives of home care providers, the majority of whom are women and people of color, matter requires seeing them and moving dollars—for livable wages, for health insurance, for retirement." SEIU 1199NE President Rob Baril said.
"We hope by walking a day in a home care worker's shoes, Gov. Lamont will become a champion for this too-often invisible workforce."