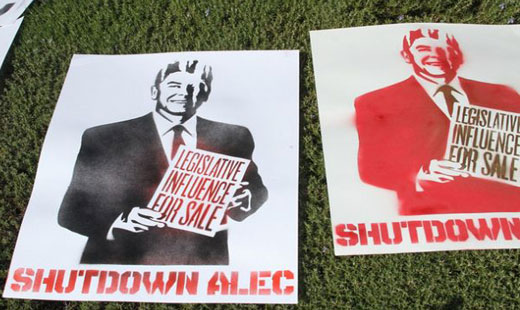 When legislation to limit oversight of the communications industry was introduced in the Connecticut State Legislature this year, the Communications Workers of America (CWA) Local 1298 went into full gear to mobilize opposition.
"We were 150 percent successful!" exclaimed president William Henderson in an interview at his Hamden office.
As workers for AT&T battling against cuts to pension and healthcare, the union was well aware that their employer is ALEC's corporate sponsor for Connecticut and five other states: Arkansas, California, Louisiana, Mississippi, and Texas.
ALEC (American Legislative Exchange Council), a lavishly funded right-wing corporate lobby, has pushed "stand your ground" and repeal of union rights and voting rights through state legislatures across the country. Among their priorities this year was state deregulation of telecommunications.
The deregulation bills were stopped in Connecticut. Local 1298 activated its members and union and community ally organizations to expose the bill to "modernize telecommunications" as a bill about deregulation that would cost jobs and raise rates for consumers.
"This legislation is not just about the impact on jobs which leads to offshore and outsourcing; it's about the negative impact to service to the people and businesses in Connecticut," said president William Henderson to the Energy and Technology Committee.
"We should not be driven by ALEC proposals, by a company that is the corporate sponsor of ALEC in Connecticut but instead demand nothing but the best for our residents and constituents of our fine state," Henderson testified.
Consistent grass roots organizing by union and community groups in recent elections has won a complete Democratic Congressional delegation, a veto proof majority in the state legislature and a Democratic governor.
Connecticut has been able to buck national trends. Voting rights have been expanded, paid sick days legislation has been enacted, the minimum wage has been raised, and the rights of home health care and home child care workers to organize have been won in the state legislature.
In reaction, this state is now in the cross-hairs of right-wing corporate extremist organizations.
An indication of the priority that ALEC places on the fight to reverse Connecticut's forward trend, is the selection of their national chair for 2013 — Connecticut State Rep. and Senior House Minority Whip John E. Piscopo (R-76).
In April, Connecticut Republicans invited Wisconsin Governor Scott Walker to keynote their major fundraiser in Stamford, a center for corporate headquarters. They bragged that their goal is to eliminate all unions in this state
Shortly after, Bill Foley, 2010 Republican candidate for Governor who was narrowly defeated by Dannel Malloy, told the media he is waiting for "Connecticut's Wisconsin moment." This week Foley announced an exploratory committee for his candidacy for Governor in 2014.
While the Connecticut Republican Party often prefers to be viewed as moderate in the New England tradition, in reality their program is an assault on working people. In a workshop at the Connecticut Working Families convention held in Bridgeport, it was reported that 20 Republicans in the State Legislature belong to ALEC, which has opened an office in Hartford.
Connecticut ALEC chair, State Senator Kevin Witkos (R-8), a former police officer, is Deputy Minority Leader Pro Tempore and Caucus Chairman for Outreach of the Senate Republican Caucus.
In April, the Connecticut Citizens Action Group (CCAG) protested in front of AT&T's Hartford office, demanding that the company stop funding ALEC.
"The money finances campaigns and helps elect thousands of state representatives and state senators willing to champion ALEC bills at state capitols," said Susan Pease of Common Cause. Her organization filed a complaint regarding the use of funds as scholarships for legislators to attend ALEC national conferences and be recruited to sign onto model bills.
John Emra, president of AT&T' in Connecticut and ALEC's state corporate co-chairman, told the media he was unaware of who financed ALEC scholarships in Connecticut. He called the national conference an opportunity for "relationship building."
The all-out campaign by Local 1298 shows that the legislative proposals of ALEC can be defeated if they are exposed and explained.
"We were the only state in the nation that fought back and won against the corporate giant AT&T in their effort to deregulate all IP based products in the future and to deregulate wire line service," says Henderson. "Once again, David has beaten Goliath."
In a letter to the membership, he urged continued involvement and called for more volunteers to participate in legislative action.
Photo: President Reagan gave several favorable speeches about ALEC and its role in government. Flickr (CC)