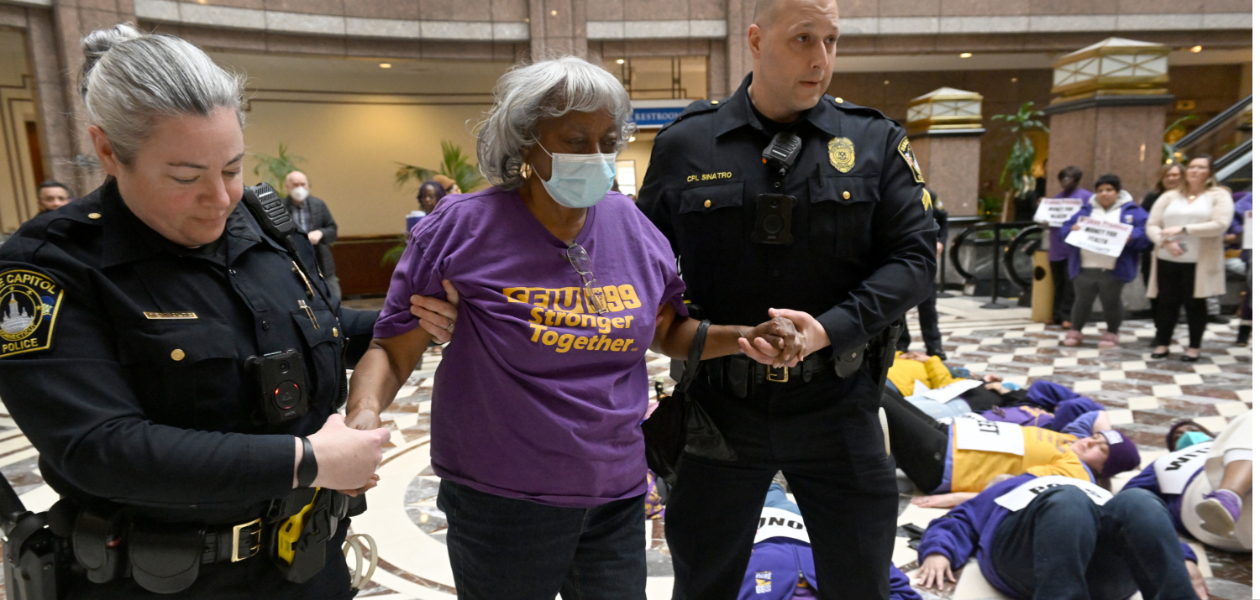 HARTFORD–Holding signs that said "Keep Your Commitment," twelve Personal Care Assistants (PCAs), acting on behalf of themselves and 11,000 union co-workers, laid down on the floor in a civil disobedience action at the state's Legislative Office Building Wednesday to demand that the health care and paid sick days negotiated in their contract last May be delivered.
"We are taking this action because PCAs should not live in poverty," said SEIU 1199 New England organizer Diedre Murch, adding that it took 18 months of negotiations to get a contract.
"Enough is enough!" decried Cynthia Johnson, a PCA who lives in New Haven.  "PCAs are delaying needed medical care without insurance, getting evicted and sleeping in our cars, going to work with COVID because we don't have paid sick days."
Calling on everyone to lay down with her in a "die-in" she said, "Yes, having health insurance and paid time off can be life or death.   I'm taking arrest today to call on the Governor.  Governor Lamont: Honor your commitments to PCAs."
Standing in solidarity were home care provider co-workers, union leaders, and community partners who joined in denouncing the State of Connecticut's failure to deliver on the health insurance stipend benefit won in the PCA union contract.
Only 30 PCAs of 1,500 who qualify have received stipend approvals for insurance as of the deadline on February 24.  The insurance stipend adds up to $1,950 for full-time workers to pay for their personal health insurance.
The workers blamed the state's months-long delay in submitting its proposal for federal funding approval, and ineffective efforts to communicate these benefits to PCAs and payroll agencies, with the information provided only three days before the deadline and no notice in Spanish.
SEIU District 1199NE emphasized in a statement that, "for decades, home care providers have made substantial economic sacrifices and, in many cases, survived without access to affordable health insurance, housing, paid sick days, and assets for retirement. The State of Connecticut must comply with our union contract in good faith and extend the application deadline so PCAs can beat poverty and care for their health."
Calling on Governor Lamont to honor his commitment, Angel Bailey, a PCA from Ansonia took arrest because "I got COVID twice, and had no paid sick days either time. I'm still dealing with severe vertigo from my last bout with COVID, which my doctor thinks is a result of me going back to work too early during my infection."
Before taking arrest, Robin David told her story. "I'm a PCA who's homeless, and bouncing between a friend's house in Danbury and overnight shifts with my consumer in New Haven."  She said, "without health insurance on the job, without paid sick days, and without timely pay or living wages, I got evicted and lost my car."
After three warnings, the capitol police began arresting those participating in the "die-in" as everyone sang the verses to "We Shall Overcome."
"You have the support not only of everyone in 1199 but of all the 60,000 members of SEIU unions in Connecticut," said Kooper Caraway, executive director of the SEIU State Council, leading a chant, "When We Fight We Win."
On February 7, the 1199 long-term care workers, largely Black and Latino women held a press conference calling for ending poverty for long-term care workers whose income is dependent on tax dollars.  The group home workers, home care providers, and nursing home workers demanded "$25 for 2025", and other protections that will lift Connecticut's front-line caregivers out of poverty and improve services.
The COVID-19 pandemic exposed the extreme racial and economic inequalities in Connecticut, the most unequal state in the country. As part of the Recovery for All coalition, 1199NE members have joined in testifying at hearings before the legislature in the past weeks on issues of housing, healthcare, education, and the unjust tax system, along with other union, community, and faith organizations.