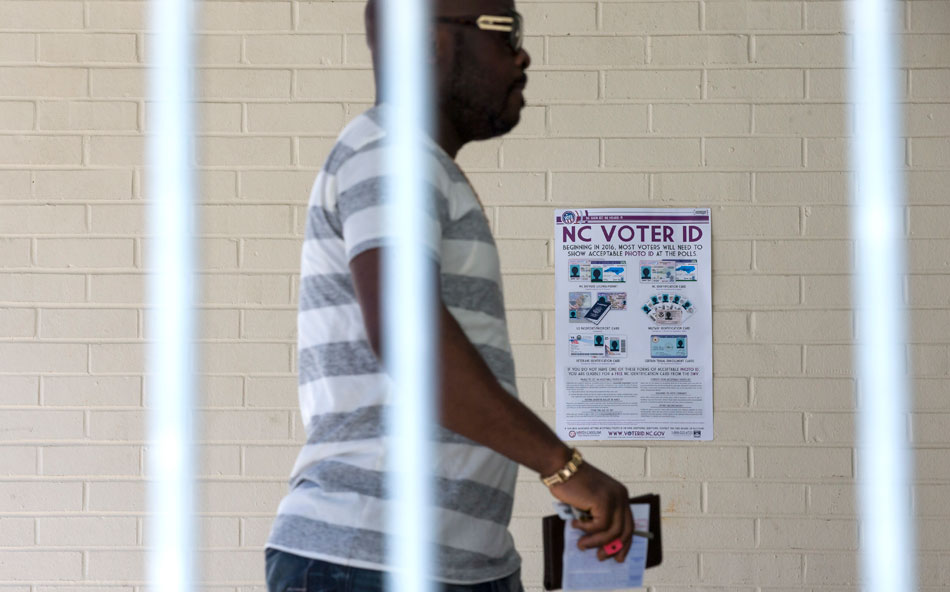 When it comes to politics, many of us know more about our nation than our state. Fewer and fewer people get their news from local network channels or local newspapers; state-level issues may fall through the media gaps. But now is an especially important time to remain vigilant, because many powerful, wealthy right-wing extremists have stopped funding national races and started micro-engineering power grabs at the state level.
North Carolina is a prime example. The statewide vote can swing for a Democrat, as it did in 2016 when North Carolinians elected Roy Cooper as Governor and Josh Stein as Attorney General. But most state legislative and federal congressional districts have been so effectively gerrymandered that it is virtually impossible for Democrats to get elected.
A U.S. District Court just ruled that the federal districts are in fact unconstitutional and must be redrawn, possibly before the November elections. Earlier this year, a few state districts shown to be racial gerrymanders were redrawn, giving a breath of hope to a handful of Democratic candidates.
But right now, far-right Republicans have a veto-proof supermajority in the state's general assembly, and they are fighting hard to keep it. Four of six proposed constitutional amendments that will be on the ballot this November are designed to tighten the Republicans' stranglehold on state power.
The amendments were formulated in secret, written in vague language that makes them hard to understand and leaves a lot of room for interpretation. They have no titles or names, only numbers. Obviously, the Assembly understands that if voters know exactly what the amendments do, they won't approve them.
This fact by itself ought to make everyone vote "no" on all six.
But four of the amendments are deeply anti-democratic in content as well as form.
The first two limit the governor's power to fill court vacancies and appoint people to the state elections board. Gov. Cooper and all five living former governors—two of whom are Republican—brought lawsuits against these two proposed amendments, based on the vague language. They won, but the Assembly immediately called a special session to rewrite the amendments and put them back on the ballot. The appointments amendment was scaled back to just the elections board, having formerly applied to all gubernatorial appointments to state boards and commissions. The judicial amendment remains unchanged.
Because the Republicans know that North Carolina voters are likely to elect Democratic governors in the future, they want to shrink the governor's powers. In effect, they want to choke the people's political voice. The amendments have no other conceivable purpose.
All six living former supreme court justices—two of whom are Republican—have blasted these two amendments, criticizing the ways they would destroy the checks and balances provided by separation of powers. In North Carolina, the separation is already tenuous: the state Republican party's executive director actually threatened state supreme court justices with impeachment if they ruled against the proposed amendments.
The Republican Assembly makes little pretense of being in the right. It is all about locking down power for the long run, using any means possible.
Next on the list is a new voter I.D. amendment—not a law, which is easier to overturn, but a constitutional amendment requiring North Carolina voters to provide "photo I.D." in order to vote, beginning in 2019. The vague language of the amendment would give the assembly free rein to decide what counts as a "photo I.D." The NAACP brought a lawsuit against this proposed amendment, but it was not upheld.
The state's last voter I.D. law was thrown out in court because it was based on data that discriminated against Black voters. In other words, the courts affirmed that the voter I.D. law was specifically designed to prevent North Carolina's Black citizens from exercising their right to vote. We need to make sure everyone understands that voter I.D. laws are meant to prevent poor people and oppressed groups from voting. These laws are anti-democratic to the very core.
The fourth amendment would cap the state income tax at 7 percent, a rate lower than the state's highest bracket before 2013.
This amendment plainly shows that the majority in the North Carolina State Assembly feel accountable to no one—except their wealthiest supporters.
They don't feel accountable to the many students who need state funds to get an education in a state currently ranked 43rd in per pupil spending.
They don't feel accountable to the many North Carolinians whose health care coverage they blocked by refusing to expand Medicaid, as they continue to block Gov. Cooper's many attempts to expand that program.
They certainly don't feel accountable to the many Black voters whose voice they tried to silence by spitting their neighborhoods down the middle in racially gerrymandered district maps.
They don't even feel accountable to the majority of voters in their state, who elect a governor every four years.
The last two amendments on the ballot seem like red herrings. One "protects hunting and fishing rights," but since there's no threat to these rights, it's probably there as bait to a certain group of voters—a way to turn out the gun crowd. The other is a victim's rights amendment known as Marsy's Law. It would duplicate rights already accorded to crime victims (counseling, information, transportation), which can't be carried out because the state doesn't fund them. People who are serious about improving victim's services should lobby for funding rather than voting for this amendment.
North Carolina voters need to turn out on November 9 and vote "no" on all six proposed constitutional amendments. Vote "yes" for your Democratic candidates, even if they're not perfect, so we can break the Republicans' supermajority in the Assembly. Tell those politicians they can't just have it any way they want it. We need to preserve the little people's power that's left in this state, so we can expand it later.