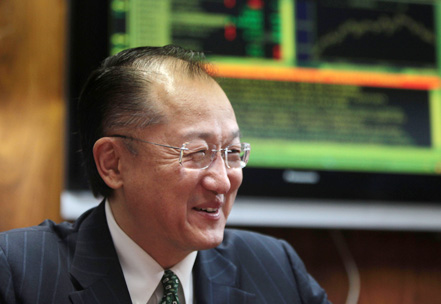 Jim Yong Kim, the Korean-American president of Dartmouth College picked to lead the World Bank by President Obama, was confirmed today by a vote of the institution's 25-member executive board.
Kim will fill the bank's top role at a time when the institution is changing in an attempt to become more transparent and helpful to developing nations.
The new president, who was educated as a physician, helped to develop innovative treatment methods in Haiti and went on to advise the head of the World Health Organization during a period when the organization sought to provide HIV/AIDS treatment to millions in African countries.
Kim's selection by Obama is a surprising departure from previous practice: he is the first scientist or medical professional to lead the bank. Previous presidents have been economic, political, or legal figures. This includes Kim's immediate predecessor Robert Zoellick, a Bush nominee who was a Goldman Sachs managing director prior to his position at the World Bank.
The new president, who is to assume office July 1, was surrounded by some controversy, but this is focused on his nationality more than his background. Developing countries sought to break the U.S. hold on the presidency of the bank, and nominated former Colombian and Nigerian finance ministers to the position.
There has long been an unofficial agreement between the U.S. and Europe in selection of bank leaders. Europe supports the American nominee for World Bank president, and, in return, the U.S. supports the European nominee for leader of the International Monetary Fund.
Kim also came under fire from neoliberals, who took issue with positions in a book he helped to edit, Dying for Growth. The book criticized multinational institutions that promoted economic growth at the expense of the world's poor and working people.
The bank, officially the International Bank for Reconstruction and Development and the International Development Association, has been changing recently, perhaps in response to criticisms like those in the book Kim edited. The bank had been criticized often for structural adjustment loans given to countries that were in economic crisis. The loans contained demands for adjustments that often resulted in austerity and a worsening of the economy. The bank has since backed off these policies.
Earlier this month, the bank launched the "Open Knowledge Repository," which will become the organization's "official open access repository for its research outputs and knowledge products."
As of July, all knowledge produced by the World Bank will be deposited into this repository, "allowing any user in the world to read, download, save, copy, print, reuse and link to the full text of the work, free of charge."
The idea is that the free flow of information will help policymakers and academics in nations around the world better access to development information, making development itself more closely in reach of those in the developing world.
Photo: Jim Yong Kim at a meeting with Brazil's Economy Minister Guido Mantega in Brasilia, April 5. Eraldo Peres/AP