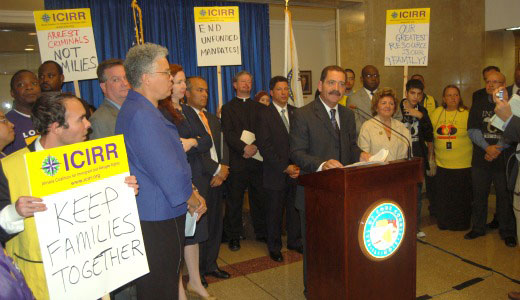 CHICAGO – In a 10-5 vote, the Cook County Board of Commissioners passed a major immigrant rights ordinance, Wednesday, Sept. 7, that aims to free suspected undocumented immigrants being held in jails throughout the county on misdemeanor cases, despite federal requests to hold them for possible deportation.
The legislation, which takes effect immediately, will require the federal government to reimburse Cook County for placing 48-hour immigration "holds" on undocumented immigrants that it wishes to interview. Cook County will not honor these holds until there is a plan for re-imbursement. The ordinance also prohibits immigration officials from having access to people detained by the county without a criminal warrant.
Supporters of the measure say the "detainer" requests is costing the county over $15 million annually, or roughly $143 per detainee every day. Currently Cook County faces a budget shortfall of over $300 million for the upcoming fiscal year.
Many of the suspected undocumented immigrants have been held under the requests for several days, most on minor offenses like traffic violations and disorderly conduct.
"In America, we don't detain people without probable cause," said County Commissioner Jesus Garcia, a Democrat, and the measure's main sponsor. "That would violate constitutional guarantees like due process and equal protection. But these detainers are not based on probable cause and they have been imposed on U.S. citizens, including veterans, by mistake."
The Cook County ordinance was based on a recent federal ruling in Indiana that determined Immigration and Customs Enforcement detainers are voluntary requests and not criminal warrants. In Cook County, complying with the federal detainer requests does not cover any possible lawsuits and other damages that might result from wrongful arrest, deportation, detention or possible death or injury sustained by individuals held beyond their authorized time of release from the Sheriff's custody.
Cook County is the second most populous county in the nation with over 5 million residents, next to Los Angeles County. Residents of the county comprise over 40 percent of Illinois' population. Chicago is the largest municipality in Cook County, with 54 percent of the population, and the county's main jail is the largest single-site jail in the country.
Both Chicago and Cook County have passed sanctuary ordinances that prohibit local governments from directly cooperating with federal immigration agents and from turning away undocumented immigrants for services.
Cook County Board President Toni Preckwinkle, a Democrat, commended Garcia and other commissioners for their majority vote.
"There are troubling inconsistencies in the current ICE policies that are in place at the Cook County jail system, and this is a great step forward toward a more suitable, fair policy," she said. "The disincentive for the thousands of immigrants in our county – including lawful immigrants and permanent residents – to cooperate with local law enforcement places a great strain on our communities. It's important for us to recognize that this is about increasing safety, this is about serving the taxpayers better, and this is about keeping families together."
During the debate and before the vote Democratic Commissioner Jeffrey Tobolski said everyone in Cook County should have the same rights and equal protections that he has as a white American citizen.
"The indiscriminate and haphazard use of detainers is chilling the level of cooperation between local law enforcement and the communities they serve and protect," said Tobolski. "In a democratic society the one thing we cannot have breakdown is trust and faith in the rule of law."
A diverse coalition of community, religious, social justice, immigrant rights, labor, business and civic organizations countywide also supported the new ordinance. Many note that federal requests to hold people are ineffective and target the most vulnerable. The money spent could be better used on housing, health care, hospitals, anti-violence programs, parks and other service priorities, they add.
Rev. Larry Dowling with St. Agatha Church in Chicago said, "Many of the people getting caught up in immigration enforcement are hard-working children and families of U.S. citizens, who pose no danger to our communities. The Obama administration has said it wants to prioritize its efforts on dangerous criminals – this bill helps the president by requiring ICE to use its discretion on who it wants to hold."
Alie Kabba, board president with the Illinois Coalition for Immigrant and Refugee Rights said, "Today is a historic day."
Kabba added, "This is what unity looks like and because we stood united we're able to keep families together. And we will continue to stand united until we win comprehensive immigration reform on a federal level."
Similar ordinances exist in San Francisco and two counties in New Mexico.
Meanwhile, immigrant rights activists note nearly 400,000 deportations have taken place nationwide during the last two years.
Photo: Cook County Commissioner Jesus Garcia addresses the crowd at the podium minutes after the board approved the ordinance. Pepe Lozano/PW.