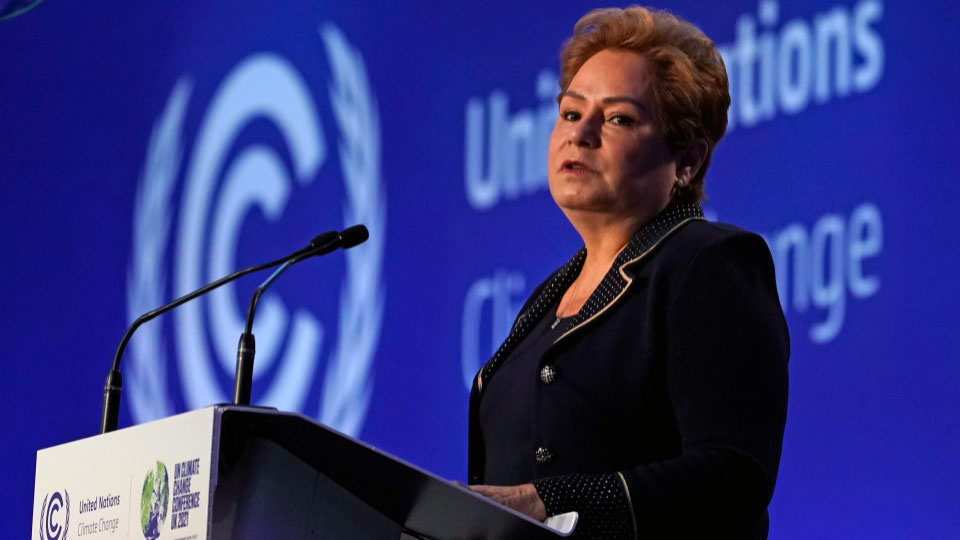 "You may as well bomb our islands instead of making us suffer, witnessing our slow and fateful demise," Palau President Surangel S. Whipps, Jr., told the COP26 Climate Summit in Glasgow. In those few words, Whipps summed up the desperation felt by small Pacific Islands and a number of other developing countries.
The rich G20 countries, responsible for more than 80% of human-made emissions, met on the eve of the Summit. They failed to deliver. The best they could offer was a vague commitment to net zero emissions by the middle of the century. Australia was the main stumbling block in reaching a consensus around stronger goals.
In the opening session at Glasgow, COP26 executive director of the United Nations Framework Convention on Climate Change (UNFCCC), Patricia Espinosa, expressed disappointment with the G20.
Espinosa said, "We either choose to achieve rapid and large-scale reductions of emissions to keep the goal of limiting global warming to 1.5 degrees, or we accept that humanity faces a bleak future on this planet.
"We either choose to recognize that business as usual isn't worth the devastating price we are paying and make the necessary transition to a more stable sustainable future, or we accept that we're investing in our own extinction."
For the G20, it will be "business as usual" if they are not forced to change.
Capitalism driving climate change
The position of the G20 is in stark contrast to that of the developing countries.
Nicaragua did not mince words about the cause of the climate crisis: Capitalism and its destructive models of production and consumption. It pointed out that the ten largest emitting countries are responsible for 83% of emissions compared with the 100 countries with the lowest emissions causing 3%.
Nicaragua described nature and human beings as a totality and rejected the commodification of Mother Earth. Like many developing nations, it also called for cooperative approaches. It emphasized the need for COP26 outcomes to be based on the "common but differentiated responsibilities"(CBDR) principle.
This principle, adopted by 197 countries at the Rio Earth Summit in 1992, is based on the recognition that developed countries are principally responsible for the current high levels of greenhouse gas emissions in the atmosphere. It considers that economic and social development and poverty eradication are the first and overriding priorities of developing countries.
There were repeated calls for the developed countries to increase their ambition beyond a net zero solution by 2050.
Least developed countries
Senior government figures from the group of Least Developed Countries (LDCs), as parties to the UNFCCC, also held a preparatory meeting prior to the COP26 Summit in Thimphu, Bhutan. The LDC Group consists of around 46 countries which disproportionately suffer from the increasing impacts of climate change. They represent over one billion people in Africa, Asia-Pacific, and the Caribbean. They called on the G20 countries, in particular, to enhance their commitments to achieve the 1.5°C goal by 2050.
They noted, "with serious concern, that developed countries are failing to meet their existing commitment to deliver US$100 billion per year by 2020, and thus far this finance has predominantly taken the form of loans rather than grants." Loans only increase the indebtedness of countries which has risen during COVID-19 and following extreme weather events.
An ambitious, new, and quantified finance goal to take effect prior to 2025, based on science and driven by the needs and priorities of developing countries, particularly least developed countries, is needed.
The very existence of Small Pacific Islands is threatened. For them, the Glasgow meeting might be the final opportunity. "Our sovereignty and very survival are at stake," Fiji's Prime Minister Frank Bainimarama said.
"Failure isn't an option," said Tina Stege, the climate envoy for the Marshall Islands, much of which could be under water within 50 years."
People around the world have become more aware of the necessity for urgent action on climate change and the world's youth have become vocal and more active around climate change. But very few governments have taken the necessary action. At the same time, the pace of climate change has accelerated, as witnessed by the wildfires, droughts, floods, rising oceans and their acidification, melting of glaciers, and other extreme weather events.
The 2015 Paris Agreement is a legally binding international treaty on climate change that was adopted by 196 countries. It set a goal of limiting global warming to well below 2°C, preferably to 1.5°C, compared to pre-industrial levels. To achieve that long-term goal, countries set Nationally Determined Targets for emission reductions by 2030 and to achieve a climate-neutral world by mid-century.
The Intergovernmental Panel on Climate Change's (IPCC) sixth assessment report released a few months ago highlighted the increased urgency for decisive action. It pointed out that the next ten years are critical, that the targets set at the Paris Climate Summit in 2015 are too low.
Stark warning
For the first time, the IPCC reported that climate change is "unequivocally" human induced, with global temperatures likely to exceed 1.5 C before 2040. The UN Secretary-General Antonio Guterres referred to this as a "code red for humanity" with the IPCC report saying that only with drastic and immediate cuts to greenhouse gas emissions can we avoid the worst of the projected impacts.
If global warming is to be limited to 1.5°C or even the upper limit of 2°C, now widely recognized as too low, then the total of accumulated emissions must be taken into consideration as well as ongoing new emissions. These two separate factors are critical to policy formulation. It is not enough to talk about zero-net emissions in a particular year. This will not be enough. Developed countries must not only substantially increase their targets for 2030, but strive for negative net emissions if the 1.5°C is to be met. They must take responsibility to contribute on an equitable basis as outlined in the CBDR principle referred to above.
The World Meteorological Organization (WMO) issued a provisional report prior to COP26, warning that due to record atmospheric greenhouse gas concentrations and associated accumulated heat, the planet is now in uncharted territory.
"Extreme [weather] events are the new norm," said professor Taalas, Secretary-General of the WMO. "At the current rate of increase in greenhouse gas concentrations, we will see a temperature increase by the end of this century far in excess of the Paris Agreement targets of 1.5 to 2 degrees Celsius above preindustrial levels."
"COP26 is a make-or-break opportunity to put us back on track," Taalas warned.
The global mean temperature rise since the pre-industrial period is already at 1.1° C and in some places even higher, like Australia at an alarming 1.4° C. According to the IPCC, limiting the increase in temperature to 1.5° C will not be achievable if global emissions are not reduced by 50% by 2030.
To remain within the "1.5°" carbon budget, the targets would need to be 74% below 2005 levels by 2030 and net zero emissions by 2035.
Capitalism's role
Capitalism is driving climate change with its short-sighted pursuit of profits. In the process, it is driving humanity and the planet to the brink.
Māori climate activist India Logan-Riley gave a rousing speech at the opening of the COP26 Climate Summit with a stark warning for world leaders that it is imperative they listen to young Indigenous peoples and support their fight for a better future.
"We're keeping fossil fuels in the ground and stopping fossil fuel expansion. We're halting infrastructure that would increase emissions and saying no to false solutions," Logan-Riley said. "What we do works," Logan-Riley added.
Limiting global warming to 1.5° C requires the sharing of the remaining carbon budget in an equitable manner. This will not happen by itself, as evidenced by the shortfall in developed country commitments. It cannot be left to markets. Promises will not be sufficient. Concrete action is required.
Governments of developed capitalist states must be forced to honor and increase their commitments and shoulder the financial burden for the consequences of their actions. This can only be achieved through action on the ground, outside the formal summit.
The many protest actions that started at the summit and on the global day of action on Nov. 6 were a start.