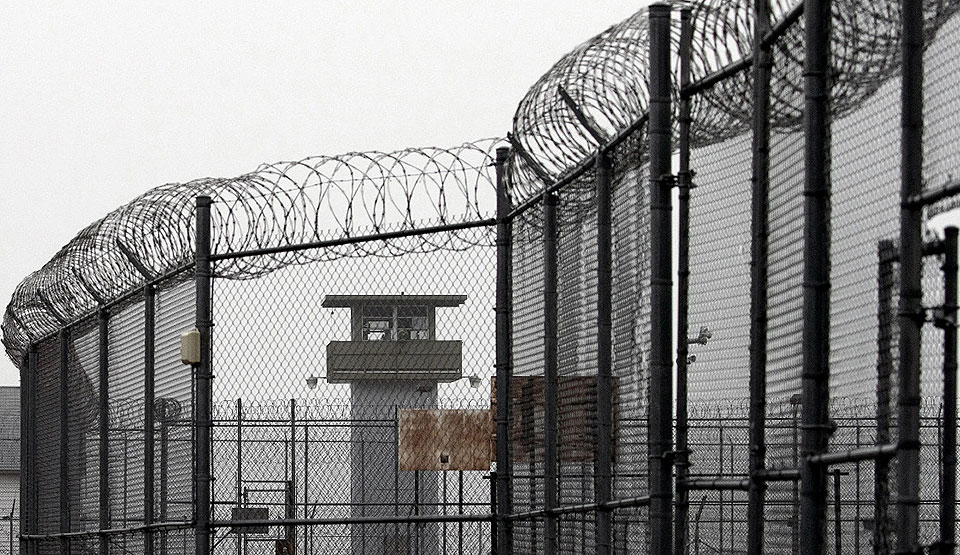 "It's fixin' to be a mass grave site in these prisons," said a terrified prisoner in an Alabama state prison. "Once (coronavirus) is in it will spread like wildfire," said another. "It's a death sentence," said a third, for many older prisoners like himself. "We need help!" he cried.
The prisoners, forced to live in overcrowded conditions with no hand sanitizer, proper soap, or masks, made dire pleas for protection from coronavirus by way of a grainy video smuggled out of the facility and broadcast by CNN. The footage shows deplorable conditions, including rows of bunk beds, crammed less than three feet apart, and incarcerated men bumping into each other as they try to pass one another.
The CNN report also exposed an internal document obtained from state corrections officials sounding the alarm. "21,900 inmates being housed in crowded dormitories creates a very high exposure risk situation," said the report.
Alabama prisons are among the most crowded in the country. Thirteen prisons are 182% past capacity, and one facility is at 300% capacity. The incarcerated individuals in the video urged the release of fellow prisoners to relieve the massive overcrowding.
The U.S. has over 2.3 million incarcerated people
While the U.S. has 3% of the world's population, it has 25% of the world's incarcerated people. Due to deeply embedded racism and inequality in the mass incarceration system, 56% of prisoners are African American and Latino, from communities already suffering disproportionately from the coronavirus.
U.S. prisons, like those in Alabama, offer perfect conditions to be coronavirus super spreaders. Racism, the stigma and neglect associated with highly concentrated prison populations, abysmal healthcare, the Trump administration's haphazard response and severe shortages of essential medical supplies and equipment make the prison system ill-prepared and particularly vulnerable to mass infection and death.
The pandemic hits as states have cut Department of Corrections budgets to the bone while maintaining prison populations. The result is a deterioration of conditions for prisoners like 65-year-old Janet Jackson, serving a life sentence at the Logan Correctional Center in Illinois. In an email to Injustice Watch she wrote, "Soap did not last one day, no refill. No gloves, no masks, no distance as we are still four to an 11 x 12 room – 66 women for three toilets, sinks, showers."
Mississippi state government has gutted the department budget by $215 million over six years. The cuts resulted in a crisis at the notorious state penitentiary in Parchman, where eight prisoners were murdered, and another eight committed suicide.
In addition, 8.2% of the state and federal prison population is confined to privatized facilities. Private-for-profit prisons have resulted in packed and unsanitary conditions with horrendous medical care for a population already disproportionately unhealthy.
According to Insider, the Bureau of Prisons ordered $60,000 worth of hydroxychloroquine to treat coronavirus patients. The drug, used to treat malaria and lupus, is an unproven antidote to coronavirus. The drug is being pushed by Trump as a miracle cure despite repeated warnings from Dr. Anthony Fauci and other infectious disease specialists. It begs the question – are prisoners being used as experimental guinea pigs?
In addition to the general incarcerated population, Immigration and Customs Enforcement (ICE) has detained over 40,000 undocumented immigrants in 200 detention centers, the largest network of detention facilities in the world. The same dangerous and overcrowded conditions exist where prisoners live in cramped dormitory-style rooms.
Immigrant detainees have launched hunger strikes at several facilities
Amnesty International called for the emergency release of detainees. "ICE has failed to adopt even the most minimum necessary measures to protect public health both in and around its large network of facilities," AI said in a statement.
Across the country, prisoners, like those in Alabama and immigrant detainees on hunger strike, their families, public health officials, and criminal justice and prison abolition advocates are demanding urgent action, beginning with radical reduction of the prison population.
The Cook County jail has 5,000 inmates in cramped conditions, most of whom have not been tested. The jail is the site of the largest known source of infections according to the New York Times. "Our jails are Petri dishes," said Toni Preckwinkle, president of the Cook County Board of Commissioners, comparing them to nursing homes or cruise ships.
As of April 9, over 448 prisoners and staff have tested positive in the jail. The prison population has been reduced 22% as a result of steps taken by Cook County Sheriff Tom Dart, orders by a local judge, and public pressure, including by families of incarcerated individuals and protests. A quarantine for positively tested prisoners has also been set up.
The same potential for a public health catastrophe exists in federal facilities. Prisoners and staff are being infected and dying at an accelerating rate. Seven prisoners have been reported dead in 24 federal facilities, and 200 others, along with 63 staff, are infected.
On March 26, the Federal Bureau of Prisons ordered a 14-day lockdown at its 122 facilities that incarcerate 167,000 people. The Department of Justice issued an emergency order to expedite the release of some prisoners and nearly 600 have been freed.
Conditions in many prisons are desperate. A prisoner in the Federal Correction Institution in Elkton, Ohio, was able to smuggle out a video showing horrendous conditions in his cell, including what he described as a dying cellmate. "They're literally leaving us here to die," said the prisoner, as Gov. Mike DeWine sent the National Guard with emergency supplies.
The Correctional Complex in Oakdale, La., is another typical federal prison. The facility, a three-hour drive from New Orleans, is a low to minimum security prison incarcerating 2,000 people. Five prisoners have died already, and 22 tested positive. Six more are in intensive care and four on ventilators. Twenty-one positive cases have been confirmed among staff, and another 17 awaiting results.
"They're all really afraid," Arjeane Thompson told NPR. Her boyfriend, Brandon Livas, is an inmate at Oakdale. "They feel like they're sitting ducks, really just kind of waiting to get infected because it's getting out of control over there pretty quickly."
Livas is confined with 120 other prisoners in barrack style units with bunk beds three feet apart.
"They have not done anything to isolate anybody here! At all! People are still coughing every night man!" Livas told NPR in an email. "There are a bunch of sickly people in this camp! I just pray something happens soon!"
On March 22, a group of New York Democratic representatives and elected officials, criminal justice reform advocates, and medical experts called for drastic action to avoid a "ticking time bomb."
"Unless federal courts and federal prosecutors take immediate and bold action to reduce our federal prison population and limit the intake of new prisoners, we will face a humanitarian crisis of enormous magnitude," they said in a statement.
Officials in at least 16 states have acted to reduce prison populations by releasing low-risk prisoners, or ordered early release of prisoners set for parole. Cities like Philadelphia and Baltimore have stopped arresting people for low-level crimes.
One inmate serving a sentence in a federal facility in Texas on conviction for a non-violent crime that talked to
People's World
hopes the grants of freedom to low-security inmates with poor health will start showing faster results. The man, who is in his mid-50s and preferred not to give his name, said he's skeptical of the official coronavirus case numbers being given out by the Bureau of
Prisons
. "They say we have no cases where I'm at, but I talked to a friend of mine at another 
prison
 in Louisiana, and they are way worse than the BOP is saying, for sure."
With no one trusting official BOP numbers, fear is spreading throughout a network of the incarcerated, carrying along tales of hundreds quarantined and dozens dead at this institution or that one.
Having tested positive for tuberculosis and hepatitis-C previously, the man has a compromised immune system and feels particularly vulnerable in the crowded conditions at his 
prison
. "I'm hearing that they've passed some kind of law or something to turn people loose who are over 50 with health issues. I try to stay away from people, but it's hard to do in here." For now, all he can do is hope his family's efforts at securing a compassionate release will get him out soon.
Los Angeles County has freed 1,700 people, the largest number in the country, about 10 percent of the population of one of the nation's largest jail systems.
"Our population within the jail is a vulnerable population just by virtue of who they are and where they're located," Sheriff Alex Villanueva said. Those freed were all convicted of nonviolent misdemeanors and would have been released anyway in 30 days or less. So far, there are no confirmed coronavirus cases inside the county's jails.
Meanwhile, Illinois Gov. J.B. Pritzker announced a series of executive orders to address the crisis as part of his Gubernatorial Disaster Proclamation. The orders extend through April 30, include the release of over 500 inmates, mainly pregnant women, new mothers, and low-level offenders who were near the end of their sentences, and a systemwide quarantine and suspending visits.
Besides, the state will increase delivery of essential medical supplies to prisons and require all staff to wear PPE. Shuttered parts of prisons have been reopened to allow for greater social distancing. New admissions to state facilities from county jails have been suspended.
"Any and every one of our DOC residents who falls seriously ill with COVID-19 will receive available medical assistance to get through it, including an ICU bed and a ventilator if necessary. An incarcerated person is a person, and my administration will not be in the business of claiming one life is worth more than another," Pritzker said.
The state will also assist hospitals near prisons to deal with an influx of infected prisoners. But Pritzker said Illinois would not tolerate any discrimination against prisoners or refusal to treat them. Hospitals are compelled by law to treat prisoners.
Overall, the federal government and most states appear to be ill-prepared to deal with the effect of the pandemic crisis on the nation's mass incarceration system. Without more significant emergency action, the public health crisis threatens to result in a catastrophic and tragic loss of life that could have been preventable.
For whatever reason people remain unconcerned about the tragedy facing the incarcerated and the people who work with them, there is one thing they must know. The coronavirus contagion will not remain behind those walls in America's prisons. Unless there is a drastic reduction in the nation's prison population many more in the U.S. population at large will join the ranks of the dead.