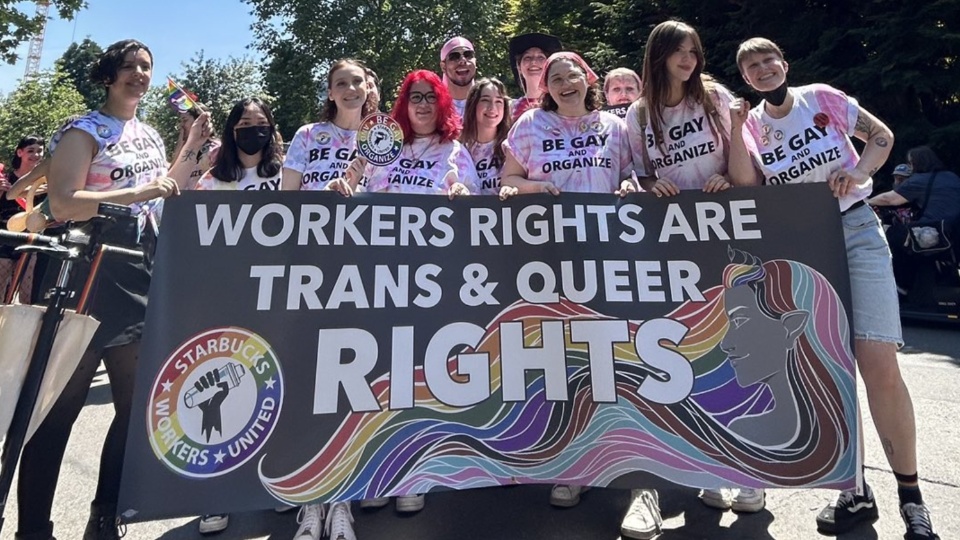 COLUMBUS, Ohio—Workers at a pair of Columbus Starbucks locations went on strike last Wednesday in response to a pattern of what they say is intolerant and discriminatory behavior from company management, both locally and across the nation.
The strike, which led to daylong closings at stores in Grandview (1085 W. Fifth Ave.) and downtown (88 E. Broad St.), was part of a national effort led by Starbucks Workers United to oppose changes in Starbucks' corporate policy that have led to the removal of flags, symbols, and other imagery expressing support for Pride month and LGBTQ rights.
Shortly after 7 a.m. Wednesday, roughly a half dozen strikers could be seen standing outside the Broad Street location wearing T-shirts emblazoned with the slogan "Be gay, organize." Two held a large banner directed toward the traffic rolling down S. Third St. that read, "Starbucks workers strike with Pride/Don't stand on the bosses' side." Other signs were taped to pillars outside the shop ("Strike with Pride"), and the workers chatted casually with the handful of early morning commuters that happened by.
Across town in Grandview, a similar scene unfolded, with Starbucks workers and community supporters gathering outside the store well before dawn. Despite dangerous air quality throughout the region, spirits were high, and veteran union organizers reported seeing many workers who had not been previously engaged with union-led activities turning out to show their support. In a show of solidarity, representatives from the Ohio State University Nurses Union dropped by to deliver donuts to the striking baristas.
Although Starbucks corporate management denied that any change in policy has taken place, Starbucks workers (known as partners within the company) across the nation have reported systematic and apparently coordinated removal of Pride flags, pins, decorations, and even Starbucks merchandise expressing support for the LGBTQ community.
At the recently unionized Starbucks on West Fifth Avenue, workers raised the Pride flag in front of the store on May 30 in preparation for Pride month. The flag was subsequently removed by the district manager, prompting a protest at the store by both partners and members of the community who expressed support for the LGBTQ community and workers' rights. In a viral video from the event, the manager admits to having taken down the flag, and a customer can be seen returning a drink purchased from the store in protest.
Similar incidents have taken place across the nation, although Starbucks' corporate spokespeople continue to deny that any policy change has occurred.
The removal of Pride decorations at Starbucks comes at a time when several other major brands have been the target of right-wing fueled backlash over perceived support for LGBTQ rights. Bud Light has recently been the subject of a boycott following the release of an ad featuring a transgender woman, resulting in a sudden drop in stock price and a significant loss of market share.
Target has also removed Pride decorations and merchandise from its stores, claiming that the displays were leading to confrontations between workers and customers that were detrimental to the safety of shoppers and employees.
However, Starbucks partners insist that the risk of consumer backlash does not explain the recent actions of Starbucks corporate management, especially given the historic reputation of Starbucks as a diverse and forward-leaning brand.
Instead, union leaders believe that the removal of Pride imagery from Starbucks stores is an intentional tactic to target Starbucks Workers United. LGBTQ employees have been on the leading edge of the efforts to unionize Starbucks locations nationwide, with many members of the LGBTQ+ community serving openly in highly visible leadership positions within the union. According to SWU, Starbucks has recently raised health insurance premiums for transgender partners.
The desire to form a more inclusive and accepting workplace has been a common motivator for many within the unionization effort, with organizers seeking to link the day-to-day struggles of individual workers at their stores to the larger fight for LGBTQ inclusion and workers' rights at the national level.
Some partners believe efforts by Starbucks management to cast the LGBTQ community as "divisive" or "potentially offensive" could be aimed at undermining solidarity within Starbucks Workers United. "Management knows that the trans and queer community forms the backbone of our union. This is an intentional effort to show that trans and queer people are not welcome at Starbucks," said Shenby Gottschlich, a partner at the Grandview Starbucks.
Following the unionization of more than 300 Starbucks locations across the nation, Starbucks corporate management has thus far refused to negotiate with Starbucks Workers United, even as unionization efforts have suppressed Starbucks' stock value.
"We had people here today getting involved in the union for the first time," Gottschlich said. "They know about what's happening in the negotiations and what the union is fighting for. The longer Starbucks waits to negotiate the stronger we become."
We hope you appreciated this article. At 

People's World

, we believe news and information should be free and accessible to all, but we need your help. Our journalism is free of corporate influence and paywalls because we are totally reader-supported. Only you, our readers and supporters, make this possible. If you enjoy reading 

People's World

 and the stories we bring you, please 

support our work by donating or becoming a monthly sustainer today

. Thank you!