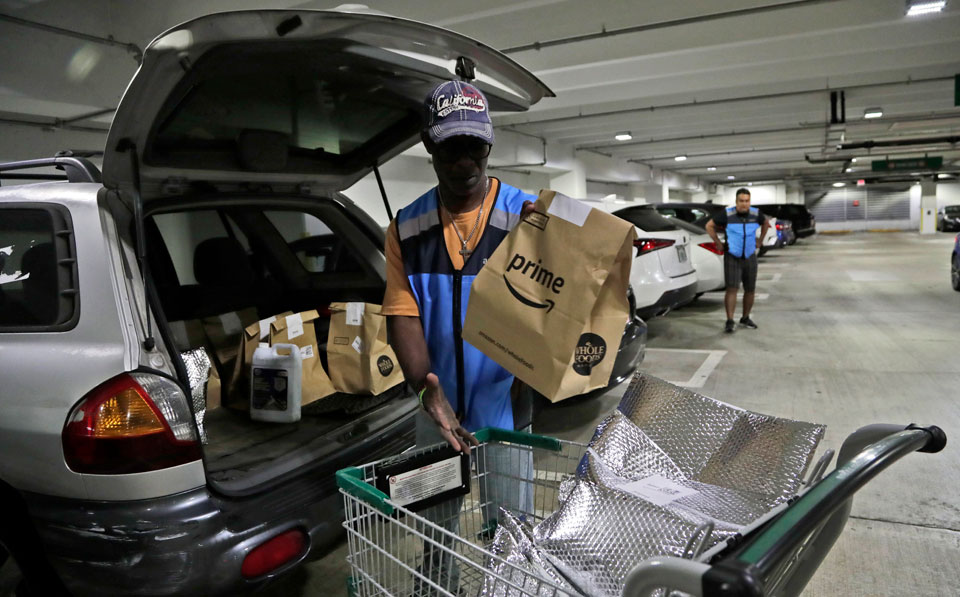 If you read the headlines in the corporate press on Tuesday, you would have encountered stories about how Amazon, the world's largest online retailer, had reached a settlement with the government after being accused of "withholding" tips from its contract delivery drivers.
The Chicago Tribune talked about how the company "didn't pass on" tips left by customers. In the Washington Post, which is owned by Amazon big boss Jeff Bezos, the company was alleged to have "shortchanged" drivers—conjuring an image of an absentminded cashier who miscounted your pennies and nickels.
These were nothing but attempts to dress up the single ugly fact: a $1.6-trillion-dollar company stole from its employees and got caught.
That's all this was. Not an accounting error. Not a mistake in a payment algorithm. Theft.
Amazon concluded a settlement with the Federal Trade Commission Tuesday to pay a total of $61.7 million that it had taken out of drivers' paychecks over a two-and-a-half-year period, from 2016 to 2019. The only reason it stopped stealing from workers was because it got wind that the government was investigating.
Here's how the scheme worked: In 2015, Amazon set up the "Amazon Flex" app. Akin to services like Uber Eats or DoorDash, people sign up on the app to make deliveries for the retailer. Under the terms of the Amazon Flex app, these drivers are "independent contractors"—the same kind of arrangement that other rideshare and delivery apps use to get out of treating their drivers like employees and giving them the benefits that they'd otherwise be entitled to.
The Amazon Flex drivers had to pay for their own gas, car insurance, repairs, and all the other expenses related to keeping their vehicle road-ready. (It's like postal workers or UPS drivers being required to supply their own truck and keep it maintained—something that's also, unfortunately, not unheard of.)
To entice drivers to sign up, Amazon widely advertised attractive pay rates of $18 to $25 per hour and the opportunity to earn tips from customers. Drivers were repeatedly told—in job postings, in terms of service, in FAQs, and more—that "Amazon Flex drivers receive 100% of customer tips." The company promised to "pass to you 100% of tips you earn."
Amazon also heavily promoted the tipping option to customers ordering goods and groceries on its websites, letting them know that 100% of any gratuity they added on would go to their delivery driver.
But it was all a scam. Instead of passing on the tips, Amazon started stealing them and using the money to subsidize the wages it owed to drivers. The FTC doesn't mince words in its complaint: "Through these practices, Amazon ultimately pocketed over $61 million in tips meant for drivers."
Rather than following the advertised $18-25 minimum base hourly pay before tips, Amazon started to internally tally $18-25 as the minimum TOTAL pay. Where a driver would fall in the $18-25 range was calculated based on a number of factors, including size and value of the delivery, the distance driven, and so forth. It made for a moving target for drivers when it came to knowing what they should be earning.
Amazon took advantage of that by choosing to just show drivers their total pay on the app rather than a breakdown that split wages and tips. When it instituted the tip-theft scheme in its internal pay calculations, it hid the decision from drivers and the public. It prepared canned responses in advance in case any drivers complained. Amazon's auto-reply messages claimed its "earnings commitment to delivery partners has not changed—delivery partners still earn $18-25 per hour including 100% of customer tips." It was an intentional conspiracy to divert tips into its own payroll account.
As anticipated, the delivery workers themselves smelled a rat of course and started raising complaints. Their earnings just didn't seem to add up to what they'd been expecting, but because their pay statements just listed a lump sum and didn't separate wages from tips, it was hard to know what was going on. They knew they were being cheated, but thanks to Amazon's lack of transparency they just didn't know how.
Some workers began coming up with ways to expose what the company was up to. One driver, Lee, placed an order for delivery to his own residence. He left himself a tip of $12 and some change—using a very specific amount so that it would be easy to calculate the tip portion of his pay.
"It was slow that day and I had no orders to deliver, so I decided to place a one-hour order as a customer to see what the hell was going on with our tips, as I knew I would be the next driver to deliver this one-hour [order] to my house," Lee told the L.A. Times in 2019.
On his driver app, Lee was offered $27 base pay for the 1 ½-hour shift to make the delivery to his house. After tips were supposedly included, his pay statement on the app showed about $30. That meant Amazon had contributed only $18 for the 90 minutes of work—far below its advertised minimum rate.
Other drivers conducted similar experiments.
A contract driver in the state of Virginia ordered some paper towels and again, because of the distance proximity, the algorithm assigned him to deliver his own order. He tipped himself $15.90. Like Lee, his pay statement reflected an amount that could not possibly have included the gratuity.
He wrote to Amazon to ask about the missing money. With no explanation, the company adjusted his pay to include that tip plus others from customers he didn't even know had left him one. According to FTC's investigation, that was standard company practice. If a driver started documenting lost tips, just pay them and say nothing. But for all the rest who don't notice they're being cheated, Amazon would just let the system ride and let customers continue subsidizing the wages the company itself should have been paying.
Internal documents made public by the FTC showed that employees at Amazon's head office started warning that the wage theft policy was a "reputation tinderbox" as driver complaints escalated and negative press coverage mounted. Still, there was no change—until the government got involved.
Within weeks of the FTC launching a probe of Amazon Flex's practices in May 2019, the company suddenly began giving drivers a breakdown of their pay, separating wages from tips. It announced an "Updated Earnings Experience," which was essentially just the original offer of base pay plus 100% of tips.
In the settlement reached with the government, Amazon admits no wrongdoing, though its "updated earnings experience" and the $62 million payout, in essence, are an admission that the company was robbing workers and defrauding customers who thought they were leaving tips over and above a driver's pay.
The back pay that Amazon Flex drivers will now receive is a victory, but it's just one fight in the much bigger battle that workers everywhere are waging against Bezos' behemoth.
In Bessemer, Ala., workers at an Amazon warehouse are in the midst of a fierce battle to be the first to unionize one of the company's facilities in North America. Workers there have been pushed to work in a tightly cramped warehouse in the middle of the coronavirus pandemic with no hazard pay, faced stonewalling from the company when asking how many workers have been infected, denied adequate toilet breaks, been intimidated with firings and disciplinary actions for speaking out, and more.
Their vote on whether to unionize is widely seen as a possible spark that could ignite a struggle across the industry. "Amazon workers all over the country will see there is a path to have a voice on the job," Rebecca Givan, a labor studies professor at Rutgers University, says of the campaign. "Collective action is contagious."
Let's hope it catches on. In the new digital capitalism, Amazon and companies like it are using the same old corporate methods of worker exploitation, but they're supercharging them with algorithms, deceptive pay platforms, and "independent contractor" scams that deny workers the health care and other benefits they deserve.
Amazon workers are at the frontier of struggle in the tech economy and deserve all the support they can get.
Were you an Amazon Flex driver between 2016 and 2019? Are you one now?

Sign up for updates on the tip refund process from the Federal Trade Commission.
As with all op-eds published by People's World, this article reflects the opinions of its author.