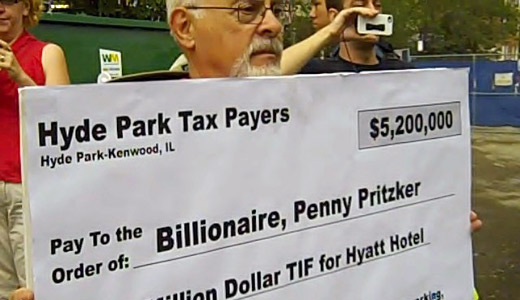 CHICAGO – Why would some of America's richest families need lavish public subsidies while schools, parks and other public services are in desperate need of funds? That is what hundreds of protesters were demanding to know in two separate demonstrations here this week.
"This battle is about what kind of America we want our kids to grow up in," said John Cusick, a teacher at Mays Elementary school. "This (money) is supposed to be for the public good."
Cusick was one of 100 teachers, parents and students who picketed the building site of a swanky new Hyatt Hotel in Hyde Park Aug. 8 that is being built with public funds.
Each year some $500 million is siphoned off from property taxes collected for public schools and the parks district. These funds are largely handed over to the wealthy and well connected to spur economic development in what are called Tax Increment Financing (TIF) districts.
Penny Pritzker, whose family owns the Hyatt Hotel chain, demanded and got a $5.2 million subsidy from a TIF to build the hotel. Pritzker is the 263rd richest person in the United States and her family has assets of over $20 billion.
The same TIF awarded another $14 million to the University of Chicago, one of the wealthiest universities in the nation, for another part of the same development project.
Meanwhile, seven schools' budgets in Hyde Park are being cut $3.3 million and 27 teachers have been fired. Victoria Cryder is a 16-year old student at King College Prep High School, one of the schools losing staff. She was saddened to learn a teacher who had made a real difference in her life was being dismissed.
"By taking away money from our schools they are jeopardizing the future of our youth," said Cryder. "We don't need tax money for hotels. We need it for our schools and communities."
Several speakers at the rally noted schools across the city are crying out for funding. Overcrowded classrooms are growing and more than 140 schools lack libraries.
Yet Mayor Rahm Emanuel insists the city is broke and cannot afford to hire more teachers, increase salaries or pay current pensions costs.
A new report by researchers at Roosevelt University shows as TIF moneys strip traditional public schools of badly needed funds, a majority of what does go to schools is diverted to elite selective enrollment and charter schools.
What makes the matter worse is that Pritzker is a member of the Chicago Board of Education. The awarding of money for Hyatt would seem to be a conflict of interest for Pritzker.
The board, an unelected body appointed by the mayor, is made up mostly of millionaires and billionaires with connections to the largest financial and business institutions in the city. It has been rubber stamping Emanuel's policies of school privatization by opening up charter schools. At the same time Emanuel is demonizing the Chicago Teachers Union, the main force preventing privatization.
Pritzker is a major contributor to Stand for Children, an influential pro-charter school and anti-union group. Her relative chairs the governing board of the charter schools at University of Chicago. Pritzger had been the national fundraising chair for the 2008 Obama campaign, but the New York Times reports the 2012 relationship is more complicated and she is less prominent.
Meanwhile, on Aug. 6 protesters, organized by the Grassroots Collaborative, blasted a decision to build new luxury River Point office tower on the Chicago River downtown using $29.5 million in TIF money. The money would fund nearly half the $60 million project being built on land owned by Larry Levy, owner of hundreds of restaurants across the country.
"In our neighborhoods, $29.5 means safer parks, better schools and safer streets. If we had $29.5 million in Englewood, we could set up job training, facilities for youth and above all, a safer environment," Charles Brown told Progress Illinois. Brown is a 43-year resident of Englewood and leader of Action Now.
Photo: John Bachtell/PW