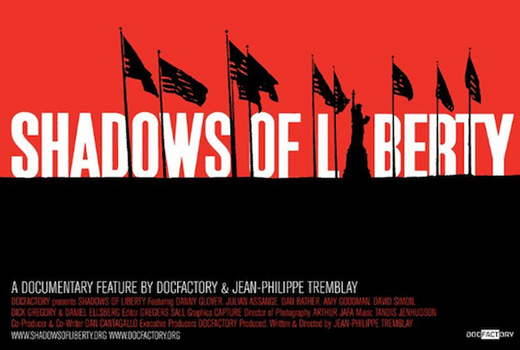 DALLAS – KNON radio presented the documentary film Shadows of Liberty and a lively panel discussion at the historic Texas Theater on Mar. 2. The distributor, Debra Wood, explained that it was the 79th showing of the U.S. tour. While widely honored and shown abroad, the movie has not had regular theater showings in its home country. The reason becomes obvious as the story unfolds.
Jean-Phillipe Tremblay's documentary holds a harsh light to the shenanigans of American "news" sources in a serious of short narratives from journalists, media experts, and even former CIA operatives. Major news events that are well within the memory of the audience were covered up to a point, then blanketed over. Journalists who insisted on sticking to the truth had their careers cut short, but testify in this documentary. The effect is completely convincing.
One of the best examples given is the way that virtually all mainstream (one of the panelists called it "lamestream") media kowtowed to the Bush Administration during the barrage of falsehoods that led up to the invasion of Iraq. Even today, presidential candidate Jeb Bush says "widely believed" when he refers to the obvious falsehoods about weapons of mass destruction. Those lies were "widely believed" because the major news sources did not question them, then or now!
All the panelists, drawn from KNON, labor, and local activist groups, agreed that the movie was tremendously effective. One of them, however, complained that the film seemed to say that the problem began recently with deregulation under President Reagan, when American history, certainly going back to newspaper magnate William Randolph Hearst and the beginnings of the Spanish-American War, is rife with examples of media manipulation by moneyed interests.
Other panelists, especially those with connections to African American struggles, brought their own local examples of media misbehavior. The historical role of the Dallas Morning News and its regional empire in strikebreaking, red-baiting, and violence against workers is well established here. The newspaper still brags that one of their editors created the misleading anti-union phrase "Right to Work."
One of the panelists hailed the recent FCC decision to preserve net neutrality in the face of pressure from big media companies and their political cohorts. Another cautioned the audience against taking such a negative view that they give up on attempting to get "earned media" for progressive events. "They are what they are," he said, "but that doesn't mean we can't work with what we have."
The same panelist encouraged people to try to find original documents rather than believing what they see on TV. "We've learned more from autopsy reports on police shootings than from TV news!" Audience members praised KNON radio and its longtime pro-working-class weekly talk show "Workers Beat," but they wished that their city had more such programming.
The movie trailer is available on YouTube here. The complete 89-minute version is here.