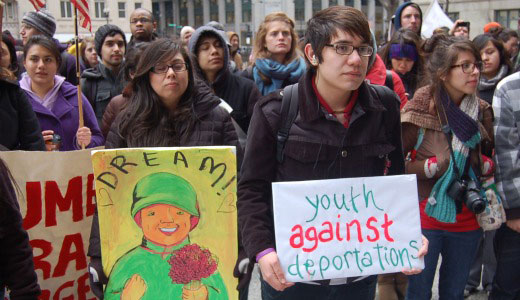 The recent passage of anti-immigrant state laws on top of the constant immigration hate rhetoric in the news and across the airwaves were just too much for Joaquin Luna to bear. The hope that immigration reform would pass in Washington never happened. He could have benefited from the DREAM Act, but it failed to pass. It was all too disappointing and he had enough. He could no longer stomach a life that constantly judged him by his undocumented status rather than his character. The tremendous barriers limiting his educational opportunities, career path and dreams had taken a heavy toll on him.
The emotional burden peaked for Luna on Nov. 25, the day after Thanksgiving. Luna put on his best suit, white shirt and black tie. He kissed his family members for the last time. He went into the bathroom with a handgun and took his own life. He was only 18.
Luna was a senior at Juarez Lincoln High School in Mission, Texas, where he lived. He came to the U.S. from Mexico with his parents and five siblings when he was six years old. He spoke fluent English and was an excellent student. He dreamed of going to college and becoming an engineer. The U.S. was the only place he considered home.
Over the years Luna became distressed with heated immigration debate taking place across the country. He grew more and more anxious about his legal status. He couldn't stand questions on college and job applications asking him about his citizenship or for a Social Security number he didn't have. He would frequently talk about it with friends and family, saying even if he graduated from college the chances of a good job afterwards were limited. He grew increasingly frustrated.
His family said Luna followed politics closely, reading newspapers about the harsh anti-immigrant laws passed in Alabama and Arizona.
"He got angry," said his older brother Carlos Mendoza to The Guardian. "He said the people passing these laws had no heart: 'How could they leave so many kids without parents and destroy so many lives?'"
Mendoza said his younger brother was very let down after the DREAM Act failed to pass in Congress. The measure would have given undocumented youth a path toward citizenship if they lived in the U.S. for more than five years and attended college or served in the military. It's estimated the DREAM Act could benefit up to two million youth. The House passed it last December in an historic vote, but Republican lawmakers sidelined the bill in the Senate and it failed to pass by five votes.
"He got depressed real bad," recalled Mendoza. "Every one of us, we all got depressed. Some of us can handle it, some of us can't. Joaquin couldn't."
Mendoza said his younger brother called him to wish him well and say goodbye shortly before he took his own life. In his last words to his brother, Luna said he couldn't accomplish his dreams because there was a huge wall blocking him from fulfilling his goals.
Becky Moeller, the Texas AFL-CIO president, said Luna's suicide highlights the human toll of the DREAM Act's failure to pass.
"Joaquin's suicide is a grave tragedy for his family and community, Texas, and the future of our nation," she said in a statement. "Joaquin experienced extraordinary challenges as an undocumented youth that no young person should have to face. His suicide is a tragic reminder of the toll of inaction and the dire need for humane solutions to the immigration crisis in the U.S. The loss of such a promising young life is heart breaking. Let us commit to change that doesn't allow young people like Joaquin to fall through the cracks."
On Saturday, the day after Luna took his own life, his family received his acceptance letter to the University of Texas-Pan American.
The family is urging youth experiencing similar trauma to Luna's to stay strong, seek support and not give up by taking your own life.
Meanwhile, the 2012 presidential election has put a spotlight on immigration and the DREAM Act, with even some Republican candidates saying they support it.
During a recent CNN debate of GOP presidential candidates, Former House Speaker Newt Gingrich spoke in favor of the DREAM Act. "I don't see any reason to punish somebody who came here at three years of age, but who wants to serve the United States of America," he said in a CNN news story.
Mitt Romney, another GOP presidential candidate agreed with Gingrich saying he "would staple a green card to the diploma of anybody who's got a degree of math, science, master's degree, Ph.D. We want those brains in our country."
Texas Gov. Rick Perry, a GOP presidential candidate, supports the Texas Dream Act, which gives in-state tuition to some students who have entered the country illegally. Perry has said his goal is to make sure immigrants become contributing members of society.
However many GOP lawmakers in Congress say passing the federal DREAM Act is "blanket amnesty" and strongly oppose it. Sen. John Cornyn, R-Tex., calls it "a band-aid and maybe worse, it would provide an incentive for future illegal immigration."
Rep. Michelle Bachman, R-Minn., denounces the DREAM Act saying it would "offer taxpayer-subsidized benefits to illegal aliens. We need to move away from magnets not offer more."
With the Republican controlled Congress stalled and unable to compromise on a bill to reduce the budget, and the presidential elections around the corner, the chances of any immigration legislation being passed soon seems unlikely.
Photo: Pepe Lozano/PW