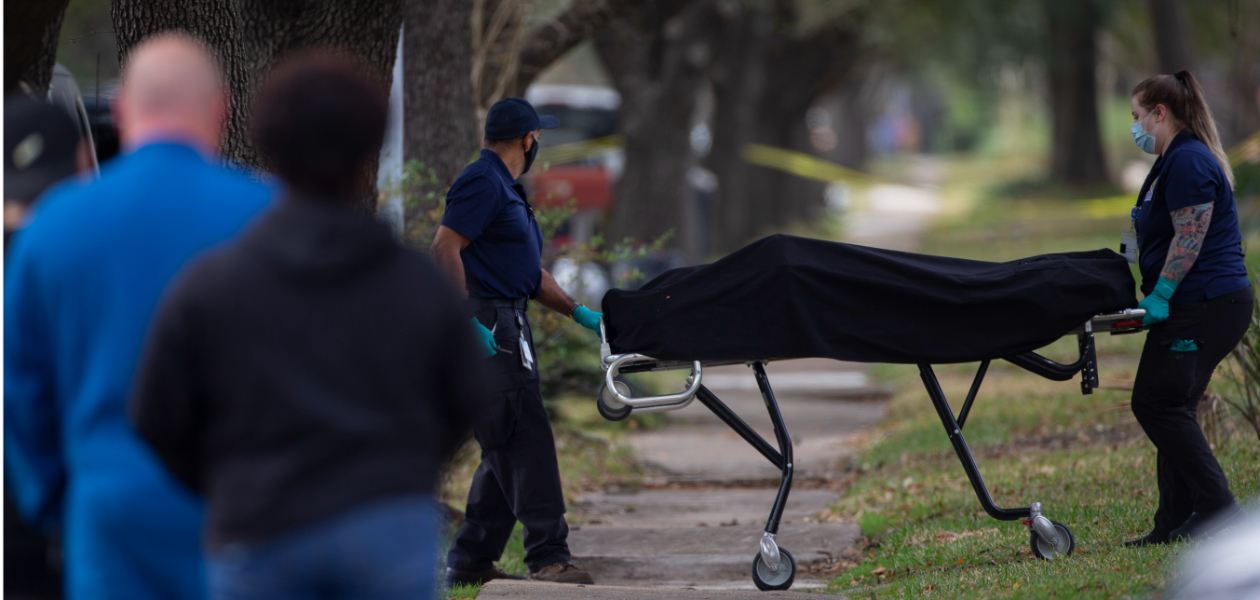 In Louisiana, Texas, and Mississippi, an abusive man's unfettered access to guns is more valuable than the lives of women, gender non-conforming people, and children. That reality, already known by far too many survivors of domestic violence, was proved again by a unanimous ruling issued last Thursday by the ultra-conservative U.S. Circuit Court of Appeals for the Fifth District.
On Feb. 2, Judges Cory Wilson, James Ho, and Edith Jones overruled a historic 30-year-old federal law that barred perpetrators of domestic violence from possessing firearms.
The three judges on the panel, all appointed by Republican presidents, declared that individuals who have domestic violence protective orders issued against them should still be permitted to access, brandish, and own guns, ruling that the consequential three-decade prohibition does not "fit within our Nation's historical tradition of firearm regulation."
The court further continued to state that the ban under 18 USC § 922(g)(8) is an "outlier that our ancestors would never have accepted."
The case they ruled on, United States v. Rahimi, involved a defendant named Zackey Rahimi, who had a protective order issued against him for physically assaulting his ex-partner. The restraining order prohibited him from engaging in stalking, harassing, or threatening behavior toward his ex-girlfriend and their child and also restricted his access to firearms.
In defiance of these legal restraints, Rahimi violated the protective order five times in one month, shooting into a home, at a vehicle, at another driver, and into the air at a restaurant. He pled guilty to the offense of possessing a firearm while under a domestic violence protective order.
Despite all of the evidence and his own guilty plea, Rahimi appealed his conviction and the Fifth District Circuit Court ordered that he again be allowed to possess guns, endangering his ex-partner, child, and the larger community.
Survivors and advocates of domestic violence are outraged by the reckless ruling. In a statement issued on behalf of the National Network to End Domestic Violence, President Deborah J. Vagins explained: "Domestic violence and firearms are a lethal combination. When a male abuser has access to a firearm, the risk that he will choose to shoot and kill a female partner increases by 1,000%."
There is overwhelming evidence that perpetrators who are permitted to access firearms tend to extort the most severe abuse on their partners. There are at least 4.5 million women in the U.S. who have been threatened with a gun by an intimate partner, though that number is almost certainly an undercount.
Firearms intensify the characteristic power and control dynamics that are inherent to abusive intimate partner relationships. Many perpetrators threaten victims with a gun, and hence, the use of a gun to intimidate a partner is a primary predictor for lethality. Even when abusers do not murder their partners, their use of and ease of access to guns creates ongoing psychological terror for victims.
The fear of potentially being murdered is ever-present for the abused. A recent study indicates that women who had been threatened with a gun endured much more acute PTSD symptoms than those who had not. The author of the study stated that "the fear of a firearm threat—just the fear of the threat, not even the actual threat—is significantly associated with PTSD."
While intimate partner homicide and domestic violence affect women and gender nonconforming people across all demographics, they weigh even more heavily on Indigenous, Black, and Latina women.
According to a 2019 analysis from the Centers for Disease Control and Prevention, Black women are three times more likely to be fatally shot by an intimate partner than white women, and Indigenous women are nearly four times more likely to be murdered with a gun by their partners than white women.
Sections of the LGBTQ+ community and women with disabilities are also at extreme risk for domestic violence.
Intimate partner homicide is also the leading cause of death among pregnant and postpartum women in the U.S., resulting in more deaths than even pregnancy-related complications.
In 2020, women who were pregnant or in the postpartum period were 35% more likely to be killed in their homes by abusive domestic partners than those who were not. Of those pregnant and postpartum women murdered, almost 90% had their lives stolen by a gun.
Children are also victims of the deadly combination of intimate partner violence and access to guns. One-third of all children killed by a gun were murdered in a context of domestic violence. Information gathered from 16 states reveals that nearly two-thirds of child fatalities involving domestic violence were caused by guns. In addition, children who witness the murder of a parent due to domestic violence are extremely susceptible to severe PTSD.
Despite all the data indicating federal bans of firearms for domestic abusers save the lives of countless women, gender nonconforming people, and children, Judges Wilson, Ho, and Jones, ruled that prohibiting abusers like Rahimi from using guns "fails to pass constitutional muster."
California Gov. Gavin Newsom referred to the Fifth District judges as "three zealots hellbent on a deranged vision of 'guns for all'."
The path for their lethal ruling was essentially opened by the U.S. Supreme Court, which issued a decision on June 23, 2022, setting dangerous new criteria for interpreting gun laws nationwide.
In New York State Rifle & Pistol Association v. Bruen, the Supreme Court ruled that new firearm controls passed by any state legislature in the country must be "consistent with this nation's historical tradition of firearm regulation." These same criteria are not considered when ruling on any other constitutional right.
In the Bruen case, which was decided the day before the Dobbs case overturning Roe v. Wade, the Court struck down New York's requirement that a person attempting to obtain a license to carry a handgun outside the home must prove "a special need for self-defense."
So, in just 48 hours last summer, SCOTUS stripped women of reproductive rights and the right to live in safety and free from violence.
Last week's inhumane interpretation of the Bruen case said that in order to be constitutional, a firearm restriction today must be comparable to historical analogs that existed from 1791 or 1868. That is, the court stated that prohibiting abusers from using guns today violates the Constitution because domestic violence firearms restrictions didn't exist 200 years ago.
Responding to the ruling, the Battered Women's Justice Project (BWJP), a national legal resource for gender-based violence headquartered in Minneapolis, explained that "the aftershocks of the Bruen decision are currently being felt and have far-reaching effects on domestic violence victims, and on all our communities."
It is not only domestic violence survivors and advocates, however, who are speaking out against the Fifth Circuit Court ruling. Advocates for gun regulations and community safety are also sounding the alarm.
Shannon Watts is an activist with Moms Demand Action, an organization working for stricter regulations on gun ownership. On Thursday, she tweeted, "Given that domestic violence is often a precursor to gun violence, this ruling is a death sentence for women and families in the U.S."
A report published last month by the U.S. Secret Service's National Threat Assessment Center that reviewed mass shootings over a five-year period found that almost all the attacks from 2016 to 2021 were carried out by one person. Some 96% of attackers were men, ranging in age from 14 to 87.
The report specifically called attention to the interconnection of mass shootings, domestic violence, misogyny, and access to guns.
A separate study conducted recently by the Educational Fund to Stop Gun Violence found that two-thirds of mass shootings were linked to domestic violence. The lead author of the study, Lisa Geller, explained: "We found that mass shootings connected to domestic violence incidents or perpetrated by a shooter with a history of domestic violence have higher fatality rates."
On average, only one in six people survive a domestic violence-related mass shooting, in comparison to one in three people for non-domestic violence mass shootings. These results led Geller to assert that "it is clear that a history of interpersonal violence should be a deciding factor in whether or not an individual should continue to have access to a gun."
When it comes to gun violence, the U.S. remains the most dangerous country for women among "high-income" nations. Women in the U.S. are 28 times more likely to die by being murdered with a gun than women in peer nations. Furthermore, from 2015 to 2019, a distressing 92% of all women killed with firearms in high-income nations were from the U.S.
According to the Battered Women's Justice Project, "This case is a harrowing example that domestic violence is a strong indicator of community violence. If dangerous individuals are allowed to retain access to firearms in these cases, no one is safe."
The Justice Department, headed by Attorney General Merrick Garland, issued a statement immediately after the Fifth District's ruling indicating the government would file an appeal.
"Nearly 30 years ago, Congress determined that a person who is subject to a court order that restrains him or her from threatening an intimate partner or child cannot lawfully possess a firearm," the DOJ statement read.
Garland's office challenged the legal reasoning of Judges Wilson, Ho, and Jones, stating:
"Whether analyzed through the lens of Supreme Court precedent, or of the text, history, and tradition of the Second Amendment, that statute is constitutional. Accordingly, the Department will seek further review of the Fifth Circuit's contrary decision."
In cases where a federal law is struck down by a lower court, as in the Rahimi decision, the Supreme Court typically grants an appeal for final review. That makes it very likely the case will now go to Washington.
And if the logic of SCOTUS's earlier Bruen ruling is followed, it could mean that abusers nationwide will soon enjoy the same firearms access now granted to abusers in Louisiana, Texas, and Mississippi.