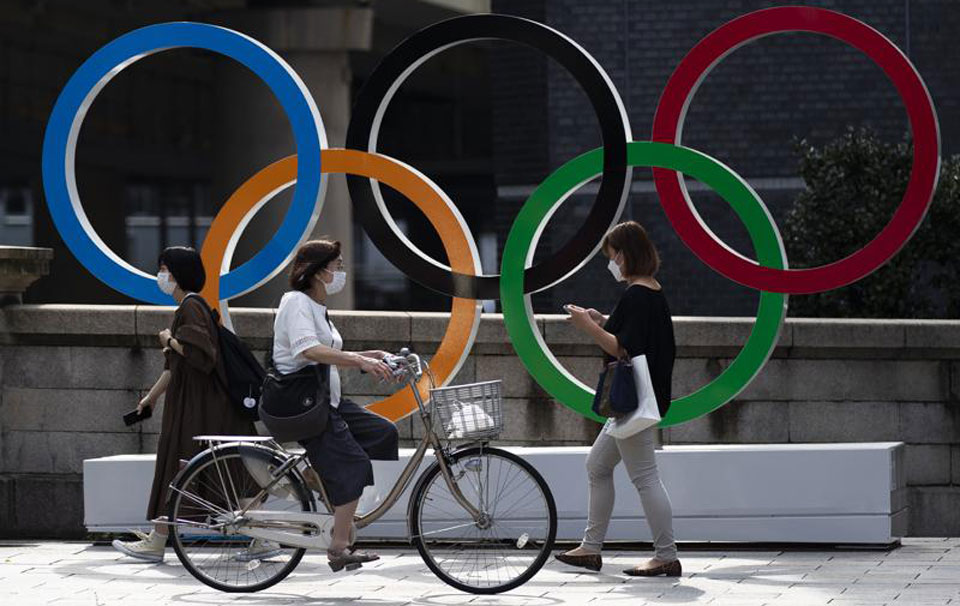 The fevered pandemic welcome wagon ahead of the Summer Olympic Games in Tokyo is kicking into overdrive.
As of Tuesday morning, there have been 71 confirmed cases of Covid-19 according to Tokyo Olympics organizers, including 31 individuals among the tens of thousands of international attendees still expected in Japan to compete, train, or work at the Games, slated to begin Friday, July 23.
But let us not allow hard stats to stand in the way of the Olympic Games' glory and splendor. The show must go on.
"The world is faced with great difficulties," Japanese Prime Minister Yoshihide Suga told International Olympic Committee members in a closed-door meeting in Tokyo. "We can bring success to the delivery of the Games."
Suga Continued: "Such fact has to be communicated from Japan to the rest of the world," Suga said through an interpreter. "We will protect the health and security of the Japanese public."
Yet, Covid-19 infection rates in Japan continue to rise, right alongside the anti-Olympic Games sentiment spreading throughout the public.
IOC president Thomas Bach, who has met with anti-Olympic chants and demonstrations since his arrival in-country, said canceling the games was never a viable option, because "the IOC never abandons the athletes."
Since this is a "sports column," I will take some editorial liberty here and correct the above statement. It should read, "The IOC never abandons profit."
There, now it is a bit more honest.
The IOC and National Broadcasting Company (NBC) hold the Olympic Games' largest commercial rights contract totaling a $4.38 billion deal for all games until 2020 plus a signed $7.75 billion extension running through 2032.
A lot of money to lose, so health and safety be damned.
Of course, it is not just the IOC who will profit. The United States Olympic and Paralympic Organizing Committee also holds a unique deal with NBC, since 1996, receiving 12.75 percent of U.S. broadcast rights money. Bottom line, they expect to see $558.6 million in profit from the current deal.
But instead of taking value in human life, especially the lives of those living in Japan, and postponing the games indefinitely—until it is safe to return to work there—Bach insists the world "will admire the Japanese people for what they have achieved."
What do the people of Japan have to say?
"We strongly insist that the Olympics be canceled, " said one protestor during a large demonstration last month. "The government has its priorities all wrong. Instead of helping people make money from the Olympics, they should be protecting the health and safety of the people living in Japan."
"Citius, Altius, Fortius" The Olympic Games formal Latin motto meaning "Faster, Higher, Stronger," was updated to include the word "communis" (together) but it would seem people are now further apart on this issue–not "stronger together."