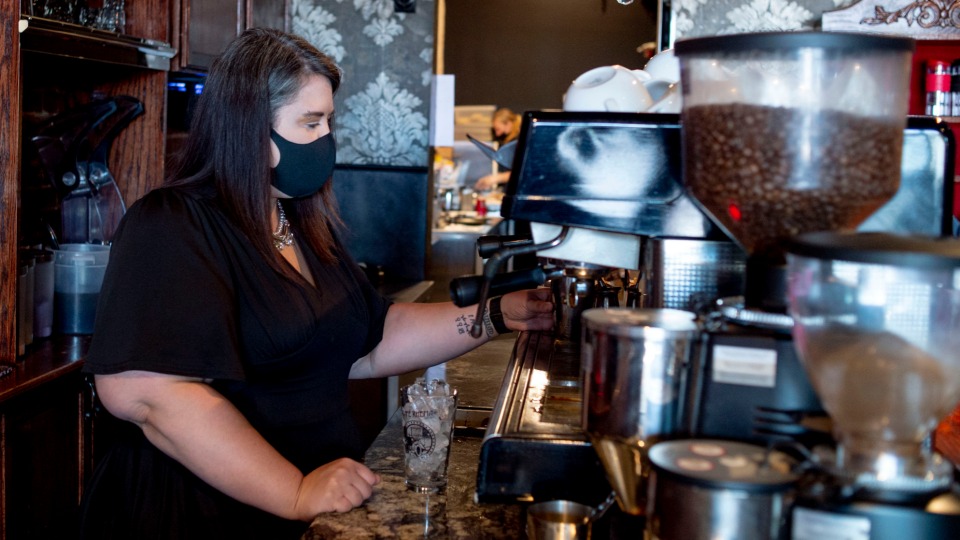 DETROIT—While cases of coronavirus surge in Detroit and politicians at the state and federal level waver on what action to take, many local businesses unsure of the future are making moves of their own. This has led to some drastic measures being taken that are affecting workers in the service industry.
Omicron, the latest variant of COVID-19 has "disrupted" several aspects of the lives of people in Michigan, which averaged 20,346 cases per day last week, despite symptoms mostly being reported as "mild." Wayne County, where Detroit is located, is one of the hardest hit in the state. Although the hospitalization rate in Wayne County has dropped and death rates remain the same, Omicron has spread rapidly around the city of Detroit, leaving many to wonder "when" rather than "if" they will get the virus.
Workers across the city have been dealing with the immediate effects of this current surge, with the effects ranging from being at risk of exposure, to management trying to suppress information on employee infections, to outright closures.
According to some ex-employees, the Midtown location of The Great Lakes Coffee Roasting Company has decided to lay off staff and close their doors "indefinitely" after a large COVID spike among the staff. Workers there went on strike last week and demanded better protocols from their employer, only to find out that the location had been closed down.
People's World spoke to two former employees of the coffee company.
One described how, during their short strike, workers were in touch with management via email demanding stricter measures on COVID protections, such as allowing time for the staff to get tested, sanitizing the workplace, and providing employees with PPE. The response from management demanded the employees resign, and when the employees didn't return to work, to close down the store, they laid off the entire staff.
This strike has come after several noted concerns over workers' health. Management was in the habit of not alerting their staff of co-workers testing positive for coronavirus—the job of communicating news to the rest of the staff was left to the workers themselves. Another former employee reported that no cleaning supplies were provided during the pandemic. The only "changes" made to the storefront were the display of generic infographics concerning the virus, reduced indoor seating, and a "usually empty" hand sanitizer dispenser. Although disposable masks were sometimes provided, they remained scarce.
The location had a very high turnover rate, and working during the pandemic has been reported as "extremely stressful," as no protocols were given or followed. Another health concern of note was the fact that the one hand-washing sink broke months ago and remained in disrepair, leaving a dish sink as the only viable option for workers to wash their hands.
On top of all this, sick days were virtually non-existent, and when employees asked for a raise to $15-an-hour, they were told this was "unreasonable," despite Great Lakes opening a new location in Key West, where real estate costs are notoriously high.
As this case and others have demonstrated, leaving COVID protocols and safety measures to management alone creates problems.
Some businesses are respecting the current surge of COVID cases, like Trixie's Bar of Hamtramck, which has temporarily closed. Such closures, however, have direct consequences on workers' livelihoods, and the costs also tend to impact smaller businesses far more than corporate-owned businesses. That is not to liken small business owners to the part of the population who are at the most risk of financial hardship, but rather to note that the balance between big and small capital tends to favor larger businesses which, while remaining open during the pandemic, reap the benefits of the growing "reserve army of labor."
On top of this, in the last week, there have been other surprise closures in the service industry. The locally famous and historic Anchor Bar is also reported to be "temporarily closed," although no official word as to why has been released. This came two days before it was announced that Michael Symon's Roast is now permanently closed. According to an employee's post on Reddit, they were informed the Roast would be closing only on its last night in operation.
In a not-so-surprising reversal, this is becoming an issue to be resolved purely at the economic level rather than the political. It appears that the mandating of masks and vaccines continues to fall on lower levels of administration rather than the higher. During late summer last year, Gov. Gretchen Whitmer refused to mandate masks within schools and let the responsibility for handling the controversy fall to the districts themselves. This, however, has put enormous pressure on superintendents and school boards. The pressure itself has already begun to boil over—an example of this being a parent who yelled "Heil Hitler!" and gave a Nazi salute at a school board meeting in Birmingham recently.
A vaccine mandate was also out of the question, with the governor claiming her hands were tied on the issue. President Joe Biden also let the decision to mandate masks fall to the state level—which only a "handful" of states have been doing. As was recently pointed out, masks hardly feature in the White House's current COVID plan.
Indeed, neither of the major political parties in Michigan appear to be taking the pandemic seriously. While mask mandates in schools were being debated last year, Michigan Senate Majority Leader Mike Shirkey claimed that mask mandates at school would be the "dumbest thing" that could be done. Republicans across the state are protesting districts that are issuing such mandates. Meshawn Maddock, Michigan's GOP co-chair, was also "encourag[ing] parents to 'take a stand' against school districts who mandate masks." The role of politics in the response to the pandemic is concerning for many, especially those with immunocompromised children heading back to school. One mother implored people to "forget about politics, forget about religion."
More recently, the Biden administration announced that OSHA would be requiring private employers to implement a "soft" vaccine mandate, requiring unvaccinated employees to get tested weekly.
Are these measures enough? Is Biden's "begging" of Americans to get vaccinated the only approach?
The response to the COVID-19 pandemic is, above all, becoming more and more an "individual" choice—where we are given the "freedom" to choose between masking up, getting vaccinated, or doing none of the above. Workers are once again forced to choose between health and earned wages. Ultimately, it's an example of the neoliberal contention of personal success and failure—the "pull yourself up by your bootstraps" logic. Similar to arguments against the minimum wage, such as, "If you don't want to flip burgers, get a grown-up job," the implied argument of a lack of proper restrictive measures is "If you don't want to expose yourself to the virus, get a real job."
The Whistleblower Protection Program exists to protect employees who come forward to report their workplaces as "unsafe" during the pandemic. Although workers might be protected from their employer from taking action against them over COVID concerns, the more important question is how would reporting one's workplace affect the worker in the immediate future? Would this result in shutting down the business, even if only temporarily? Would this result in employees being laid off? Would health benefits (if any exist) be momentarily disrupted or cut short?
With the discovery of another strain, "deltacron," there is major cause for concern, but instead of getting leadership from those in political office, workers are instead left with the false choice of panicking and restricting their lives or fully accepting the illusion that things aren't as bad as the press claims they are and going on with their lives because recent strains of COVID have been "mild."
Letting the administrative decision of mask and vaccine mandates as well as shutdowns fall to lower and lower levels of public office is of course a political decision in and of itself. It allows certain politicians to keep a "clean" record that may appeal to both liberals, the center-left, and the center-right during election season.
The political positioning is clearly an appeal to the extreme right as well. At the beginning of the year, Federal Judge Terry A. Doughty blocked Biden's vaccine mandate. Doughty, being a judge on the U.S. District Court for the Western District of Louisiana, was nominated by President Donald Trump. The judge claimed vaccine mandates are an abuse of power and that the executive branch was "usurp[ing] the power of the legislative branch" in order to get laws passed, even citing "pandemic fatigue" as an excuse to not enforce vaccines. Doughty's decision also blocks the mandate's requirement that students aged 2 years and older wear masks while indoors or in close contact with others.
The call for stricter measures will continue to be ignored at the local and state level if all that is provided from the national body politic are strong recommendations. As in the case of Michigan, where politicians refuse to act, the management of companies like Great Lakes Coffee will do whatever necessary to ensure their own survival—and workers are left to fend for themselves.