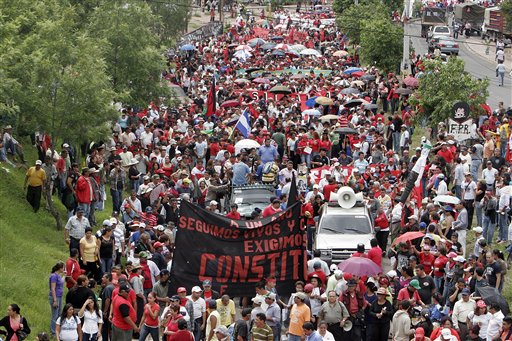 The labor movement, responding to murders of peasant activists and to precarious living conditions, is leading popular mobilization in Honduras. Now a teachers' strike is targeting the government of President Porfirio Lobo, legacy of last year's U.S.-assisted, right-wing coup that removed President Manuel Zelaya.
Late this month, three members of the Unified Campesino Movement of Aguan (MUCA) were ambushed and murdered, allegedly by assailants hired by agri-business tycoon Miguel Facussé. The body of peasant leader Maria Teresa Flores, mother of 14 children, was found in the same region, a week after she'd been tortured and murdered. The shooting death August 25 of Israel Zelaya Díaz brought the total of journalists killed this year to nine.
In a radio interview, Berta Oliva, president of the COFADEH human rights group, revealed the existence of a common grave containing the bodies of 100 recently assassinated victims.
Prensa Latina reported that 50,000 Honduran have lost jobs this year and that 180,000 went jobless in 2009. Drought in southern Honduras has necessitated UN food aid. Teachers, up against a proposed General Education Law that would privatize education, are at the center of mounting turmoil.
They went on strike early in August, demanding the government pay back $242 million plundered from the teachers' pension fund after the coup, pay into the pension fund more than $200 million unpaid since 2007, and reverse the firings of workers at the National Autonomous University. On August 20, police attacked 25,000 teachers marching in Tegucigalpa, wounding several. Some 30,000 demonstrated on August 23. "We don't want public education to die," Edgardo Casana, president of the COPRUMH teachers' union, told reporters.
Meeting simultaneously in Honduras, unionists from 12 countries belonging to FELATRAC, the Coca Cola workers' federation, sent a letter to Latin American presidents. They backed the striking teachers' demands and urged the presidents to continue non-recognition of the Porfirio Lobo government and fight to keep Honduras out of the Organization of American States. In the letter, they blamed biofuel-producing landowners, Facussé chief among them, for 10 peasant murders this year.
Edgardo Casana, expressing gratitude for FELATRAC's support, noted, "In the end, the world acquires goods, capital, and wealth through the muscle power of workers."
In a dramatic display of worker solidarity, "hundreds of thousands" of Hondurans mobilized by the National Front of Popular Resistance (FNRP) and the CUTH labor Federation marched on August 18 in support of the teachers. They demanded also a minimum wage increase; rejection of a proposed "public-private investment law," seen as a vehicle for privatization; and action against a pending "law on temporary employment" that assails social security.
Union leader and FNRP head Juan Barahona told reporters, "We are not going to rest until Honduras is re-founded." He anticipated an announcement soon as to whether or not FNRP had reached its target of securing one million signatures in favor of a Constituent Assembly. The FNRP web site on August 27 published "communication number one" of the "Regional Committee for the General Strike," now in the planning stages. At a press conference CUTH secretary general Israel Salinas declared, "We are living in a situation of ungovernability."
Setting the tone for worker mobilization is ex- President Manuel Zelaya. In an August 22 letter from exile in the Dominican Republic, the former lumber and cattle businessman denounced the 'insatiable appetite of a few" who are privatizing basic services. Addressed to "Worker Comrades of Honduras," the letter called upon unions and peasants to join indigenous and African-descended peoples in struggle for rights "delayed for centuries." Writing as the "Coordinator General of the FNRP," Zelaya accused the current regime of "turning back all the laws, decrees, regulations we took [as President] to benefit the people."
"We are all workers, all of us who work for salaries and other compensations," Zelaya explained. And "the working class, employed, unemployed, and underemployed, in rural areas and in cities, must feel itself unified and must identify with this struggle." He concluded: "Workers of my land, unity with the teachers or death!"
Honduran academician and veteran human rights activist Juan Almendares, quoted in a recent NACLA report, commented, "Today, the struggle is precisely about the neoliberal economic model, imperial globalization, and this whole campaign by financial capital to gain power over our lands, to take our resources."
Photo: Supporters of Honduras' ousted President Manuel Zelaya march in the capital city Tegucigalpa, June 28. (AP/Fernando Antonio)