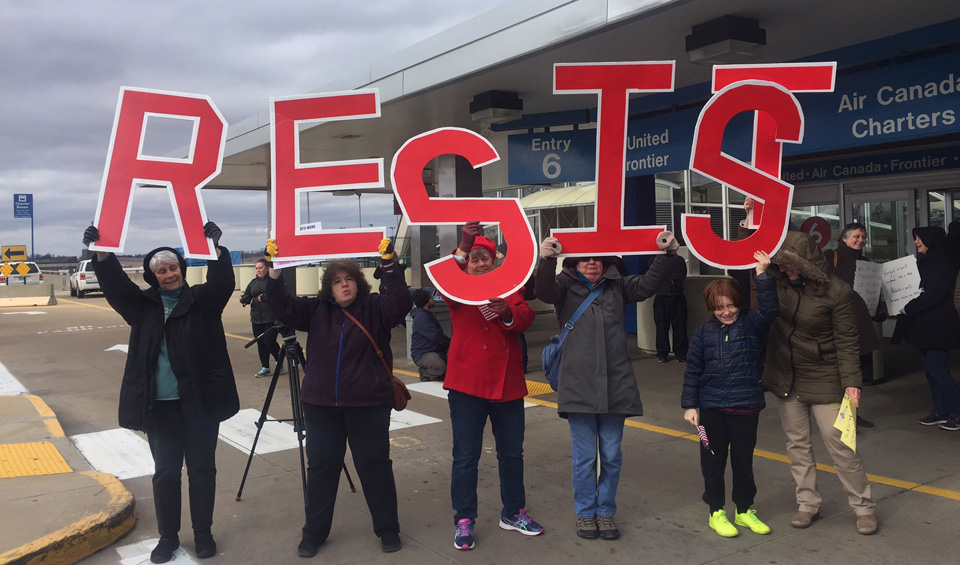 St. LOUIS – Over one thousand gathered outside St. Louis-Lambert International Airport Sunday as part of the nationwide actions taking place protesting President Trump's executive-order banning travelers and refugees from seven Muslim nations.
Holding signs that read, "human beings are not illegal," and chanting, "hey-hey, ho-ho, Donald Trump has got to go!" protestors filled and blocked all six entrances at the airport's main terminal.
"My Father emigrated to this country, fought for this country and retired from the Deptartment of Defense," said Sammy Ahmad, a first generation American. "I'm out here because what's happening is a tragedy; immigrants built and defended this country and in 2017 they're now losing basic human rights."
Jocelyn Tsei and her Father, David Tsei, told the People's World that they came out in the 38-degree weather because, "when it's time to take action, you take action."
Jocelyn's Father emigrated from Taiwan in 1984 and became a citizen in 2004.
"What worries me now is that a valid green card won't stop anything, and had it happened sooner my Dad wouldn't be able to be out here today-the thought terrifies me," she said.
On Friday, President Trump issued an executive-order suspending refugee admissions for 120 days and bars all immigration for 90 days from Muslim-Majority countries: Iran, Iraq, Libya, Somalia, Sudan, Syria and Yemen. It indefinitely bans the processing of refugees from Syria.
By Saturday, a federal judge blocked parts of the order, by temporarily barring the federal government from deporting individuals from the seven nations.
In response to Saturday evening's ruling, the Department of Homeland Security released a statement saying it would, "continue to enforce all of President Trump's Executive Orders in a manner that ensures the safety and security of the American people." And that, "prohibited travel will remain prohibited, and the U.S. government retains its right to revoke visas at any time if required for national security or public safety."
At 4 p.m. protestors were blocked by police from entering the airport lobby and shortly after the action came to a peaceful close with no reported arrests or incidents of violence.