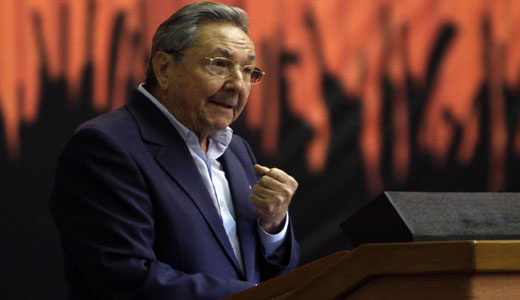 In line with half a century of firm ties between Cuba and the People's Republic of China, and strengthened relations recently, Cuban Council of State Vice President Marino Murillo Jorge journeyed to Beijing in late February for a "working visit."
Cuba became the first West Hemisphere nation to recognize the government of revolutionary China in 1960 when Cuban leader Fidel Castro interrupted a speech to ask whether or not diplomatic relations should be opened with the People's Republic. A million hands went up. In a reciprocal token of well-timed outreach, former Chinese President Jiang Zemin, alone among foreign leaders, visited beleaguered Cuba in 1993 following the Soviet Bloc collapse.
Murillo's weeklong discussions this time involved Chinese Vice-Prime Minister Hui Liangyu. They included a report on the Cuban Communist Party's recent party conference and proposals for new collaborative agricultural, scientific, commercial, and economic projects. Murillo, member of the Cuban party's Political Bureau and coordinator of Cuba's current economic reforms, met with top economic planners representing China's National Commission of Reform and Development.
The present era of cooperation began in Nov. 2004, when Chinese President Hu Jintao brought 200 businesspersons and investors to Cuba. He ended up signing a 16-point bi-national agreement covering bio-technical, higher education, telecommunications, nickel extraction initiatives, and more, with China providing favorable credit terms.
Follow-up took place in Havana in 2009, as national assembly presidents of the two nations agreed on new financial and commercial arrangements, and prepared for Cuban port, radio and television, and bulk transport modernization. In Dec. 2011, Cuban Council of State Vice-Minister Ricardo Cabrisas, meeting in China with the inter-governmental Cuba-China Commission, signed updates and reported on the 6th Cuban Communist Party Congress of that year.
Bilateral trade rose from $590 million in 2004 to $1.8 billion in 2010. China became Cuba's second largest trading partner, exceeded only by Venezuela. Chinese trade with Latin America overall has increased 42 percent over five years.
China has supplied Cuba with domestic electrical appliances, medical and electronic equipment, buses (8000 so far), locomotives, and bicycle-making machines. Cuba provides sugar, rum, cigars, high technology medications and vaccines, and 14 percent of the nickel China needs for steel production. China's Sinopec oil corporation has assumed a lead role in exploring underwater oil deposits off Cuba's northern coast. Sinopec's massive Scarabeo 9 drilling platform arrived recently from China.
Chinese specialists have upgraded Cuba's meteorological and earthquake-detection capabilities. Cuba's Molecular Immunology Center (MIC) recently announced that the anti-lung cancer vaccine CimaVax-EGF, made by the Cuban-Chinese Biotech Pharmaceutical Ltd (BPL) Company, would undergo trials in China. MIC head Augustin Lage visited China in February to assess use of Nimotuzumab monoclonal antibody, a BPL product directed at several human several cancers.
Offering Spanish language courses to Chinese students, the University of Havana recently awarded 49 diplomas in China, where students were taught by Cuban professors, while 71 others graduated in Havana. Altogether since 2004, 3,497 Chinese students have qualified at Cuban universities in medicine, nursing, humanities, tourism, and Spanish language and culture.
Cuba and China maintained ties over decades despite Cuban reliance economically and politically upon the Soviet Union, China's ideological rival. Asked by interviewer Ignacio Ramonet about socialism's future, Fidel Castro held up China as an example, as "a great power that did not destroy its history, a great power that held to certain fundamental principles, that sought unity, that didn't fragment its forces."("Fidel Castro, My Life," Scribner, 2006, p.623.)
An analyst cited by Inter Press Service in 2006 explained that Cuba views China as "a trustworthy, stable partner not imposing political conditions." These are qualifications that Cuba, dealing with post-Soviet economic crisis, European hostility, and U.S. economic blockade, would have found useful.
Chinese citizen Zhao Xiokai has his own reasons to value tight Cuban – Chinese relations. He had persuaded 10,000 Cubans to testify to peace by putting signatures on a replica of the 2008 Beijing Olympics torch, which would eventually be displayed in an Olympics museum in Beijing. But after failing to obtain Fidel Castro's signature on another replica to be signed by 100 world leaders, he returned to China.
There, he learned Castro would sign. In Feb. 2012, Zhao Xiokai returned to Cuba so Fidel Castro could be the first to sign the special replica. He did so, and also wrote: "To struggle for peace is to struggle for the life of our species." As Zhao Xiokai told a reporter, "Fidel is the one who speaks out most against nuclear war and is the one most concerned about these things in the world. Cuba is a country with great development in health care and education, and doesn't have anything to do with nuclear arms."
Photo: "Cuba's president Raul Castro speaks during the Communist Party Conference in Havana, Cuba." Ismael Francisco, Prensa Latina/AP